A one-legged Dundee United fan whose half-time goal at Tannadice has become the talk of football fans across the country has described the experience as a "dream come true".
As we reported, Tommy Mckay was one of four United fans facing their Dunfermline counterparts in a shoot-out on Tuesday night — and video of his stunning lob over the keeper went viral online.
Tommy said: "It all went absolutely crazy after that. I didn't even know it was being filmed and by the time I got home my phone wouldn't stop beeping with all the retweets and likes.
As a child I was a mascot and my absolute dream was to play for United – no other team.
"It's an understatement to say I'm flattered that so many people have liked and shared the clips."
https://twitter.com/DUFCLive/status/796090455431778305
As a child, Tommy had big ambitions of being a professional footballer with United but that came to a brutal end when he lost his leg aged just nine.
After breaking his femur, doctors realised the reason it had snapped was that it carried an aggressive form of bone cancer called osteosarcoma. Chemotherapy had no effect, meaning amputation was the only option.
Now, aged 32, he is heavily involved in amputee football as well as holding down a part-time administration job at the Inclusion Group.
He added: "I never thought I would get the chance to do something like this.
"As a child I was a mascot and my absolute dream was to play for United – no other team.
"Obviously that didn't happen, but this was the next best thing! It was like a dream come true for me."
Tommy, from Monifieth, is now trying to raise the profile of amputee football, which he said was big in England but still relatively unknown in Scotland.
He has secured a place in Scotland's first amputee football team, run by limb loss charity Finding Your Feet and Partick Thistle FC.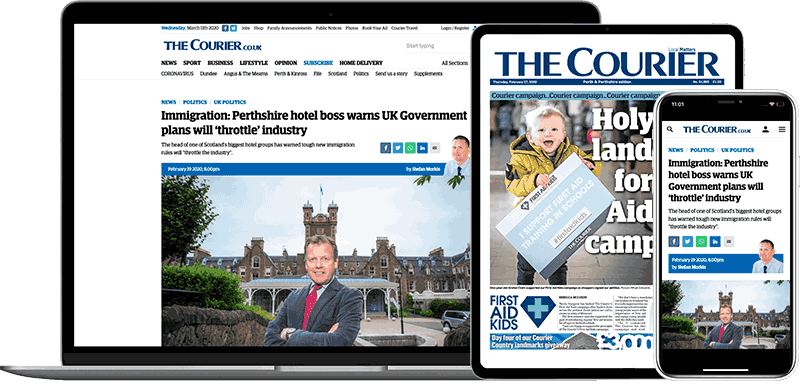 Help support quality local journalism … become a digital subscriber to The Courier
For as little as £5.99 a month you can access all of our content, including Premium articles.
Subscribe