 NHS Tayside has said a crucial interpreter contract is not under threat.
Fears were expressed by members of Dundee's deaf community during Thursday's bruising Scottish Parliament Public Audit Committee meeting.
Brian Hogan, secretary of deaf charity Deaf Action, revealed concerns an integral contract for both sign language and foreign language interpreters has been delayed due to its cost.
Mr Hogan told committee members he believes the contact has been "postponed" after it entered a new financial bracket.
The Courier understands NHS Tayside decided to invalidate a tender bid for the contract at the end of June due to the costs involved.
Instead of opening up to new bidders, health bosses extended the existing contract for a further year until October 2017.
Charity secretary Mr Hogan said the treatment of deaf people within the health sector has come on leaps and bounds due to the presence of interpreters and that he fears continuing financial burdens may impact the quality of service.
He said: "In the past, deaf people have been seriously neglected.
"Deaf people have had hospital stays for two weeks and not once was there an interpreter present to explain to them what was going on.
"They didn't know what was going on and they didn't give consent because they didn't know what was being said to them.
"Over the years we have improved that situation so the numbers of deaf people in hospital and GP appointments having access to an interpreter has really improved.
"As a result, the cost to the NHS of providing that contract has gone up."
Mr Hogan continued: "Now we recently reached a situation where this interpreting contract is due to be renewed.
"But it has been postponed because the value of the contract has gone into another bracket and requires a lot more work.
"Now, my obvious first concern is that with cut backs, what's going to happen to that?"
Mr Hogan believes better planning within the health board could lead to an improved financial picture.
He said: "On the other hand, we feel there could be efficiencies made.
"With the interpreting service, they could work a lot better than they are at the moment and I feel that is another way for small savings to be made.
"And if those small savings are made, that could be a way to save money."
NHS Tayside Diversity and Inclusion Manager, Santosh Chima said: "We currently have a three-year contract for interpretation and translation services with an option to extend for a further year.
"We have taken this option to extend until October 2017 to allow us to complete an options appraisal process to ensure we can continue to deliver a high quality, person-centred service that is fit for the future.
"This options appraisal will be carried out by engaging with services users from the profoundly deaf and deafblind community, those who require language interpretation services and our own staff, to ensure we meet the requirements of service users."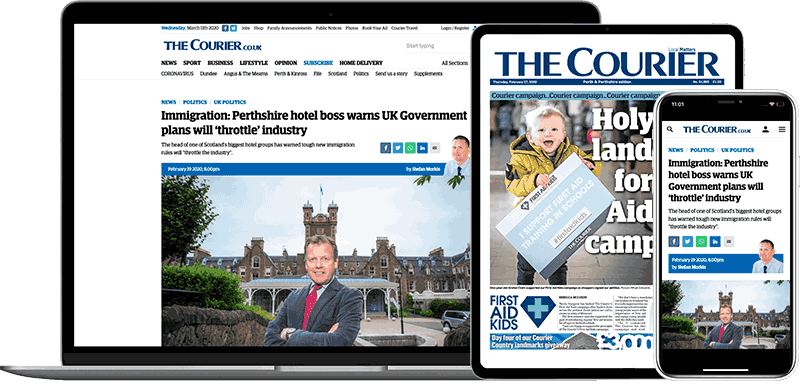 Help support quality local journalism … become a digital subscriber to The Courier
For as little as £5.99 a month you can access all of our content, including Premium articles.
Subscribe