There will be three times the festive celebrations in the Stewart house after baby Angus was born on Christmas Day – sharing his birthday with proud father Callum.
Angus was due to be born on December 14 but by Wednesday last week he was already seven days overdue.
Mum Penny was admitted to Ninewells Hospital in Dundee on the Wednesday to help the process on but Angus held out to give dad Callum a very special birthday present.
Angus was born on Sunday morning, weighing 8lb 7oz.
Mum, dad and baby spent Christmas and their birthdays together at the family home in Broughty Ferry, and will be joined by Angus's three older sisters for a celebratory meal today.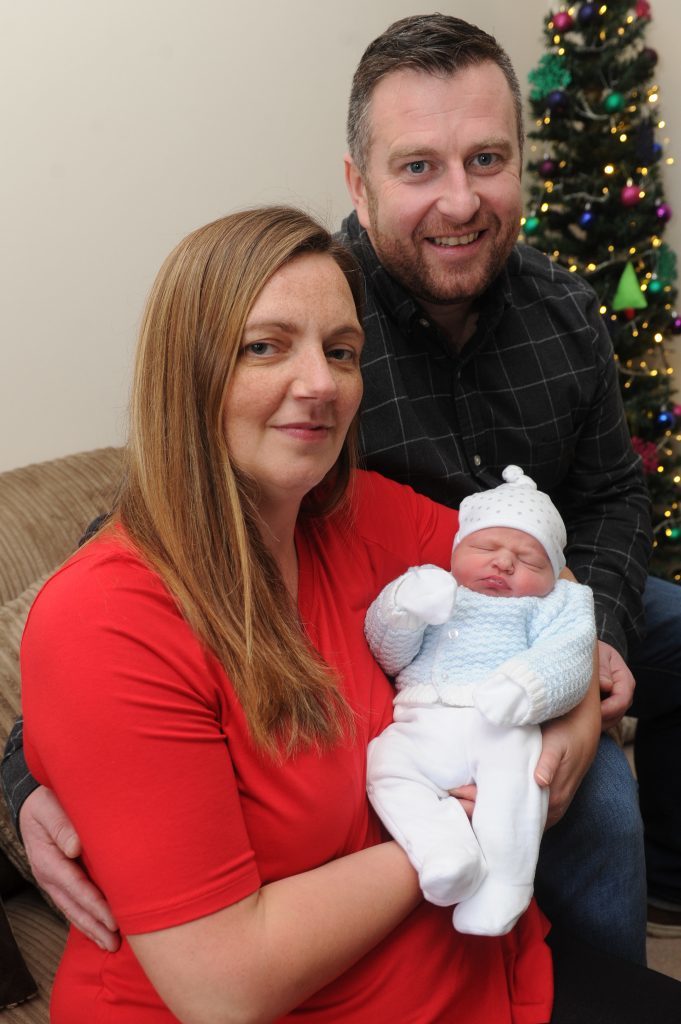 Callum said he was overjoyed to share his birthday with Angus and was now looking forward to being at home and cooking the special dinner.
He said: "I am delighted that I will be sharing Christmas Day and my birthday with my son.
"Angus was due on December 14, so was 11 days overdue when he arrived. We went in to Ninewells on Wednesday and stayed until Christmas, and we are both very happy to get home.
"We didn't think he would be born on Christmas Day, but he held off. Christmas dinner will be quite a quiet one this year, with just Penny, Angus and I here in the house, and I am on the cooking duties this year.
"He has three wonderful older sisters – Abbey, Nicole and Katie – and we will have a big traditional family meal on Boxing Day instead."
He added: "We would like to thank all of the staff in triage, ward 38 and the labour suite for all of their excellent help and support, particularly Heather and Sarah in the labour suite."
In Perth, Lesley Buick hoped to finish her Christmas dinner before her daughter's speedy delivery forced her to abandon it.
Little Isla Simpson Buick was born just 30 minutes after her mother and partner Aly arrived at the Perth maternity unit.
Weighing in at 8lb 9oz, she is a little sister to two-year-old Fraser.
Meanwhile, one baby boy was so excited to meet his family for Christmas Day he decided to arrive seven minutes early.
Rex Paton, who weighed 7lb 11.5oz, was born just before midnight on Saturday.
Proud mum Gemma said the whole family wanted him to arrive in time for Christmas, and their wish was granted.
She said: "We will be celebrating Rex's birthday on Christmas Eve, and then we will have another day of presents on Christmas Day. We will definitely want him to have his own birthday.
"We are getting to go home on Christmas Day and I will get to unwrap a couple of gifts, but having Rex on Christmas Eve is a wonderful gift in itself."
Rex, Gemma and dad Chris spent Christmas morning at Ninewells, joined by Rex's older sister Millie and beaming grandparents Tina and Len Paton.
One Fife couple were celebrating the best Christmas present they could have wished for after welcoming their baby son into the world.
Father Paul Kelly, 33, joked that he would be enjoying a turkey sandwich instead of a turkey dinner last night, after his wife Rebekka, 30, gave birth to their boy at the Victoria Hospital maternity unit in Kirkcaldy.
The as-yet-unnamed tot came into the world at 8.44am weighing 8lb 6oz, with the Crossford couple having to rush to the hospital during the early hours.
"It was a bit of a surprise," said Rebekka. "He was two days early, but I had a feeling he was going to be born on Christmas Day."
When he gets home, proud sister Ava, 5, will be there to meet him for the first time.
"It's very exciting," said Paul. "He is the best present ever."