Michael Alexander speaks to an Abertay University expert who is aiming to break down what she sees as gender stereotypes which still linger on in some sports
Last year's Olympics may have been glorious for Team GB's athletes – both male and female – but for one academic, it made for "difficult" watching on TV.
Dr Rhiannon Lord of Abertay University said she was left dismayed by some of the commentators' sexism and the portrayal of some female athletes.
Now Dr Lord hopes a new digital initiative she is working on with sports body sportscotland will help break down the gender barriers in sport – though she admits there is an awful lot of work to do.
The sport and sociology lecturer is recording a series of six podcasts for the national governing body's app, aimed at providing information and training for coaches.
And more than 60 people have already signed up to the free service, from sports including football, rugby, gymnastics and netball.
The irony is that the Rio games proved a watershed in breaking down some of the gender stereotypes.
For example, in gymnastics – perhaps still seen by some as a sport for females – Max Whitlock was crowned a double champion after taking the men's floor and pommel horse titles, with Louis Smith taking pommel silver.
Closer to home, Dundee United Women's Football Club had their own annus mirabilis, winning the Scottish Women's Football League Division 2 Cup in June, then going on to clinch the league title in October.
And the Cupar-based Howe of Fife rugby club has recently formed its own Howe Harlequins women's team.
Yet according to Dr Lord, these strong role models are "very much the exception rather than the rule" with gender stereotyping still seeing boys shy away from some sports that have been labelled feminine in the past.
The reason for this, says Dr Lord, is that media portrayal can have a huge impact on youngsters thinking of taking up sports traditionally associated with a particular gender.
"The coverage of Rio 2016 was often difficult to watch in my opinion," she said.
"There were lots of sexist comments by the commentators.
"Laura Trott, for example, was often described as the 'wife-to-be' of Jason Kenny, rather than an athlete in her own right.
"We saw it with some of the female US swimmers being described as overtly masculine.
"Often, when it came to women athletes the commentators would make reference to whether they were married or whether they were going to have babies."
Dr Lord suspects true equality in sport is "not going to happen in our lifetime".
"We are still seeing a huge amount of gender stereotyping," Dr Lord told The Courier.
"There have been great strides, with more girls getting into football and rugby.
"But we are still seeing boys shy away from sports like gymnastics and dance – and it's mainly due to gender stereotyping.
"Perhaps they don't want to be seen as feminine if they are going into these sports.
"Or on the other hand, girls don't want to be seen as butch if they are going into sports like rugby.
"As they get to that pre-pubescent age, gender becomes more important."
Dr Lord said the key to change is to work with coaches at grassroots level.
However, Dr Lord said there also needs to be change within the media.
She points to a 2013 study (subtitled, interestingly, the better sportswomen get, the more the media ignore them) which showed 40% of sport relates to women, yet receives around 2% of overall coverage.
Her sincere hope now is that the sportscotland podcast will start to make a difference at a grassroots level by targeting coaches.
"Rather than go in on a course which is three hours and you have to pay for it then travel to it, sportscotland have set up an app and these modules will be on there," she said.
"Coaches do it in their own time and there is a Facebook page so they can ask questions and discuss the content with other coaches."
The podcasts last about 10 to 15 minutes and are scheduled up until April.
Dr Lord added: "Strong role models are also really important.
"For example I think of Max Whitlock for boys in gymnastics at the moment.
"But there are some sports that are still struggling to find those role models.
"One of the key messages in the podcasts is about what we can do as coaches to close that gap."
Howe Harlequins coach Craig Manson said there were a lot of positive changes in the development of the women's game. He said: "For me rugby is starting to buck the trend. Scottish Rugby has its first female professional. Having the Women's Rugby Sevens at the Olympics helped with visibility. I feel the growth of women's rugby has to come from school, because that's where 80% of people get into sport."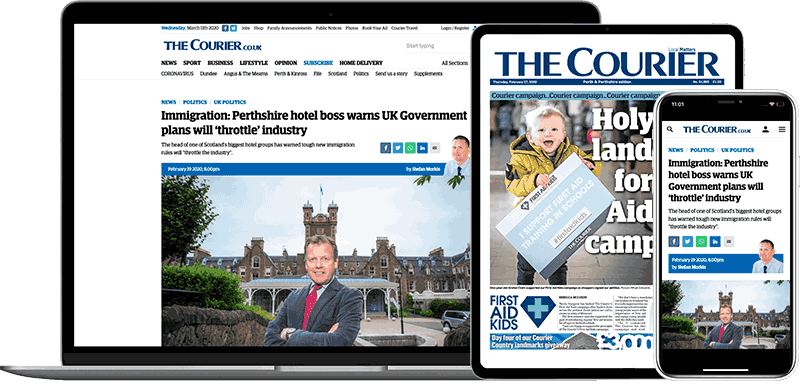 Help support quality local journalism … become a digital subscriber to The Courier
For as little as £5.99 a month you can access all of our content, including Premium articles.
Subscribe