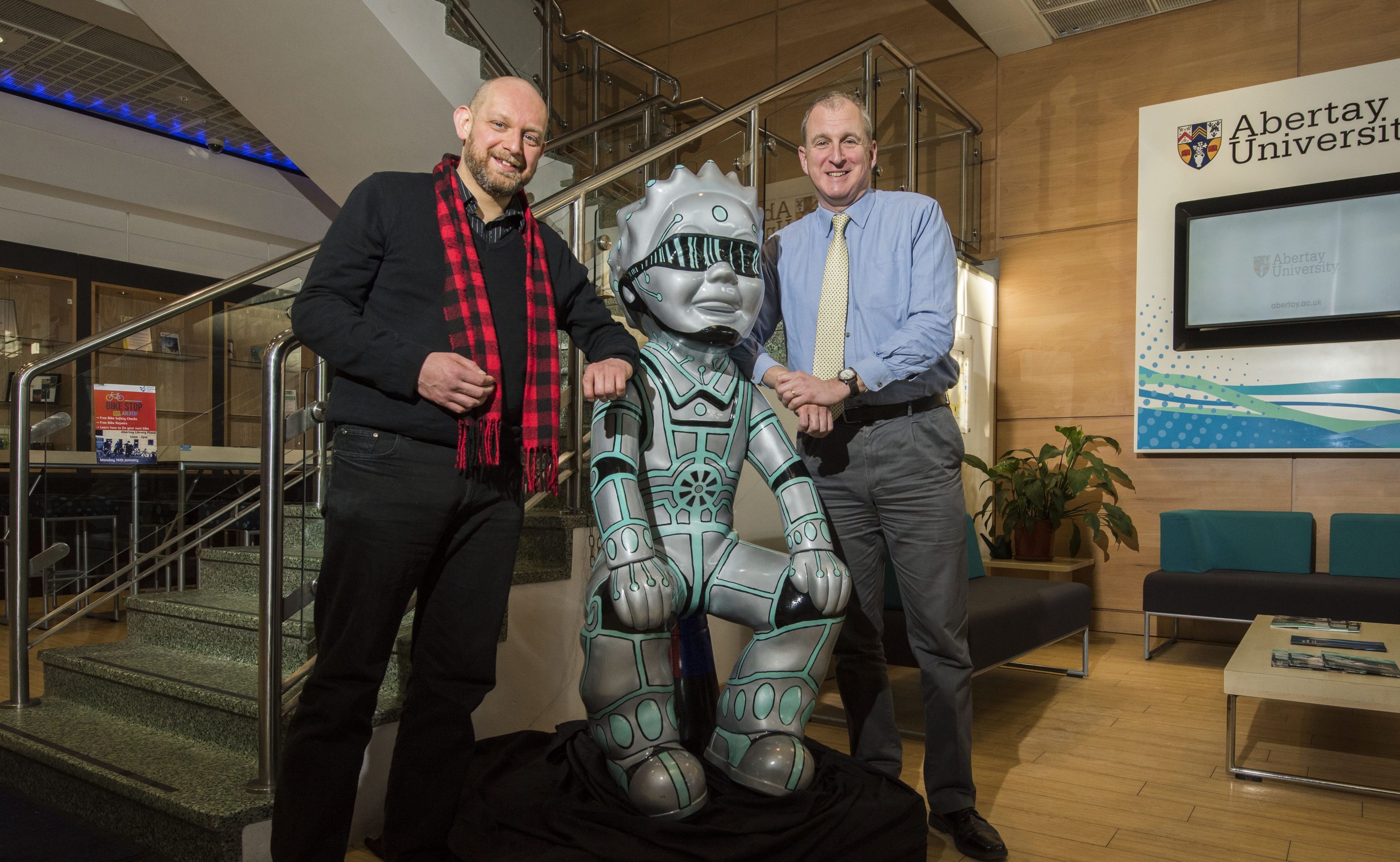 An artist behind one of the iconic Oor Wullie sculptures has revealed his initial sketches for the bucket trail.
David Marr, who created Silicon Wullie, originally submitted steampunk, RoboCop and Terminator-inspired designs before settling on the incarnation which came to life last summer.
David's eventual creation sold for £10,000 to Abertay University in September's auction.
The 39-year-old artist has now revisited his sculpture at its new home in the university's main reception.
He said he could not believe how successful the trail had become.
He added: "I found out about the trail on the Creative Scotland website. There were templates to fill in so I initially submitted drawings for a steampunk Wullie, sitting on a coal bucket, complete with pistons, cogs and inspired by Tik-Tok from Return to Oz.
"The deadline was extended so I submitted another one. I wanted to do something futuristic so I came up with Silicon Wullie, after having a go at RoboCop and Terminator-inspired designs.
"I was delighted when Silicon Wullie was picked."
Edinburgh-based David explained that the process of creating Silicon Wullie took around six days.
He explained: "I sprayed the statue blue as a base then taped off the areas to mask for the design.
"I used spray paint rather than brush as I didn't want brush strokes on what was meant to look like metal. The hardest part was making him look symmetrical.
"I was so happy with the end result. I'd never done anything like that before and was nervous about how he'd turn out."
David, along with some of the artists, went on a bus tour of the trail.
He added: "It was amazing to see how popular the trail was and surreal to hear that there were concerns from local dog walkers about the number of people turning up to see Silicon Wullie at the Observatory.
"The trail was beyond all our expectations. Oor Wullie is part of Dundee's identity and the trail brought everyone together."
David, an office manager at the charity Art in Healthcare, which brings art and creativity to patients, staff and visitors at hospitals and other health care sites, said ARCHIE's appeal was particularly close to his heart.
David said: "I watched the auction online. I was so nervous to see if anyone would buy him.
"It's nice to have played a part in raising so much money."
David met with Abertay Principal Nigel Seaton during his visit to campus and spoke of his delight at seeing his "old pal" Silicon Wullie again.
"I loved seeing him in his new home and I'm pleased he's being seen by so many people", David said.
"It's apt for him to be in such a modern place, with Abertay being the leading computer gaming university. Seeing him is like being reunited with an old pal."
Further secrets of the bucket trail will be revealed in a talk at Dundee University on Saturday evening.
The free event begins at 6pm in the Dalhousie Building and is open to all.
Artists' coordinator Suzanne Scott and ARCHIE chief executive David Cunningham will share their experiences with host Ellis Watson, CEO of publishing at DC Thomson.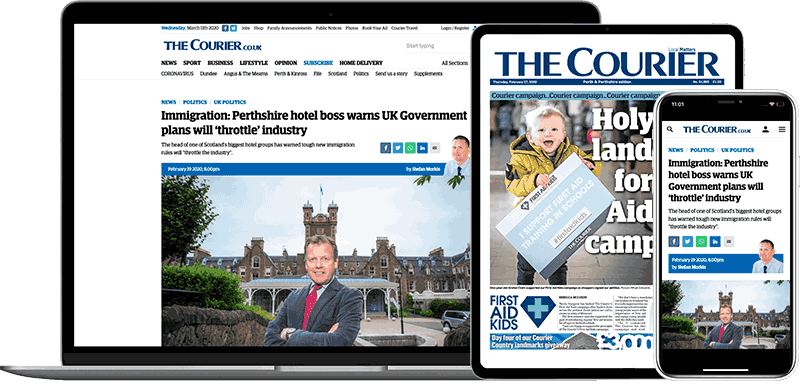 Help support quality local journalism … become a digital subscriber to The Courier
For as little as £5.99 a month you can access all of our content, including Premium articles.
Subscribe