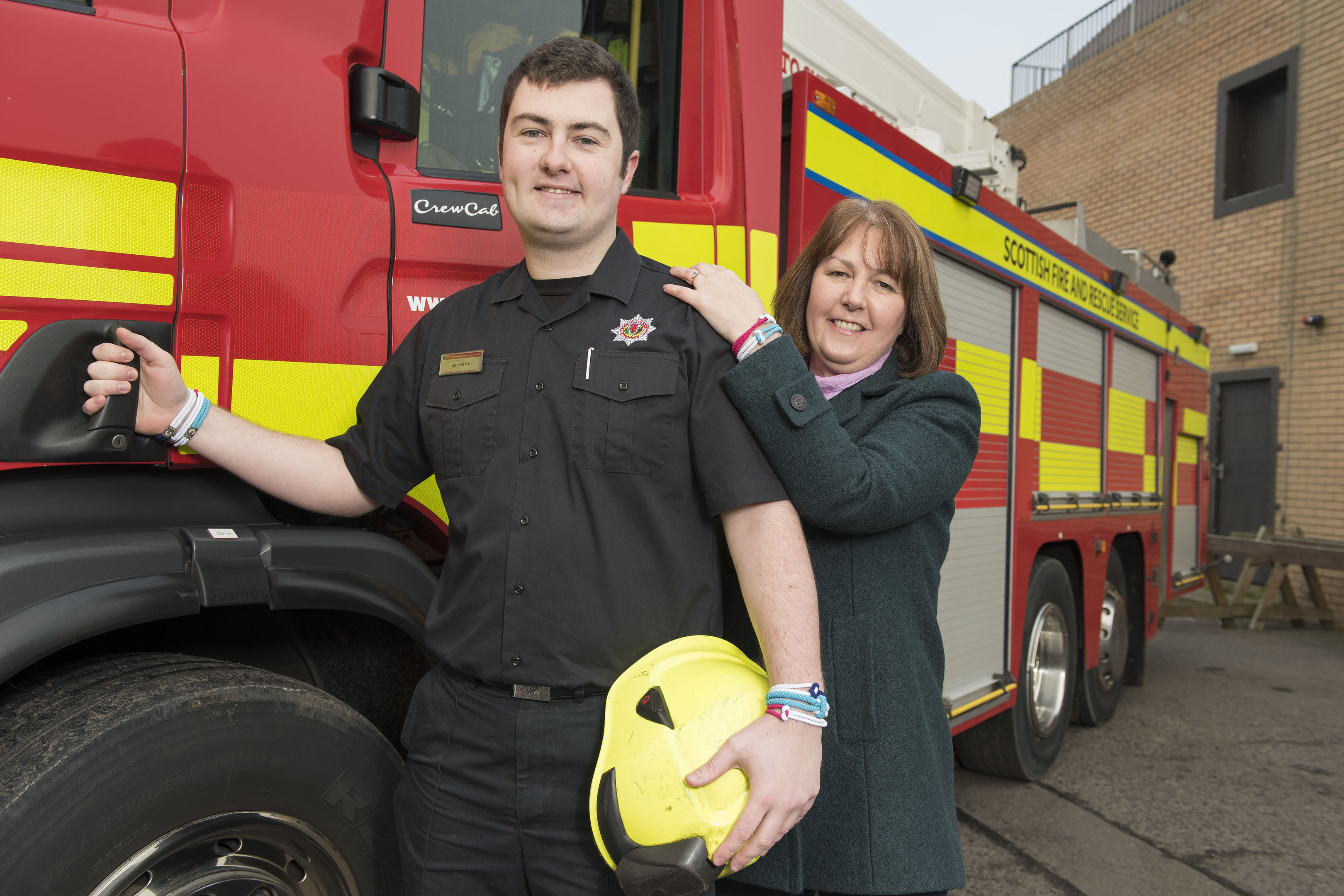 A firefighter has set himself the challenge of raising £1 million to help cure cancer, inspired by his mother who has survived the disease twice.
Jed Smith, who works at the Macalpine Road Community Fire Station, will run, cycle, hike and climb his way through a monster number of obstacles to raise money for Cancer Research UK.
The 23-year-old has also been chosen, alongside mum Diane, to launch World Cancer Day in Scotland.
As part of the campaign, the Smith's will be urging people across the country to buy a specially designed Unity Band, which has been constructed in two parts and is tied together, to symbolise the importance of strength in unity.
Jed has set himself a terrific number of challenges, including scaling Mount Kilimanjaro, summiting all 282 Scottish munros, running a half-marathon and cycling 500 miles.
He said: "I'm determined to do everything I can to stop people from suffering from this horrible disease and to prevent people losing their loved ones from cancer.
"I'll cycle, run and climb to make a million. I know people will probably think, 'this guy is crazy' but I'll throw everything I can at this. I'm so proud of my Mum who is at the heart of it all.
"It hit hard when she was first diagnosed with cancer. She came out the other side of it as positive as ever, got back to work and we were relieved to see her well again.
"But I'll never forget that moment three years later when she came home in tears to explain doctors had told her she had cancer again. Now she's got through it again and I couldn't be prouder."
Diane was first diagnosed with breast cancer in 2013, and again three years later in 2016 with cancer of the womb.
Diane credits the support she received from her family playing an important role in her treatment.
She said: "The first time I was told I had cancer I was kind of prepared for it in that I knew something with my body was not quite right.
"I know my cancer diagnosis had an effect on the whole family and, actually while I was getting on with it, they were really worrying about me.
"However, last year was much more of a shock. I just wasn't prepared for that at all and so I was in shock, just stunned at the news. My son Jed was there to comfort me."
Jed has set up a JustGiving page, where people can contribute towards his fundraising efforts, which can be found at justgiving.com/fundraising/JED-SMITH1 .
World Cancer Day is Saturday February 4, and the Unity Bands will be available to buy in all of the Cancer Research UK shops in Dundee and Broughty Ferry.