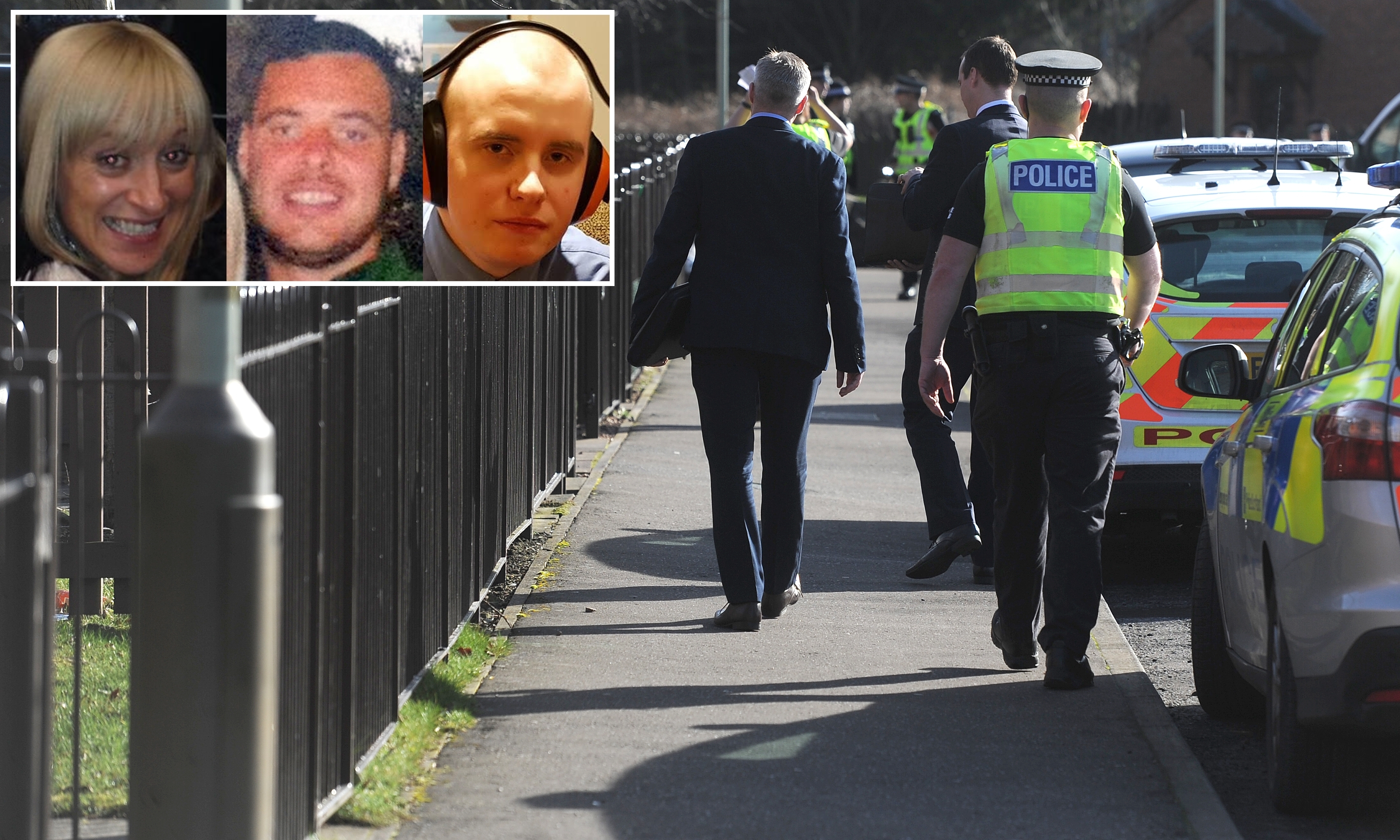 A Dundee man has appeared in court accused of murdering two cousins and attempting to kill another woman.
The allegations surround a family vigil on Sunday morning for an autistic
teenager who is thought to have died after falling from cliffs at Arbroath the previous day.
Robert Stratton appeared at Dundee Sheriff Court on Monday afternoon accused of murdering David Sorrie, 32, and Julie McCash, 43.
He also faces further charges of attempting to murder Wendy McKinney and assaulting his partner Lee Kinney.
Mr Sorrie and Ms McCash were found dead outside an address at Drumlanrig Drive in Dundee at around 6.30am.
Ms McCash was the cousin of missing 18-year-old Ralph Smith's mother.
The search for the teenager continues but he is presumed dead.
Stratton was remanded in custody after making a brief appearance at Dundee Sheriff Court.
He faces a total of four charges.
Prosecutors allege that on various occasions on Sunday at an address in Drumlanrig Drive, the same street in which he lives, he assaulted his partner Lee Kinney, repeatedly seized her by the body and pushed and pulled her, pushed her against a wall, seized her neck, threw her to the ground, picked her up and
carried her away, all to her injury.
Stratton is then alleged to have murdered Julie McCash by striking her on the body with a knife.
The charges state the 42-year-old attempted to murder Wendy McKinney by running towards her while brandishing two knives and attempting to strike her on the body with them.
Finally, Stratton is alleged to have murdered David Sorrie by running towards him while brandishing the knives and attempting to strike him with them on the body before he pursued him and struck him on the body, killing him.
Solicitor advocate Jim Laverty, for Stratton, made no motion for bail during a brief hearing.
Sheriff Lorna Drummond QC
continued the case for further
examination and remanded Stratton in custody meantime.
He is expected to appear in court again next week.
Tributes
Flowers were laid in Drumlanrig Drive for Ms McCash and Mr Sorrie. Close family friend Zoe McDonald, 21, whose mother has been friends with Julie for years, placed a floral tribute at the scene.
She said the "whole community is in shock. I burst into tears when I
heard".
"It's just such a shame for the family to have to go through this and it's not fair on the kids because they are all so young. They have been left without a mum and a granny.
"They shouldn't have to see what's happened.
"Davey was such a good lad and it's such a shame for his family."
Zoe added she wasn't sure what had happened to 18-year-old Ralph.
"We believe that he is trapped at the moment after some kind of accident," she said.
"I'm hoping and praying that we can bring him home but we just want to help them get through this time."
Ms McCash's colleagues at hairdressing salon Head First at Room 39 posted a heartfelt tribute to her online.
It said: "Julie was loved by all who knew her, she was a wonderful mother, partner, sister, family member and friend and child to Helen and the late Roddie.
"Julie opened her heart to everyone and treated everyone with respect.
"Her laugh, her grin, her ability to light up the room with her presence, she was a true diamond."
Emergency services descended on the residential area on Sunday morning and police continued to maintain a presence on the street.
Detective Chief Inspector Keith Hardie, of Police Scotland's Major Investigation Team, said: "There will be a strong police presence in the area while our investigation continues and I would like to thank the local community in advance for their patience.
"I would also like to take this opportunity to stress that this has been a contained and isolated incident. There has been no threat to the wider public at any stage.
"I would also urge anyone with information to please contact police, likewise anyone who saw or heard anything in the area that could be of assistance, please contact police as soon as possible on 101 or Crimestoppers on 0800 555111 if you would prefer to remain anonymous."
---
Further tragedy for family
A Dundee family reeling from the loss of three cousins over the weekend are mourning a fourth close relative.
Kyle and Kieran Walker, cousins of missing 18-year-old Ralph Smith and Julie McCash and David Sorrie, who died on Sunday morning, also lost their grandfather in a weekend of unimaginable tragedy for the family.
Kyle posted on Facebook: "Still don't believe this. Losing three cousins and my grandad in the space of 24 hours, can't get my head around it.
"Love all my family so much."
His post was shared by his brother Kieran and received hundreds of responses from friends and relatives.
Connie Devine posted: "Life really isn't fair. Love you all so much."
Relatives of Julie McCash and David Sorrie were too distraught to speak to the press.
A woman who answered the door at Julie McCash's home in Honeygreen Road said she was too upset to speak.
Ralph Smith's mother Nicola Duffy lives in Dunfermline but is believed to be in Dundee where she is being comforted by relatives.
There was no answer at what is believed to be the Duffy family home in the Rose Street area of Dunfermline.
One neighbour, who did not wish to be named, said that while she did not know the family, she had seen them in the neighbourhood in the past.
"Everyone gets along but a lot of people here are quite private," she said.