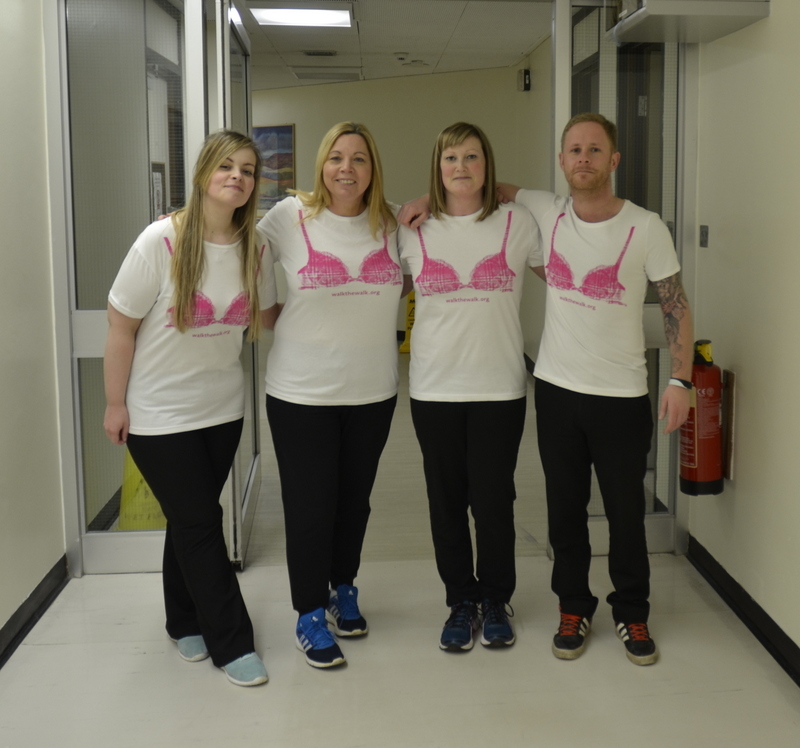 A team of staff who look after cancer patients at Ninewells Hospital are preparing to take part in this year's MoonWalk.
The charity event, organised by the Walk the Walk, sees men and women take to the streets overnight, passing some of Edinburgh's most iconic landmarks.
Known as one of the most testing events in the Scottish fundraising calendar, participants march on routes as long as 52.4 miles – the length of two marathons.
Doreen Fechlie and three colleagues from the patient pathways team at the Dundee hospital have signed up to take on the challenge
Doreen has worked for the NHS for the past 15 years, looking after cancer patients from initial referral to treatment and ensuring their journey is smooth.
She said she was encouraged to take part by a colleague, and used her upcoming 50th birthday as motivation to get fit.
"I'm glad we have pulled together as a team," she said.
"I decided myself that I'd like to do something at the start of the year, as I was going to be 50 and wanted a challenge.
"It's one of those things because we work together we can properly pull together.
"We are going to train as a group and support each other.
"We've all gone to get our trainers and are trying to break them in!"
Walk the Walk has also recently funded the cost of a scalp cooling machine at Ninewells Hospital to help people undergoing chemotherapy to retain their hair.
The machines, developed by Glenn Paxman as a result of his own wife losing her hair through chemotherapy, are compatible with most chemotherapy drugs.
Prior to receiving the chemotherapy drug, the scalp cooler – which consists of a lightweight silicone cap connected to a small refrigeration unit – is placed on the head and reduces the amount of blood reaching the hair follicles.
This increases the chance of retaining the hair.
A total of 80,000 people have taken part in the MoonWalk Scotland over the years, helping to raise more than £19.6 million.
Most of the money raised from the event stays in Scotland to help improve the lives of people with cancer now.
Anyone interested in signing up for the MoonWalk Scotland on Saturday 10 June should visit www.walkthewalk.org.
This year participants are encouraged to get involved with a jungle safari theme, as they tackle one of four challenges: the New Moon (6.55 miles), Half Moon (13.1 miles), Full Moon (26.2 miles) or Over The Moon (52.4 miles).