As the Scottish Grand Prix Table Football Championships are held in Renfrew on April 8-9, Michael Alexander speaks to a lifelong Subbuteo enthusiast from Dundee.
It is the table football game that became an obsession for generations of Scottish schoolchildren until its popularity was eclipsed by the rise of computer games in the 1980s.
However as it celebrates its 70th anniversary, Subbuteo is making something of a faltering comeback here in Tayside, where one of Scotland's two remaining table football clubs holds regular meeting nights.
The dozen or so members of the Dundee United Table Football Club, who meet in Letham church hall outside Forfar on Monday nights, certainly look old enough to remember space hoppers and flares.
But they are also on the look-out for fresh blood, particularly younger players who will keep the "flick to kick" game alive for another generation.
Self-employed caterer David Baxter, 50, from Dundee was a pupil at the city's Kirkton High School when he first got into Subbuteo in the early 1980s.
His Latin teacher organised a school league with table football competitions organised between teams such as Barcelona, Dundee, Dundee United and Liverpool.
In its heyday more than 300 football team strips were available. And that's before we get to the corner-kickers, throw-in figures, goal keepers on springs for that realistic "save effect", managers (complete with sheepskin coats and hats) and stadiums.
"You used to be able to go down to John Menzies and buy just about any team you wanted with the players all painted up in the team colours with numbers and everything," recalls David.
By the mid-1990s, however, interest in Subbuteo had dropped markedly.
In 2000 the game's owner Hasbro announced it was ceasing production in the UK, blaming other football-related games for flooding the market.
Then, five years ago, another manufacturer Paul Lamond Games revealed it was re-launching the table-top game under licence from Hasbro.
David, a real-life Dundee United season ticket holder who hadn't played Subbuteo for years, decided it was time to come off the bench after someone bought him a set.
A Google search led him to the Dundee United Table Football Club – formerly known as the Tayside Kickers – and he has been a stalwart ever since.
He competes regularly against other team members and in an annual cup competition against Scotland's only other remaining club, from Glasgow.
And last year he was part of the Dundee United Table Football squad that became British Table Football champions.
It's a serious business, says David.
"Basically the rules are the same as real football," he explains.
"The person attacking is allowed three flicks with one man but can use other players as well. Every time the attacker takes a flick, the defender can put in a block. The game is a lot like chess in that the players are trying to think ahead to work out what their opponent is going to do."
And it's no longer the pocket money game that drew him in in the first place. A team that might have cost £30 35 years ago might set you back £60 today.
The investment is worth it, he insists. David has travelled to play in England and has competed in the table football champions' league in Belgium, Italy and France.
With uncanny parallels to real football, David says the "big boys" of the Subbuteo world tend to come from Europe – particularly Italy and Belgium.
"The way the game developed in the 1990s was different over there," he adds.
However, the Scots' world rankings are going up and, in true underdog fashion, David and his team-mates are determined to push on for as long as there are pundits to utter the phrase "mathematically possible".
*Dundee United Table Football Club meets at Letham Church Hall, near Forfar, from 7pm to 9pm on Mondays. Anyone interested in playing is welcome to pop along or contact David Baxter via Baxterd@rocketmail.com or on 07817119006.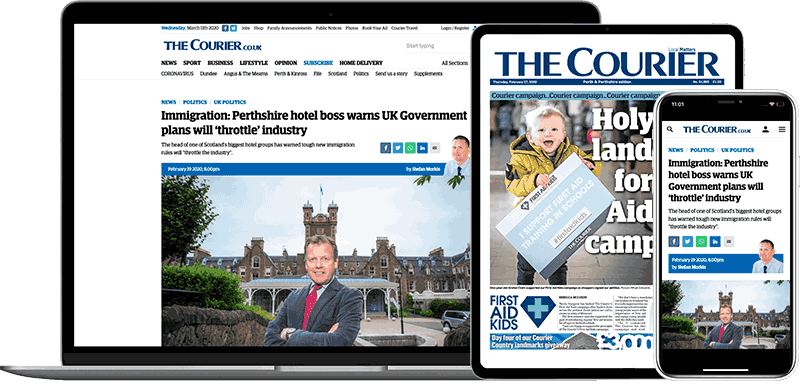 Help support quality local journalism … become a digital subscriber to The Courier
For as little as £5.99 a month you can access all of our content, including Premium articles.
Subscribe