Renowned broadcaster and former ITN anchorman John Suchet is in Dundee this weekend as part of Dundee University's 50th anniversary celebrations. Michael Alexander spoke to him.
Speaking to John Suchet is like stepping back in time.
The familiar tones transport you back to the 1990s when he anchored ITN's News at Ten and to the decades before that when he travelled the world reporting on seismic global events such as the Iranian revolution and the Soviet invasion of Afghanistan.
Yet once upon a time, those very same tones, which reported from the heart of some of the most dangerous places on Earth, might have got young John into trouble if he'd dared wander down to the old waterfront alone.
In the 1960s, the now 72-year-old spent four years studying at Queen's College Dundee (now Dundee University).
And in an interview with The Courier ahead of an event he is taking part in at the university this weekend, he revealed that his student friends wouldn't let him go down to the old waterfront by himself in case his English accent got him beaten up.
"Let's be frank about it – Dundee was not the most salubrious city in Scotland back in those days," he laughs.
"I had two very close friends I made in my first year at university. They were from near Edinburgh.
"They were apologising to me. 'Don't think Scotland is like Dundee', they would say. 'It's a bit of a rough city!'
"They wouldn't let me go down to the waterfront on my own because of my English accent.
"Yet when we return to Dundee this time we are staying in the Apex hotel built on reclaimed land that was water in our day. The area they wouldn't let me go to is where we are now staying in a luxury hotel. How times have changed!"
On Saturday, John will be warmly welcomed for the Dundee University Drever Commemoration Lecture, named after Dundee University's first principal James Drever who was a massive advocate for political discourse, encouraging students to strike and make stands against funding cuts.
John will take to the stage alongside fellow Dundee graduates – former Nato general secretary Lord George Robertson and former British ambassador Sir William Patey – to discuss how they went on to make an impact  in politics and will discuss how their time in Dundee helped shape their careers.
John hopes it'll give him an opportunity to talk about how Dundee has changed and what he went on to do afterwards.
"We were technically the last graduates of St Andrews," says John, who graduated with honours in philosophy and political science shortly before Queen's College Dundee secured independence from St Andrews University to become Dundee University in 1967.
"But every single lecture I attended for four years was in Dundee.
"I lived in Dundee for four years. So I regard myself as a University of Dundee man rather than St Andrews!"
A member of the baby boomer generation who found it difficult to get into their universities of choice, John admits his A-level grades at school were "not great".
Born and bred in London, the brother of Poirot actor David Suchet, also admits than we he secured a place in Dundee as his "third or fourth choice", he knew "absolutely nothing" about the city let alone where it was.
Yet he was "so excited" and quickly fell in love with the city after his mum brought him up on the overnight train for his first term in 1963.
"I was given a room at the Windsor Board of Residence, 71 the High Street, Dundee," he smiles.
"Mrs Grant was the landlady. And there were two or three of us there from the university. It was basically a boarding house for gentlemen who had fallen on hard times. It was amazing!
"I was so pleased I wasn't in a hall of residence because we were in the high street for goodness sake, right in the middle of things. It was absolutely lovely – absolutely great, and I really came to regard it as home!"
After years away, John returned to receive an honorary degree from Dundee University in 2000.
"I cannot tell you how proud I was, "he adds.
"I was not a very impressive student, and to think they gave me an honorary degree is beyond my dreams!  George Robertson, who was then the general secretary of Nato, and I  got it together. We sat on the stage together looking at each other saying 'all we could remember was nights in the union bar – who'd have thought we'd be sitting there getting this!'
John has had annual reunions with friends in the city ever since.
And he is so impressed with how the city has changed – and continues being impressed with the development of the V&A.
"It's an amazing city. It's lovely!" he says, adding that he hopes to revisit more old haunts during this weekend's trip.
"In our very first reunion we went to find our old union bar in a building on the Perth Road to find it's now the bloody accountancy department. How disgusting is that?" he laughs.
John was in his final year at university when he decided he wanted to be a journalist.
But he also has the city to thank for developing his passion for classical music which he now pursues as a presenter on Classic FM.
"I was a trombonist when I was in Dundee," he says.
"I wasn't a very good one but I was a very keen one.
"I founded a trad jazz band. I played in the orchestra for Gilbert and Sullivan.
"I think there was another social scientist on trumpet, and all the rest were dental students!"
John is now less involved in the news side of media with his career having come to a "natural end".
He has also been reflecting on the death of his wife Bonnie in 2015 after a battle with dementia.
But he has not lost sight of the "absolute importance" of a free press and shakes his head at the treatment of the media by recently elected president Donald Trump in the USA.
"Trump has made an enemy of the press and the last American president to do that was Richard Nixon – and we all know what happened to him!" he says.
"I believe passionately in a free press. But the world has changed. The internet has changed everything.
"In my profession, I had the best years in TV news working on News at Ten.
Different
"But now the viewing figures for News at Ten are a fraction of what they were in my day because the younger generation don't sit in an armchair and watch the news.
"They get it on their phones or their tablets.  It's a different way of getting the news. And it brings with it its own responsibilities.
"But I have no fears about the future of independent journalism. Its death has been predicted for as long as it's existed."
*The John Drever Lecture takes place at the Dalhousie Building on Saturday March 25 from 6-7pm. Free tickets for this event are available by visiting www.dundee.ac.uk/sels, emailing events@dundee.ac.uk, calling 01382 385108 or from the University's Tower Building Reception.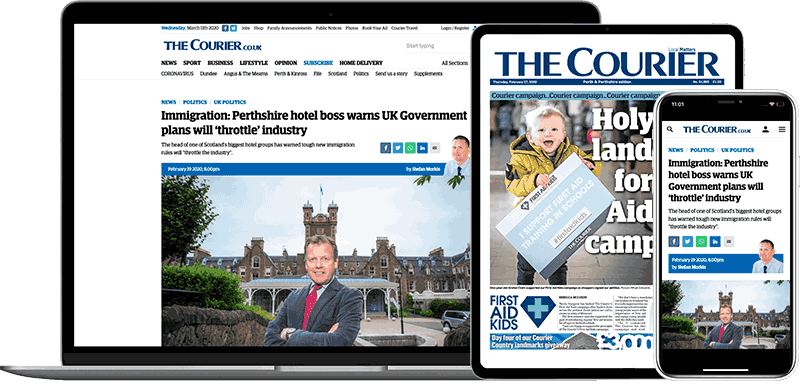 Help support quality local journalism … become a digital subscriber to The Courier
For as little as £5.99 a month you can access all of our content, including Premium articles.
Subscribe