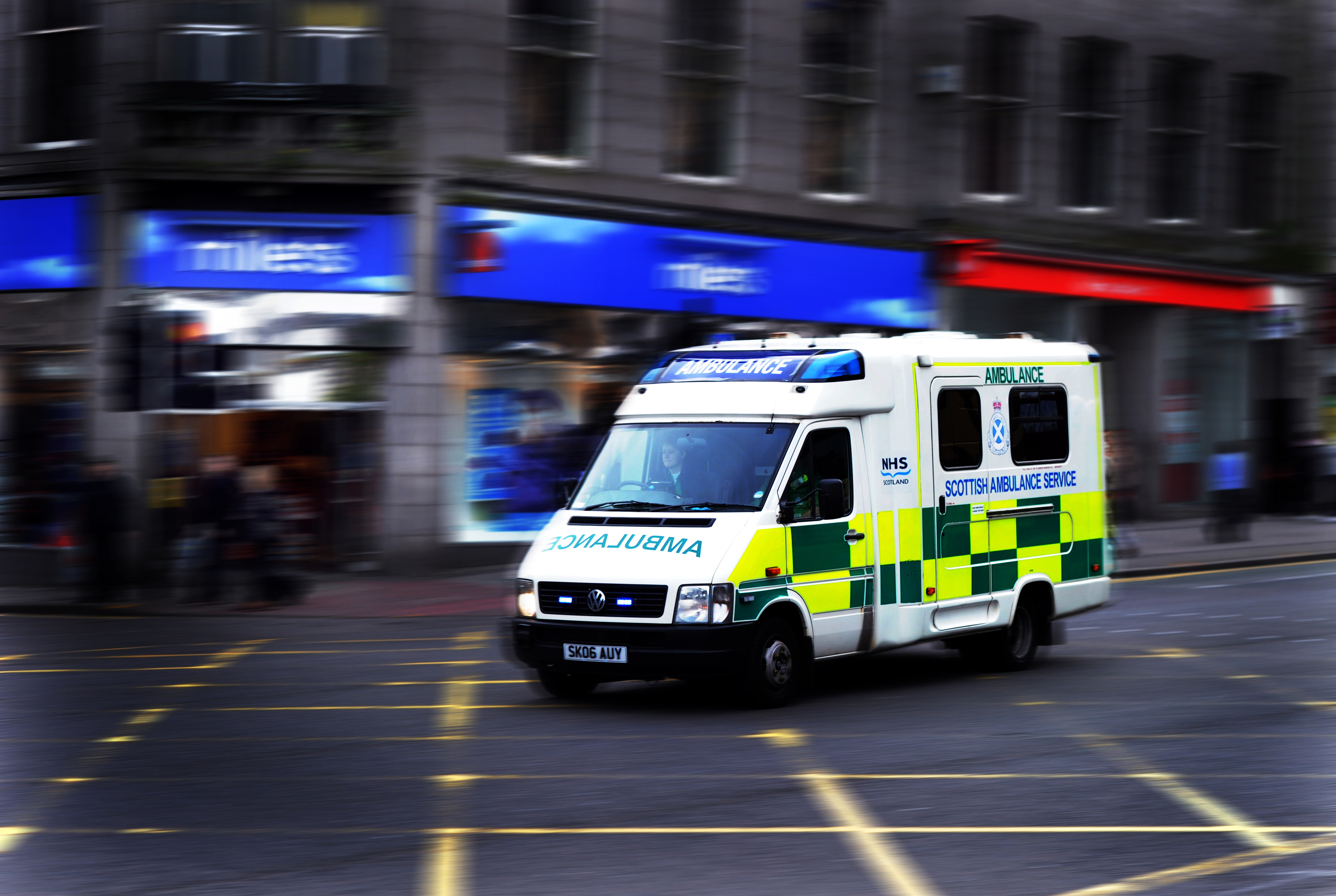 The Scottish Ambulance Service has apologised after a disabled Angus pensioner was forced to wait almost four hours for an ambulance.
An ambulance was called for Elizabeth Lloyd, 69, from Carnoustie, last Thursday after a GP said she may be suffering from Sepsis.
Despite a call being made "before 6pm", an ambulance travelling via Aberdeen did not arrive until close to 10 o'clock.
While Mrs Lloyd's family praised paramedics who eventually arrived, they are concerned such a wait was deemed acceptable for a potentially life-threatening condition.
Their concerns come just a week after The Courier published details of a 25 minute ambulance wait for a elderly widower who was found in the street, "bleeding profusely from his temple".
Mrs Lloyd's husband, Dr Charles Lloyd, 69, said: "My wife saw our GP and was told to go to hospital and get her sudden rise in temperature seen to.
"With my wife having such a high temperature, it wouldn't have been right to drive her in. I called the GP and the ambulance was ordered. It came at 10 o'clock.
"The ambulance was returning from Aberdeen. It looks like there is a shortage of ambulances. A four hour and a half hour wait is a little excessive.
"The ambulance people were great, it's just the resources they are given seem to be inadequate for the job they are trying to do."
Sepsis is a potentially life-threatening condition caused when someone's body is overcome by infection.
Bill Bowman, Scottish Conservative MSP for the North East Region, said: "People will be horrified. There are serious questions to be answered here about local ambulance provision and cover in Dundee, particularly after the similar incident in Bonnyrigg Place last week.
"We know the Scottish Ambulance Service is under pressure, but it recently launched a new system for dealing with calls which should have led to an improvement in response times."
A Scottish Ambulance Service spokesperson apologised and revealed the service is recruiting 16 additional paramedics across Tayside.
The spokesperson said: "Ambulances are prioritised according to the clinical need of the patient and unfortunately the patient waited longer while crews were busy dealing with emergency calls.
"During this period, there was continued contact with the patient from our ambulance control centre to ensure there was no change in the patient's condition."
A Scottish Government spokesperson said: "The Scottish Ambulance Service have rightly apologised for the time taken for the ambulance to arrive on this occasion and we have asked the Ambulance Service to contact Dr Lloyd directly regarding this complaint.
"The average response time for call-outs in Tayside in 2015/16 was around seven minutes against a national average of around 7.5 minutes."
Parking woes
Two days before Mrs Lloyd's lengthy wait for an ambulance, her husband, Dr Charles Lloyd, travelled to Ninewells Hospital to visit her.
Not realising his wife had been discharged from hospital, Dr Lloyd purchased a ticket and found a parking space on the first floor of a multi-storey car park.
Upon entering Ninewells, Dr Lloyd was informed his wife was, in fact, fit to return home.
Realising wheelchair access to the first floor is "impossible" and would not be suitable for his wife, who uses a wheel chair and has a blue badge, Dr Lloyd returned to his vehicle to collect his partner's wheelchair.
After putting the blue badge on display and penning a short note which he attached to his windscreen, Dr Lloyd moved his car to the seventh floor, which has disability access.
Upon returning with his wife, Dr Lloyd was stunned to see a parking charge notice on his window and disputed the charge with the warden who applied it.
Despite explaining his case, Dr Lloyd says he was met with apathy after being told wardens "do not read notes".
The 69-year-old has now written to car park operators Indigo to appeal the decision, which he believes shows Indigo lack "humanity".
Despite the circumstances, a spokesperson for Indigo said: "All customers have a chance to appeal a parking charge notice up to 28 days after it has been issued.
"Customers are able to get in touch with us online or in writing if they wish to appeal a parking charge notice and the process is outlined on their ticket and the website.
"We strongly advise the customer to follow the process outlined on the parking ticket so that we can start to address his concerns at soon as possible."