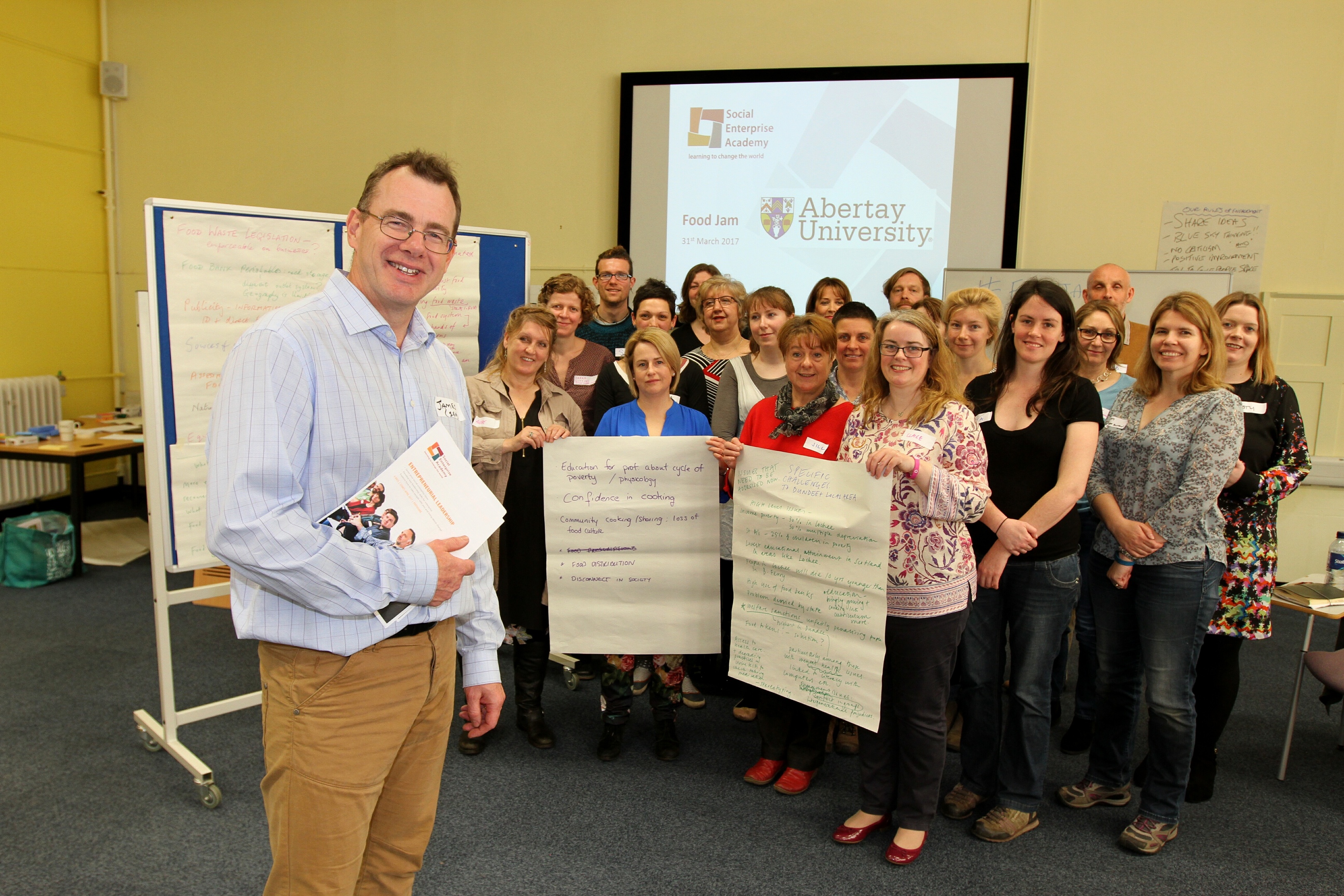 A range of groups met at Abertay University to discuss how to tackle Dundee's growing food poverty crisis.
The Food Jam brought together around 30 representatives from various groups such as the James Hutton Institute, Zero Waste Scotland, NHS Health Scotland, and Dundee Social Enterprise Network.
The event comes as Dundee's foodbanks remain Scotland's busiest, population-wise, with latest statistics showing that between April and September 2016 3,813 people were referred to one, of whom 1,050 were children.
Alternative approaches discussed included food chain redesign, community-driven food supply systems and opportunities with urban orchards, city farms and local farms.
James Hilder, of the Social Enterprise Academy, said much more could be done in Dundee and across Scotland to make food available more cheaply.
"What we are trying to do is tackle the issue of food poverty and food waste," he said.
"We have got the issue of figuring out what the specific challenges are that people are facing and, although everyone has heard of foodbanks, some families can't get to them because of issues such as transport problems.
"It's the whole issue of do people eat or heat?
"The conference isn't about getting to the root of the problem though, whether that is political or anything else.
"It's about getting different groups together, such as businesses, farmers, and community projects, to try to come up with creative solutions so we can get cheaper food to people who need it most."
One such creative initiative is Urban Orchard, which, when it began in 2013, gave Dundee the title of the world's first Orchard City.
It has worked with community groups and cultural organisations to plant 25 orchards across the city in spaces such as those surrounding schools, community centres and museums.
Jonathan Baxter, one of the artists behind the project, said one of the best ways to improve access to food for people is to bring the source closer.
"We define ourselves as an environmental and horticultural project," he said.
"But we think the whole political system should change and one way of doing that is for people to grow their own food by using space in the community.
"Although we are an art project, we are trying to support social and environmental wellbeing in the city as well as promote food sustainability."
The event was organised after the university became the only Scottish institution to secure funding from a Higher Education Funding Council England social innovation stream.