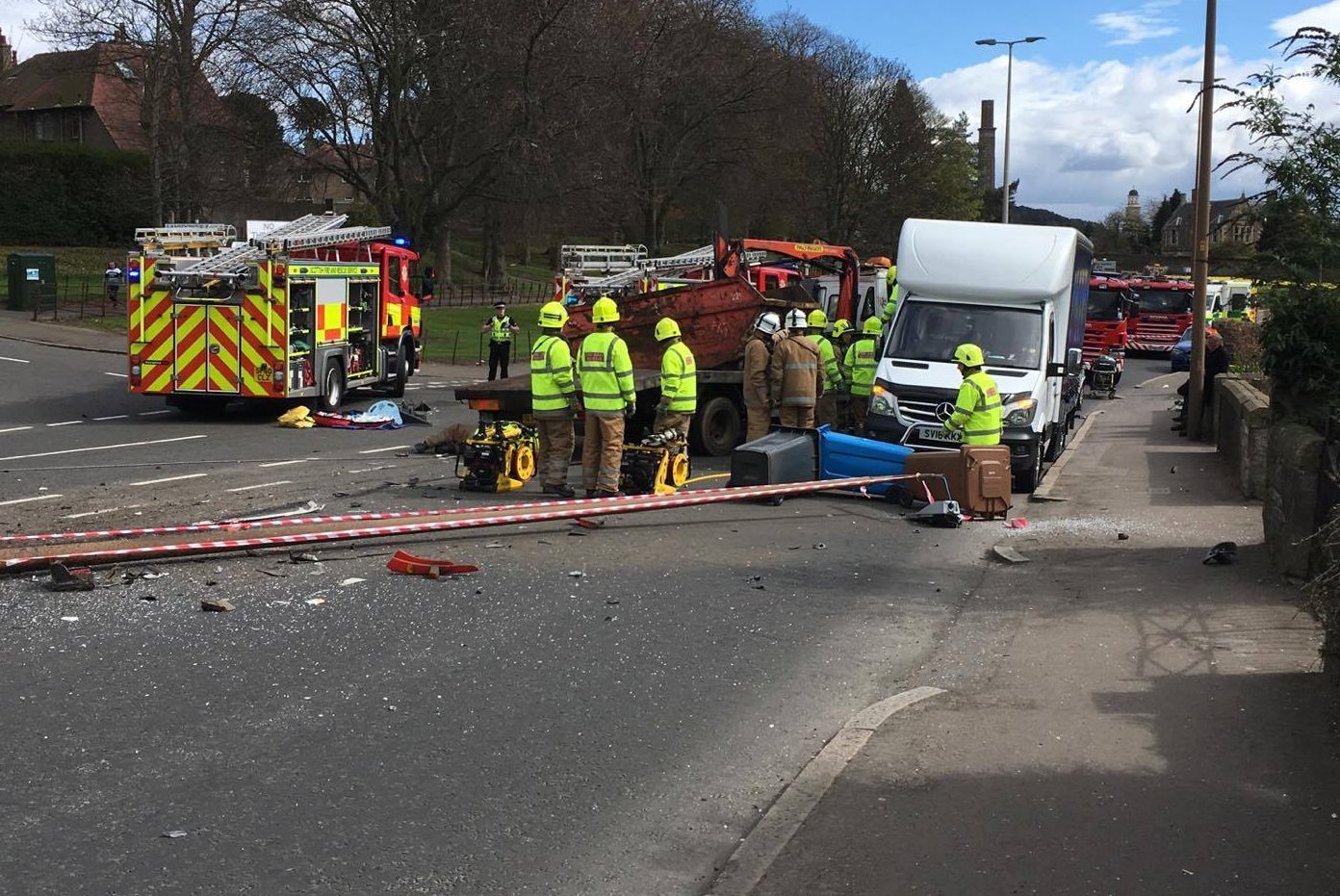 ---
A  lorry driver escaped with leg injuries after a horrific crash on a busy Dundee road on Monday.
Emergency services were called to Coupar Angus Road following a collision between a skip lorry and a delivery van.
A lamppost in the middle of the central reservation was also knocked down in the collision.
Emergency services sealed off Coupar Angus Road between Quarryside and Harefield Road for nearly two hours while they dealt with the incident.
The skip lorry was blocking the northbound carriageway while the skip was hanging from the trailer of the vehicle.
The lorry's driver was trapped in the cab of his vehicle for over an hour until fire crews and a Scottish Ambulance Trauma team were able to cut him free from the vehicle.
Fire crews put up blue tarpaulins while they cut free the driver.
He was finally extricated just before 3pm and taken to an awaiting ambulance before being transferred to Ninewells Hospital.
It is understood he suffered leg injuries but that his condition is not life threatening.
No one else was hurt in the incident.
Scottish Fire and Rescue station manager Vincent O'Donnell said rescue teams had worked hard in "challenging circumstances".
He added: "We spent time working with the trauma team to make sure the casualty could be removed comfortably."
Scottish Fire and Rescue sent four appliances and a heavy rescue vehicle to the scene.
Station manager O'Donnell said rescue efforts were made more difficult because the incident involved lorries rather than cars.
"Anything involving an HGV is more difficult because they are built much more solidly than cars," he said.
Tayside Contracts staff also attended the incident to remove the street light that had been knocked down.
One local resident said the junction is notorious for accidents
He said: "I got hit by a seven and a half tonne lorry last year- it clipped the side of the car. I was just at the doctors because we have a claim in.
"And another car ended up on its roof last year.
"Cars come down the (Coupar Angus) road too fast."