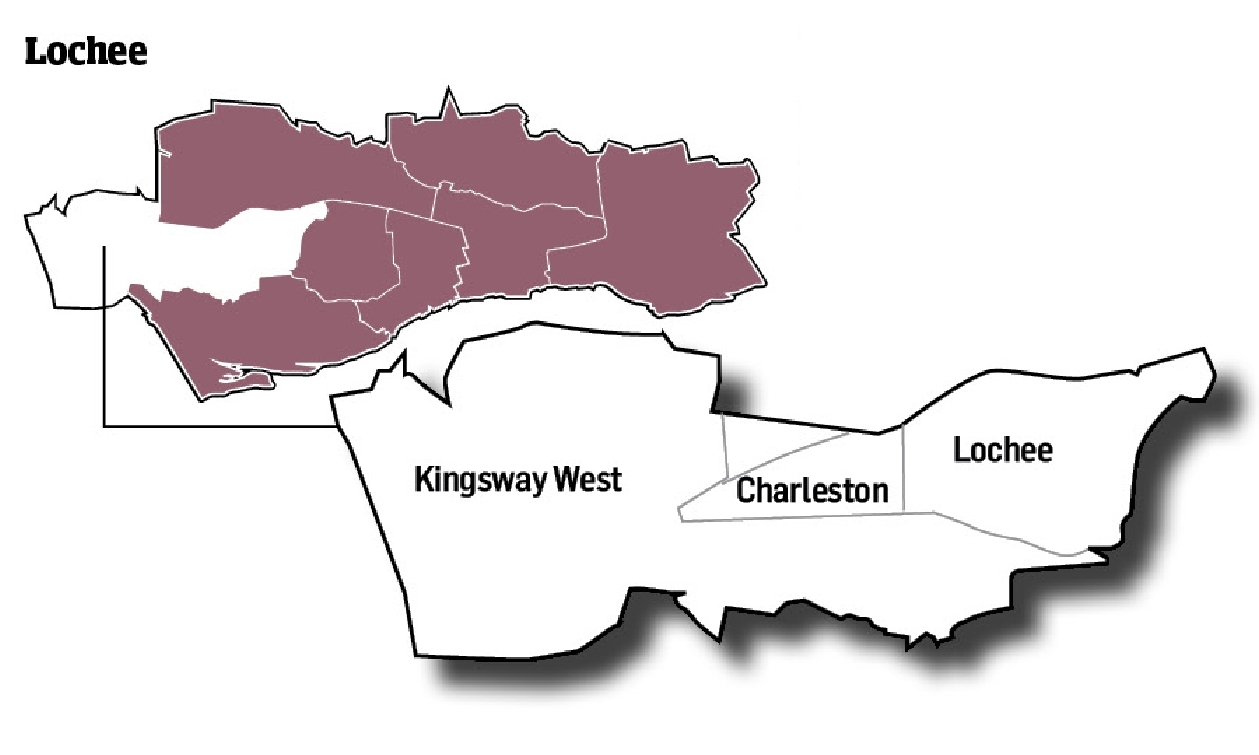 Lochee looks set to be one of the closest election battlegrounds in Dundee, with two of the incumbent councillors retiring and another contesting as an independent for the first time.
The ward, which also incorporates Menzieshill and Charleston, has been a hotbed of community activism in recent months, all in a bid to regenerate and revitalise the area.
Fears about the future viability of the high street have led to concerted efforts to bring new businesses to the area, most visibly in the Save the Lochee High Street campaign.
Recently, plans for two new major car dealerships and a community hub on land between Lundie Avenue and Kings Cross Road were approved.
The BMW/Mini and Land Rover/Jaguar dealerships are expected to bring 50 jobs to the area.
The community hub will also offer a new 3G football pitch and clubhouse for Lochee Harp and St Francis Amateur Boxing Club.
And there has been particular passion from the community to retain existing services.
When the partners of Lochee Health Centre revealed they planned to close, a well-organised campaign leaped into action.
As a result, NHS Tayside took over the centre and has now promised to hire and retain five GPs in the centre.
Elsewhere, work is under way for a new Menzieshill Primary School.
In 2012, 5,049 people voted, with a turnout of 37.57%, to elect two SNP and two Labour councillors.
However, one of the incumbent Labour councillors has resigned from the party and will contest this election as an independent.
It remains to be seen what, if any, impact this will have on the outcome.
---
Candidate profiles
The Courier invited each candidate to submit a short introduction to themselves and, if they wished, a video explaining why they deserve your vote.
Tom Ferguson (independent)
Mr Ferguson said: "Lochee born and bred, and still living with my family in Dryburgh, I can legitimately claim to be local – and proud of it.
"I have been a full-time councillor in the Lochee Ward for 10 years. I am always accessible to the people I represent.
"I believe in face-to-face communication, so my knowledge of the needs and aspirations of the people in the Lochee Ward is gained through speaking to them directly. When issues call for further research, I accomplish this by networking with real professionals.
"Lochee needs a myriad of new and creative ideas to help it progress to its rightful position of equality within our city of Dundee."
Leah Ganley (Dundee Against Cuts/TUSC)
Leah Ganley lives in Lochee and works in the charity sector.
A member of the Unison trade union, she is a prominent campaigner against cuts and an active members of Socialist Party Scotland.
Leah led the successful Invest in Lochee Health Centre Campaign in 2016 and campaigned to stop the closure of Menzieshill High School. She is also a founding member of the Save the Lochee High Street group.
Leah said: "The scale of austerity planned to the NHS and council services over the next three years means we can't afford to elect another bunch of SNP and Labour politicians to play pass-the-parcel with Tory cuts."
Lynn Hutchison (Lib Dem)
Lynn Hutchison is one of the Scottish Liberal Democrat candidates for Lochee ward and is currently a third year law student at Dundee University.
Originally from Greenock, Lynn now lives in Dundee and has been an active member of the Scottish Liberal Democrats during this time.
Lynn has said she wants to be an approachable and hard-working councillor for everyone in the Lochee ward.
Charlie Malone (Labour)
Charlie Malone has lived in the Lochee ward all his life, as did his parents and grandparents before him.
He attended St Clement's Primary School before Lawside Academy. At 17, he joined Timex as an apprentice engineer and worked there for 16 years. Charlie had a prominent role in the campaign to save jobs at the company.
After being blacklisted for his involvement, he studied at Abertay University, where he is now a lecturer.
Charlie said: "I will make it a priority in my first week if elected to tackle issues in health care, road safety and housing that residents have raised with me."
Michael Marra (Labour)
Michael lives and works locally with his young family.
He attended St Joseph's Primary and St John's Secondary School before going on to university in Glasgow and London, where he studied economics. Michael now works at Dundee University, having previously held the role of head of policy for Oxfam.
He now also runs a child poverty charity in Dundee in his own time. His family have been active members of the Lochee community for generations.
He said: "Results for our children in school are not good enough, our health services are at breaking point and we need a new jobs strategy for the city."
Gordon William Matheson (Green)
Gordon is currently a third year history student at Dundee University, having lived in the city for around 10 years.
He works in the city's retail sector and lives with his wife Amanda, stepson Brook, and three cats.
He said: "I joined the Scottish Greens several years ago as I believe that environmental concerns go hand in hand with social concerns, and I am committed to working hard to improve the local environment for the benefit of the people who live here.
"Having been involved in the local music scene for years, I am passionate about ensuring our musicians, artists and venues have space to thrive, and if elected I will work hard to halt the closure of our live music spaces, and look to get more young people involved in the arts."
Mason Mcilreavy (Conservative)
Mason, standing for Scottish Conservative Party in the Lochee ward, is a 25-year-old medical student at Dundee University.
The former NHS volunteer said: "Being a student at Ninewells Hospital, I am very aware of health issues and inequalities in our area. If elected, I'll lobby for improved availability and access to local GP services.
"I will make sure the council plays its part in improving public health by investing in sporting and recreational facilities.
"I have helped run a small family business before returning to university, and understand the challenges faced by local traders. I will focus on helping local business, and attracting inward investment to Dundee and the Lochee ward to increase prosperity.
"I will put local issues first and fight for the best deal for local people."
Kirsty Anne McKenzie (Lib Dem)
Kirsty McKenzie is one of the Scottish Liberal Democrat candidates for Lochee ward.
She is 22-years-old and originally came from West Dunbartonshire, but is now living in Dundee.
She is a history student at Dundee University and also has a part-time job at a local pharmacy.
Kirsty has been a member of the Liberal Democrats for two years and has campaigned on several local issues, having a keen interest in improving education and school facilities.
Alan Ross (SNP)
Alan Ross was first elected as councillor for Lochee in 2007.
The former  Ancrum Road Primary School and Menzieshill High School pupil has lived in Lochee for all his life, and is a single father to his six-year-old daughter.
He has served as convener of the community safety and public protection committee since April 2016, and added: "I'm pleased that Police Scotland has returned to a locality based policing model with officers more visible and available in our local communities.
"We have also seen Scottish Fire and Rescue open a state-of-the-art resource centre, and we will soon see the opening of a purpose built regional call-handling
centre in Dundee."
Roisin Smith (SNP)
Having started her career in banking, Roisin Smith has also worked for Shelter Scotland and is currently a caseworker for Chris Law MP and Joe FitzPatrick MSP, based in Lochee.
The 44-year-old mother of two said: "I enjoy striving to help those who come to us with a wide variety of issues and I am positive that I can take that experience with me and do a good job for Lochee.
"With fresh eyes and a strong female voice I will be proud to serve Lochee with energy and compassion.
"I want to know that I have played my part in making a difference and will work hard as a councillor to help in the fight for social justice."