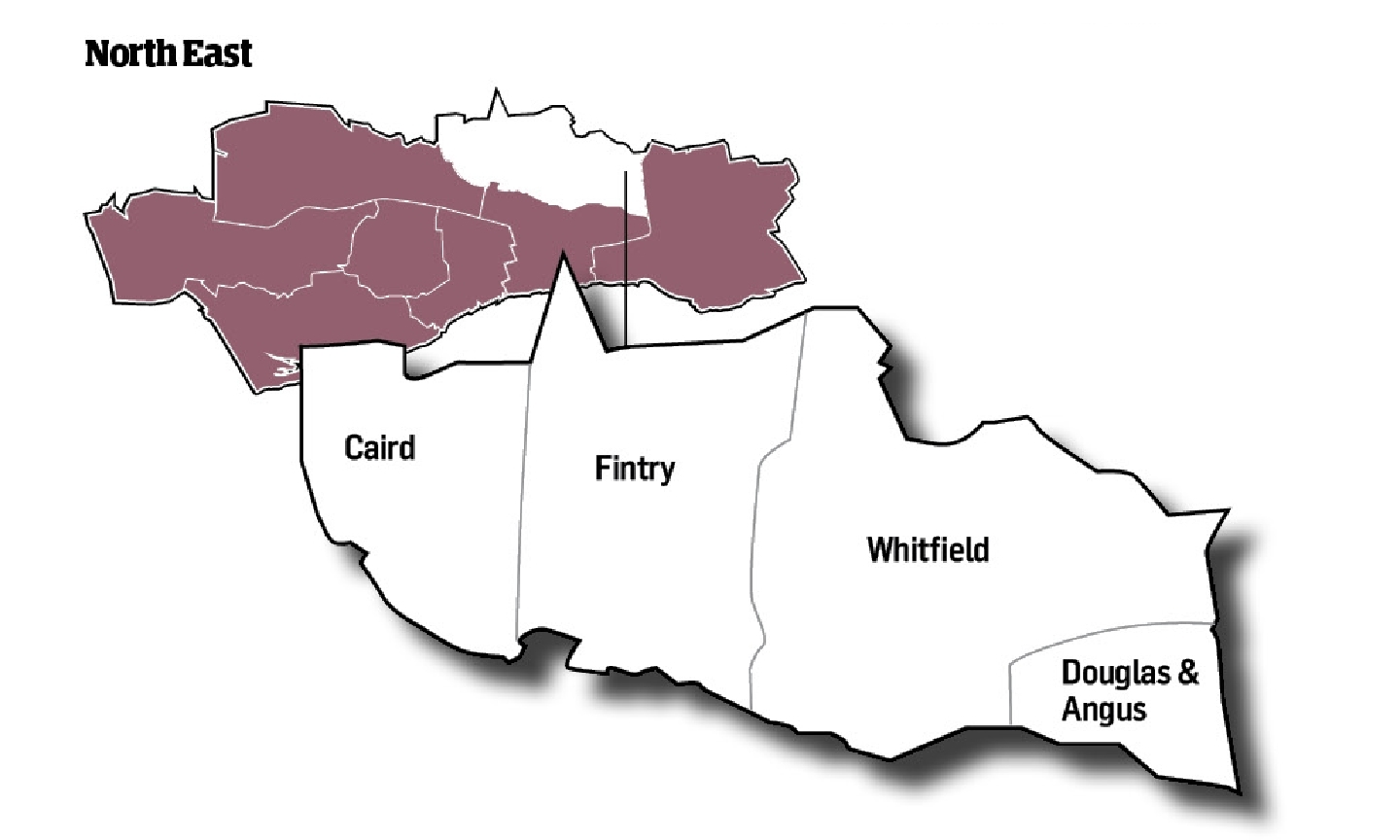 Regeneration, education and more affordable housing have been the key talking points in the North East ward in Dundee, which covers the areas of Whitfield, Ballumbie, Fintry, Mill O' Mains and Claverhouse.
Three seats are up for grabs, with eight candidates battling it out.
The make-up of the ward has remained the same since 2007, with two SNP councillors and one Labour.
In 2012, the SNP's Gregor Murray won the most votes after sealing a third of the total, with Labour's Brian Gordon coming in second with 28% and the SNP's Willie Sawers securing third with a quarter.
The three current councillors are standing for election again, and will be joined by 18-year-old Conservative candidate Curtis Large, the Liberal Democrats' Tracy Mulholland, the Green Party's Alison Catherine Orr, Dundee Against Cuts' Michael Taylor, and independent candidate Alan Beddows.
Some of the biggest changes in the ward include the creation of one of the largest primary schools in Scotland, the construction of which is due to begin in the next few weeks on land to the north of Lothian Crescent in Whitfield.
The fourth phase of the city's housing project is also due to begin soon, with hundreds of affordable homes constructed in the last 10 years in areas such as Mill O'Mains, Whitfield and Fintry.
Crime continues to be an issue, however, as it was recently revealed that North East areas Whitfield and Fintry are responsible for the highest rate of intentional fires in Dundee, contributing heavily to the city's 500 recorded instances last year and the resultant £1m hit to the city's coffers.
Stone-throwing youths have also affected the area's public transport after repeated attacks forced some of Whitfield's buses to change routes.
Meanwhile, Whitfield resident George Roberts was named Dundee's Citizen of the Year for his efforts in the community, which included work with the northeast regeneration forum and the £250,000 transformation of Whitfield Green.
---
Candidate profiles
The Courier invited each candidate to submit a short introduction to themselves and, if they wished, a video explaining why they deserve your vote.
Alan Beddows (independent)
Married for 40 years, Alan has three grown-up children and three grandchildren, all living in the North East ward.
He has lived his whole life in Fintry, having been employed as a security officer at Dundee University for the last 11 years and holding the position as the first chairman of Abertay Steering Group Housing Association.
He said: "I have now decided to stand independently for the council out of frustration and anger at the council's amnesia as to who elected them and why — as opposed to party politics and carrying out the agenda set out by some anonymous committee."
Brian Gordon (Labour)
Brian is a sitting councillor and says he is running for re-election to continue the work he has been doing for the last 10 years in the North East.
Lifelong Northeast resident Brian, 64, said: "I have championed new homes being built in Fintry, Whitfield and now in Finavon Street in Fintry.
"I have also been instrumental in supporting three new schools being built in Fintry, Whitfield, and starting this week the new Longhaugh School incorporating St Lukes and St, Mathews, St Vincents, Longhaugh, and pre-school education.
"Also, I am proud to be associated with the new Crescent building in Whitfield, hosting social work services, doctors surgery, community centre and local library and cafe.
"I have been involved in many more improvements that have been implemented in the North East, since my election and I hope to be elected again to represent the North East to continue these."
Curtis Large (Conservative)
18-year-old Curtis is studying for a degree in politics at Dundee University. He moved to the city last year and says he has been charmed by the strong sense of community that runs throughout.
He said: "I hope to do my part in representing the proud residents of North East, opposing the obstructive policies of the SNP.
"I've childhood and ancestral ties to Fort William and Stornoway respectively, with my family currently resident in Nottingham.
"Whilst living there, I was an active volunteer with Oxfam and a frontline first aid worker with St John Ambulance."
Tracy Mulholland (Liberal Dem)
Tracy, 46, is a mother of one and from St Mary's.
Educated at the Rockwell High School, Tracy then moved on to Dundee College and has now worked for over 25 years in the Downfield Medical Surgery.
Tracy has fund-raised for MND Scotland, who support people affected by motor neurone disease.
She said: "I am very supportive of regeneration initiatives in the North East Ward and wants to see further efforts to build more affordable housing in the area."
Gregor Murray (SNP)
Born and raised in Fintry, Gregor has represented the North East Ward since 2012.
In that time, the councillor has served as the depute convener of the children and families service, which looks after all of the city's education and children's social work.
Gregor also serves on a number of boards on behalf of the council, such as the science centre and the DCA, and is also the council's equal opportunities
spokesperson.
Gregor said: "I stood in 2012 to make a difference to my local area, and really feel as though I've made a start, but there's so much more to do.
"There's loads going on across the ward, from school and house building to parks and open space development, and I'd be honoured to be elected to continue
that work. Dundee is on the up, and it's important that we make sure that our ward is too."
Alison Catherine Orr (Green)
Alison made Dundee her home eight years ago when she came here as a student.
She said: "I joined the Scottish Greens because I believe the rights and welfare of the people of Dundee are as important as the environment we live and work in.
"Everyone in the North East should be able to make their voices heard about the local issues that affect them and, if elected, I would strive to increase participation in local democracy.
"As a councillor I would aim to be accessible, a good listener and communicator, and most importantly someone who follows up on promises and fights on the issues facing Dundonians."
Willie Sawers (SNP)
Born and raised in Fintry, Willie Sawers was first elected in 1992 to represent Whitfield and has represented the North East since 2007.
Willie is the council's finance spokesman, a position he has held since 2009 when the SNP formed the administration of Dundee City Council.
He is responsible for setting the council's budget of hundreds of millions of pounds each year.
He said: "I've enjoyed my time working along with the community and local people, and look forward to another five years of representing this area.
"There are always challenges to face up to, particularly with the London Tory Government's continued politics of austerity.
"However, our administration has worked in partnership with the SNP Government at Holyrood to invest in our city.
"Next year we will have another new primary school, and house building continues across the ward."
Michael Taylor (Dundee Against Cuts/TUSC)
Michael has lived in Fintry and Whitfield for the last 55 years.
He has worked in hospital, residential, day care and community settings supporting adults with chronic mental health issues, learning and physical disabilities and young people.
He said: "As a local government employee, I was a union representative with Unison and witnessed services being constantly reduced or privatised while low paid, front line staff made up for the cuts which arrived with every council budget: Labour and SNP.
"The last ten years of austerity has seen the pace and depths of those cuts stepped up to affect the most vulnerable in our community. It must end."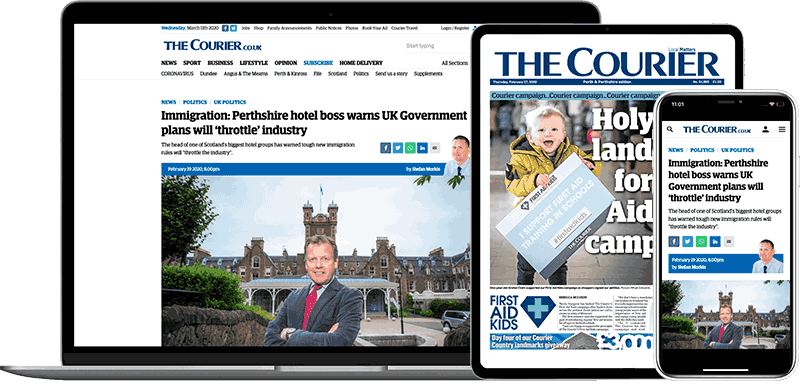 Help support quality local journalism … become a digital subscriber to The Courier
For as little as £5.99 a month you can access all of our content, including Premium articles.
Subscribe