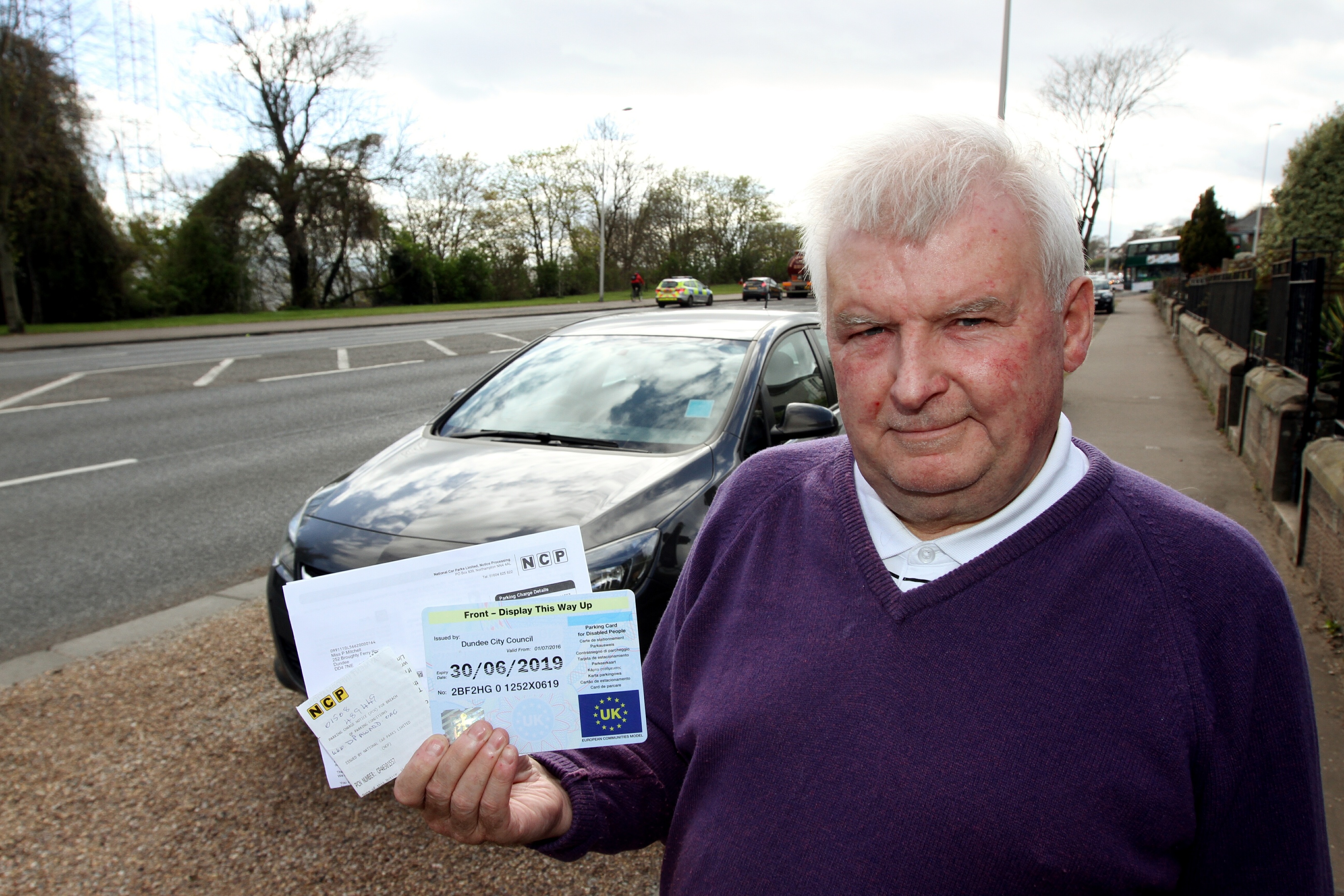 A disabled motorist claims private parking companies are "milking" the opportunity to hand out fines, after he was slapped with a £100 ticket in a bay he has used for free for years.
Dundee greenkeeper Gordon Mitchell, who suffers from balance problems and has a Blue Badge allowing him to park in disabled bays, regularly used the NCP car park on Willison Street in the city centre.
On his latest visit however, after parking up as usual and displaying his badge, he returned to find a £100 parking charge notice displayed on his windshield.
He says he has never had to pay for the use of the bays but NCP say that it has always been necessary for Blue Badge holders to purchase a parking ticket for the site.
Left flabbergasted by the levy, Mr Mitchell believes private parking companies have been buoyed by the recent £24,500 court case victory against Dundee woman Carly Mackie.
"I have never had to pay for parking there before and all of a sudden they put up these signs that say Blue Badge holders 'may' need to pay.
"Which one is it? As a blue badge holder, do I need a ticket to use the car park or do I not? It's confusing and I don't intend on paying.
"Without a doubt, it's bullying. I think these private companies are milking it. It's the wording of the letter too where it says they may send out a debt collector to my home, which to me is very threatening.
"I do get the feeling this is happening because of the recent court victory against the young girl."
A spokesperson for NCP said: "The team would have always issued a vehicle with a Parking Charge Notice (PCN) if it was found that the driver was not displaying a valid parking ticket.
"On all PCN's issued there are clear instructions on how to appeal if a customer feels they have been incorrectly issued with a PCN, so we always suggest people use that system and we can then view each situation on a case by case basis.
"Disabled drivers must display a Blue Badge and a valid parking ticket to use the disabled bays on this site."
Meanwhile, an anonymous member of Dundee Indoor Bowling Club, on Miln Street, next to Verdant Works, claims officials are using a "sledgehammer to crack a nut" after they brought in a private parking operator to prevent unauthorised parking at the club.
Members who have a fully paid membership are given use of the parking facilities but many members — having forgotten to display their permit — have been hit with large fines with the member claiming the club are "wiping their hands" of any support.
In response to complaints, a spokesperson from the bowling club said: "The decision to introduce this contract with the private parking company was agreed at the AGM to prevent non-members parking.
"It's a shame that members are being fined but at the end of the day, we can't make the decision to withdraw the contract — which is for one year.
"Members are required to display their pass otherwise they may receive a fine."