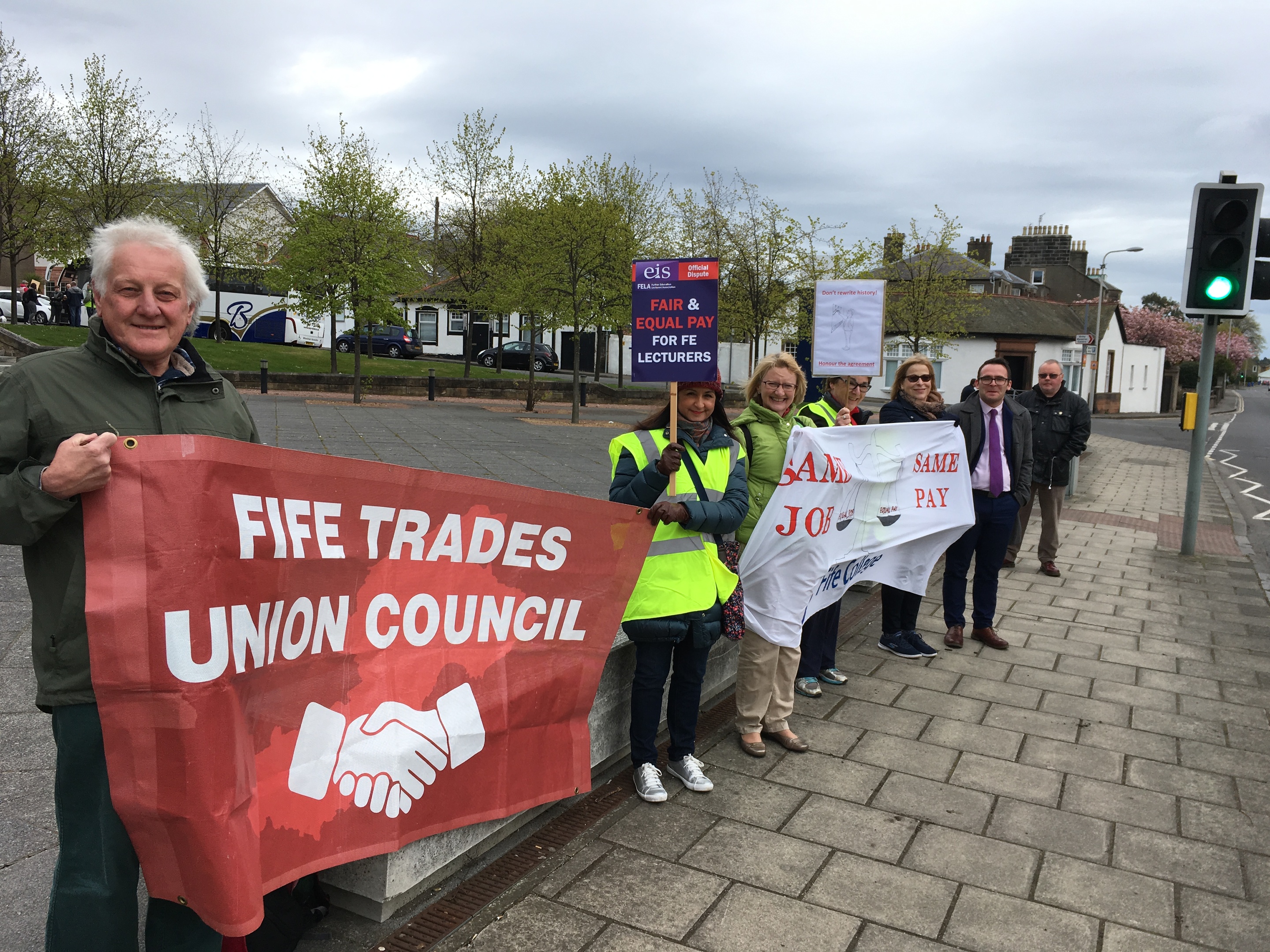 College lecturers across Dundee, Perth and Fife held a second day of industrial action on Wednesday, in a dispute over pay.
Discussions between the Educational Institute of Scotland (EIS) union and college management representatives broke down on Tuesday, which prompted a second day of action following last Thursday morning's walk-out.
A rally attended by a large group of lecturers was also held in Glasgow's George Square after the talks failed.
Alison Davidson, a lecturer at Fife College and EIS representative, was on the picket line on Wednesday morning and said proposals put forward by college management would lead to more lecturers becoming overworked in the long term.
She said: "If there is no agreement reached between college management and EIS the next time they meet, then the action will escalate next week, with  two days of action – the ante will be upped.
"We would of course much rather be in teaching, but the consequences for staff if these proposals put forward by college management would be severe."
It is understood EIS members plan another two days of industrial action on Tuesday and Wednesday of next week, if an agreement cannot be found.
The EIS said Colleges Scotland failed to deliver on a deal agreed last year, but the body has insisted the offer it had put forward was fair.
EIS general secretary Larry Flanagan said: "The reality is that it is likely that the intervention of the Scottish Government will be necessary to compel college management to meet their obligations to lecturers and students.
"Lecturers do not want to strike, but have been forced into this action by the refusal of management to honour the NJNC (National Joint Negotiating Council) agreement that was reached more than a year ago."
A spokeswoman for the Colleges Scotland Employers' Association said: "The employers put forward three new proposals today in addition to the average pay increase of 9%. However, disappointingly, the EIS has rejected these.
"The EIS is so far unwilling to accept the terms the union signed up to last March, which was clearly about pay and conditions.
"Our number one priority is ensuring that students are not affected by more disruption, and we urge the EIS to accept the very reasonable and fair offer that is on the table.
"We have offered to meet with the EIS again this week on Wednesday May 3 and Friday May 5 to continue talks."