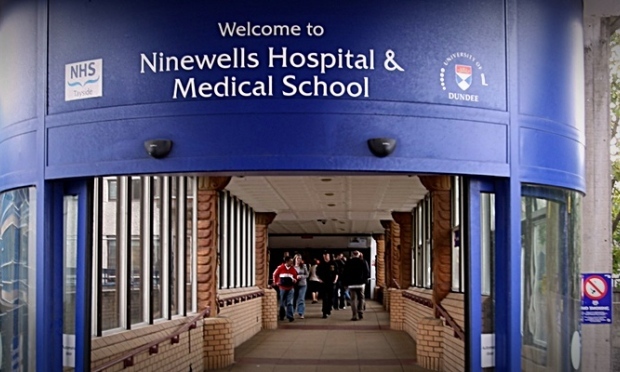 NHS Tayside has  apologised to a father whose son died shortly after being discharged from Ninewells Hospital.
The patient, Mr A, was taken to hospital after collapsing in the street and vomiting blood and was discharged after treatment for a head injury.
However, he collapsed again later that day and was rushed back to Ninewells, where he died.
The post-mortem found the cause of death was a massive gastrointestinal haemorrhage.
His father, named only as Mr C, made a complaint to the Scottish Public Services Ombudsman, who launched an investigation into the care provided.
The SPSO report stated: "Mr C complained that, following a collapse in the street where he vomited blood, his son (Mr A) was taken to Ninewells Hospital where he was discharged after treatment for a head injury.
"Later that day Mr A was again found collapsed in the street and he was again taken to Ninewells Hospital where he died that evening.
"Mr C noted from the post-mortem report that the cause of death was recorded as a massive gastrointestinal haemorrhage and said that had this been identified during the first visit to hospital then the outcome may have been different.
"We obtained independent advice from a consultant in emergency medicine about the treatment provided during the first attendance at hospital.
"We found that the assessment of the cause of Mr A's collapse was reasonable. We also found that the assessment of his head injury was reasonable.
"However, we found that an insufficient risk assessment had been made when considering Mr A's reporting of vomiting blood and as such he should have been admitted to hospital on the first attendance or kept in for a longer period of observation.
The report added: "However, even if this had been case we could not say with certainty that the outcome would have been different, but we acknowledged that Mr A would have had an earlier review by clinical staff. We upheld the complaint."
The SPSO recommended that NHS Tayside apologise to Mr C for the failings identified in the investigation, as well as and share the report with the relevant staff so that they can reflect on their actions.
A spokesperson for NHS Tayside said: "We have been in contact with the patient's father and apologised.
"Our thoughts remain with the family.
"As an organisation we take every opportunity to improve and we will ensure we share learning from this across NHS Tayside."