A Dundee road rage driver caught on a dashcam has been urged to "calm down" before someone is hurt.
Alan Anderson, 58, made the appeal after he was trailed by an "angry" Range Rover driver in the city on Sunday evening.
He said the driver seemed hell-bent on a confrontation and even punched his wing mirror, only backing down once he realised he was being filmed.
The incident started when Mr Anderson, a self-employed plumber and gas fitter, was driving up Ninewells Avenue just after 6pm.
He says the Range Rover driver emerged from Ninewells Drive and seemed impatient that Mr Anderson was sticking to the speed limit.
Mr Anderson said the driver seemed further enraged by his "lane discipline" at the roundabout at Dickson Avenue and changed his direction and followed aggressively until they reached the traffic lights at the Ancrum Road/Logie Street junction — and that's when things took an even more sinister turn.
As Mr Anderson's footage shows, the Range Rover driver cut into his path to block his way forward and then started remonstrating with him before he leaned over and punched the wing mirror of Mr Anderson's van.
Mr Anderson admitted he was alarmed — but is even more concerned that someone more vulnerable might be next in line for a confrontation with the driver.
He said: "He followed me all the way to the junction at Logie Street. I noticed he was approaching and I held back at the lights to ask him what the problem was.
"That's when his Range Rover cut in front to block my path. I was quite alarmed — it's the first time I've ever experienced anything like that."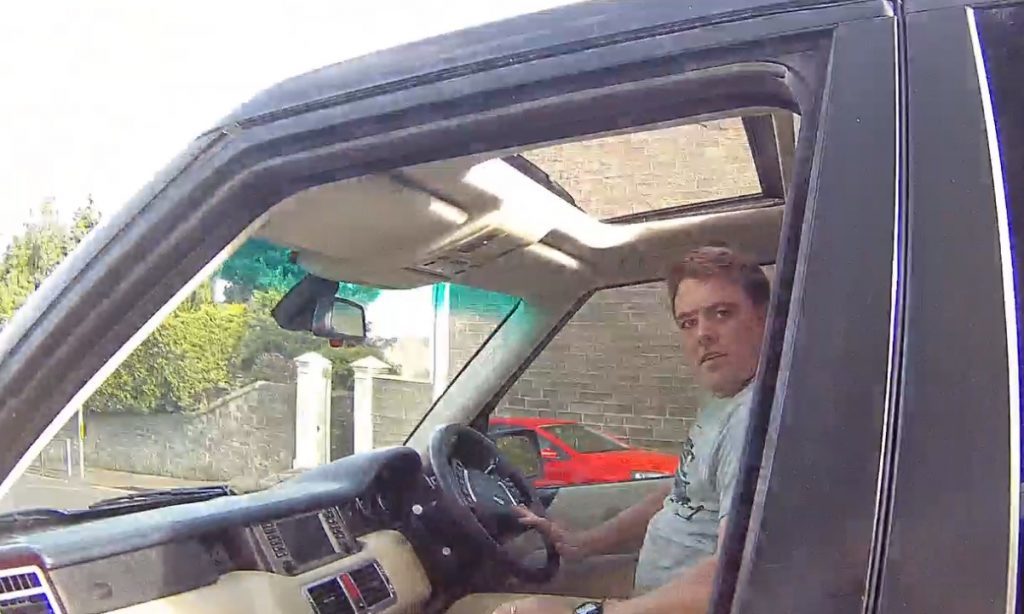 Mr Anderson admits he gesticulated at the driver and the pair "exchanged words" but he was shocked when the driver stretched across to punch his mirror.
He added: "He seemed to be in a hurry but I wasn't going to break the limit to suit him. That seemed to annoy him and it was a way over-the-top reaction."
Mr Anderson said the driver may have had things on his mind, but he appealed to him to think of the potential consequences of such behaviour.
"I would say 'calm down'. Show a bit of patience. We're all human and we all get annoyed at things but there's no excuse being aggressive like that and punching my door," he said.
"Where does that lead?"
A spokesman for Police Scotland said: "The driver of the Range Rover is described as around 40 years old, of stocky build with brown hair, wearing a grey t-shirt, and spoke with an English accent."
Anyone with any information that may be useful should contact Tayside Division on 101 quoting CR/13822/17 or speak to any officer.  Alternatively information can be passed anonymously via the charity Crimestoppers on 0800 555 111.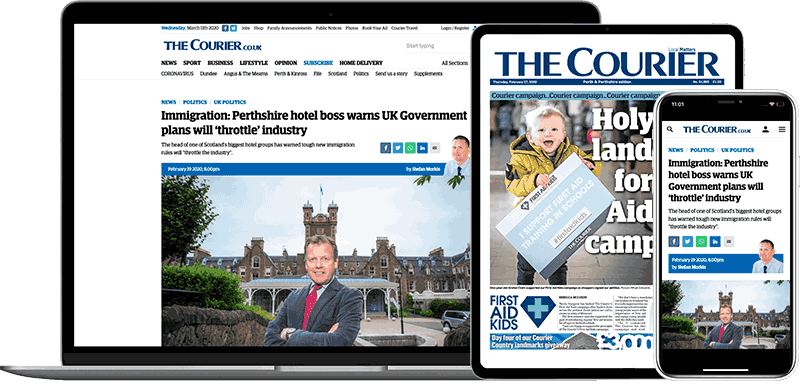 Help support quality local journalism … become a digital subscriber to The Courier
For as little as £5.99 a month you can access all of our content, including Premium articles.
Subscribe