Thousands of muddy heroes sprinted, scrambled, climbed and crawled through obstacles in Camperdown Park at the weekend raising money for Cancer Research.
The Pretty Muddy event kicked off a jam-packed weekend of fun-running at the park on Saturday afternoon, with more than 1,500 girls and women making their way through a mud-clogged assault course.
Pink participants had to crawl through scramble nets, bounce along on space hoppers and surf down inflatable slides covered in mud in the glorious June sunshine.
Women from all over Courier Country converged on the picturesque park to take part in Saturday's endurance event.
Patricia Kent, 42, from Arbroath, said her team were doing the event for future generations.
She said: "The heat on Saturday was unreal so it's been quite nice getting into the cool mud and having water thrown at us. It's been a really chilled-out day."
Abigail Anderson from Forfar, 36, said she was taking part in memory of her son's grandmother and other family members affected by the disease.
"We have had so much fun," she said.
"I'd definitely do that again and try get round faster."
On Sunday, the more well-known Race for Life 5 km and 10 km races were held, taking in the grand gardens of Camperdown, on one of the hottest days of the year.
The Race for Life race – traditionally run by women and girls – was this year open to men for the first time, who could enter in to the family 10 km event.
The Sunday event was opened by Dundee "superdad" Roy Hann, who alongside wife Emma, is a parent of thirteen.
Roy and his family were invited to sound the air horn to start the race, something the Ninewells nurse practitioner said he was incredibly proud to do.
"I can think of no better way to have celebrated Father's Day," he said.
"I'm so proud of all 13 of my children. I love being a dad and I'm really looking forward to becoming a grandad too.
"Even Meg who is only two was determined to complete the 5 km course.
"So often in my job as a nurse practitioner I try to help patients who have cancer. I've seen first hand how devastating the disease can be. That's why I'm determined to do everything I can to help fund research to help beat cancer sooner."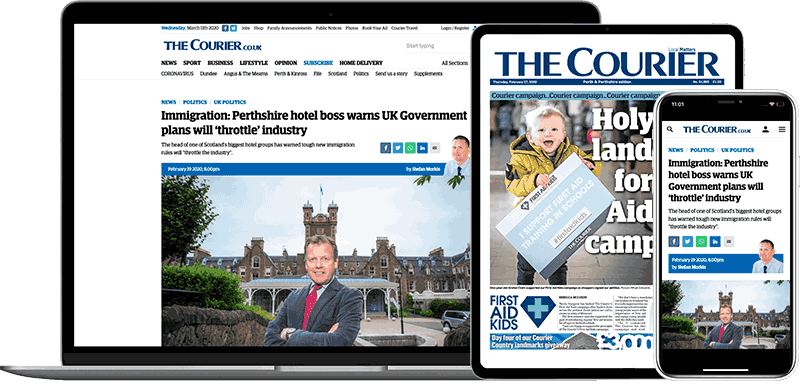 Help support quality local journalism … become a digital subscriber to The Courier
For as little as £5.99 a month you can access all of our content, including Premium articles.
Subscribe