After studying photography at the Royal College of Art, Dundee-raised Ken Sharp went on to become a well-known rock and celebrity photographer, creating portraits of famous people for many top magazines such as FHM, Q and Rolling Stone. Michael Alexander met him at home in St Andrews.
According to the old saying, 'you can take the boy out of Fintry, but you can't take Fintry out of the boy!'
Yet rather than being ashamed of his humble beginnings, the celebrated rock and celebrity photographer Ken Sharp, who grew up in the Dundee housing scheme on the north side of the Kingsway, thanks the "gritty realism" of his early life for the success of his iconic images.
The portrait photographer, who now lives in St Andrews, made a career travelling the world taking photographs of everyone from Anthony Hopkins to Willie Nelson, Eric Clapton to Johnny Cash and Bjork to David Bowie.
He specialised in creating moody portraits of famous people for many top magazines such as FHM, Q and Rolling Stone.
With his wife Lesley, Ken, who studied photography at the Royal College of Art, now works as a successful family portrait photographer.
The couple split their time between Scotland and London which allows them to photograph families throughout the UK and they also work regularly in the USA.
But the 63-year-old former pupil of Fintry Primary, Linlathan High School and Morgan Academy, admits that he had no real ambition to take photographs let alone leave Dundee – that was until he enrolled at the city's Duncan of Jordanstone College of Art and Design to study architecture.
"We had a tough, very poor, upbringing in Fintry," says Ken in an interview with The Courier at his now home in the leafy suburbs close to St Andrews University.
"My father George worked in Baxter's jute mill.
"My mother worked in the mills as well as a spinner.
"It was difficult in the schemes if you were 'swotty' at school.
"You had to defend yourself. Dundee always had that attitude – don't get above yourself!
"I was keen at school. I was always enthusiastic. I never felt ambitious about anything.
"I've never tried to get on in that sense. I've always just had passions for doing things.
"So it was a funny thing – I'd wanted to be an architect from the age of 11. I worked hard. Then, just before I was leaving school I decided I wanted to do drawing and painting.
"I'd been accepted for the architecture course and thought I would see how that goes with plans to change after first year – and change I did."
On his first day at art college, Ken was told he'd need to get a camera to take photographs of buildings. A friend in second year sold him his old Russian-made Zenith camera and showed him how to develop a film.
"As soon as I saw the picture come up in the chemicals, I was hooked!" he recalls.
"I had never taken a picture in my life at that point!"
Ken transferred to drawing and painting in second year where he specialised in graphic design. As part of this he did a photography module under the wing of the internationally-acclaimed and 'father of modern Scottish photography' Joe McKenzie.
"He was a big influence on me," adds Ken. "The way he taught me about using available light. I was very sad to hear he had died last year."
As a self-proclaimed "Dundee-boy", Ken had no desire to leave the city upon graduation.
As a stay-at-home student, he used to get up early in Fintry to take atmospheric shots of local landmarks – and was once stopped by police who thought it was suspicious a young lad in the schemes should be carrying a camera!
He overcame these potential barriers, however, and successfully applied to the Royal College of Art in London because he wanted to do a "proper" photography course.
After leaving full time study he lectured at Watford College for a couple of years.
By this time he was married with two young children, and realised he had to get a "proper job".
He secured work doing listings and advertising portraits for Time Out and Campaign magazines. Quickly, however, he started getting work with other magazines as his reputation grew, and before long he was doing celebrity pictures for the launch of Q magazine.
"My style was gritty realism and I put that down to coming from Fintry," he says. "I did a lot of stuff in black and white. It was a gritty, realistic, intense, black and white portraits."
Ken was always a "location photographer" and specialised in using what was available – usually in hotel rooms, foyers or service elevators – to set the tone. He would usually carry a black cloth backdrop to cover up unsightly wallpapers or bed throws.
Early work included pictures of Tim Roth, Jonathan Pryce and Nicholas Cage in the Savoy Hotel.
On another occasion he found himself in Belgium with a brief to get a photograph of George Michael amongst a melee of press photographers.
The relationship between photographer and celebrity could vary, however.
The nicest person he ever photographed was Leonard Cohen who cooked him and a journalist a meal in his Los Angeles home and gave him gifts when he said he was a fan.
He also has great memories of Paul McCartney, Eric Clapton and Keith Richards who were very genuine and personable.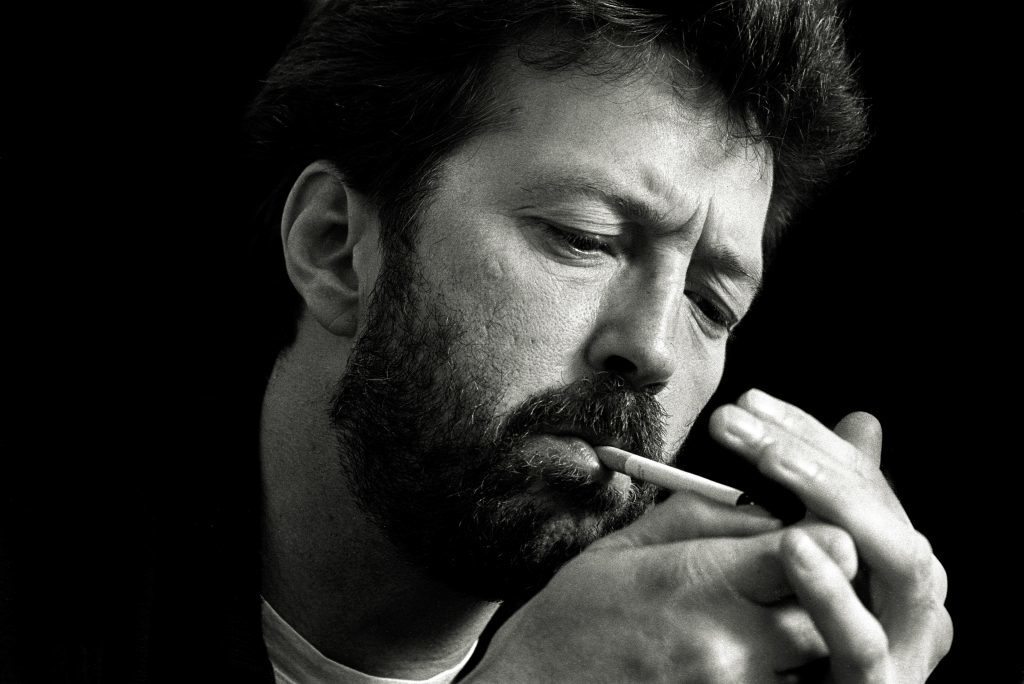 "Some treat it like a business," he smiles.  "They know it's PR. But these guys were fantastic to work with because they know this is a job – you are doing your job, they are doing their job – let's just get on with it. They were really nice people. They had no airs and graces. They don't care. They have made it."
But Ken says "grumpy" stars like Van Morrison and Lou Reed often made the best pictures.
"I photographed Lou Reed in a hotel room with the black backdrop," he laughs.
"He came in with this little entourage and was smoking a cigar with these dark glasses on. I said can you take the glasses off and he went 'no'.
"I knew he was going to be difficult because he's notoriously difficult. So I sat him down. 'Can you blow some cigarette smoke?' He said 'so it can go in my eyes?'. I said 'yeah'. Then as he got up to leave I did a sarcastic cough. He stopped and sort of looked around and walked out."
Ken says one of the most "arrogant" people he ever came across was Liam Gallagher at the height of Brit Pop in the 1990s.
"We were at a Q Awards ceremony and they had put all these Polaroid cameras on all the tables so that the stars could take photos of themselves," he recalls.
"Liam Gallagher was going around taking pictures, but in an obnoxious way. There were a couple of quite famous older acts that were there. He took their photo and took the picture out, waved it at them while making a noise and threw it away. He was making a fool of them. Then he came up to me and said 'can I take a photograph of a photographer?'
"I went 'ok'. So he shows me the picture. And I asked if he could sign that for my son because my son is a big Oasis fan. And he went AAAAAARGGHH! , grabbed my testicles and walked away! He was so arrogant."
However, Ken says the most "obnoxious" person he ever photographed was the late media tycoon Robert Maxwell, whose death was linked with huge discrepancies in his companies' finances, including his fraudulent misappropriation of the Mirror Group pension fund.
"I photographed him three times and there would always be about an hour's delay and he would never apologise for being late," says Ken.
"One time a journalist was doing this piece to advertise a Jewish thing his wife was involved with. He read out a prepared statement. His whole attitude was one 'of 'you are nothing'. He was a truly obnoxious man."
Ken's favourite pictures include one he did of author Ruth Rendell early in his career, and one he did of Rolling Stone Keith Richards in a recording studio service elevator.
But he was "quite disappointed" by the likes of David Bowie who "couldn't sell a record" when he met him in the late 1990s and Van Morrison who was this "angry little Belfast guy".
Ken decided to give up the celebrity photography as he tired of the constant globe-trotting.
But he loves St Andrews where he now pursues his new found love of golf.