As the cash machine or "hole in the wall" celebrates its 50th birthday on Tuesday, Michael Alexander examines the role played by Dundee in its global development.
On June 27 1967, the world's first cash machine was unveiled outside a Barclay's branch in Enfield Town, North London.
British inventor and businessman John Shepherd-Barron, who worked for De La Rue, the banknote printer, was inspired to design a machine that dispensed cash in response to banks' restricted opening hours at the time.
He came up with the idea of the "automated teller machine" (ATM) in 1965 after he arrived at his bank "one minute too late" to withdraw money.
Customers had to place special vouchers in a drawer to withdraw £10 at a time.
"It struck me that there must be a way I could get my own money, anywhere in the world or the UK," he was quoted as saying.
"I hit on the idea of a chocolate-bar dispenser, but replacing chocolate with cash."
Crucially, it meant customers who needed to withdraw money no longer had to rely on bank cashiers, who would close the doors at 3.30pm.
The machine – the first of six machines he was commissioned to design – was an instant hit.
The concept ultimately transformed everyday banking for millions of people all over the globe.
Today, there are 3.1 million ATMs worldwide, with around 70,000 cashpoints in Britain.
Of these, about 53,000 are free to use while around 16,000 machines charge.
Many not only let customers take money out, but also allow them to deposit funds in their accounts, pay bills, top up mobile phones or transfer money to other people.
Yet much of the global roll-out might not have happened if it wasn't for the work that took place over decades in Dundee.
It was here that NCR's first ever ATM – the Model 770 – was designed and built in the 1970s before being installed at banks throughout the UK.
In its heyday, millions of machines were shipped from Dundee and other NCR locations to financial institutions all across the world.
Work on the new NCR factory at Wester Gourdie began on October 22, 1945.
The NCR started life as National Cash Registers in Dayton, Ohio, in 1884 and had prospered across the States.
The firm was all about cash registers at this time, and by the mid-1960s the Dundee presence of 'The Cash' amounted to six factories employing 4,000 people.
At its height, the factory's output was £26 million and it was making 25 different products.
By the late 1970s, the corporate board in Ohio gave Dundee NCR the charter to design, develop and manufacture ATMs.
At its peak the Dundee factory made one in three of Europe's cash machines.
But in 2009, after earlier rounds of redundancies, the company finally ceased production in the city, ending 62 years of manufacturing at the Wester Gourdie factory.
An NCR presence does remain in the city, however, with the opening of its Research and Development Centre of Excellence, the Discovery Centre, in 2001.
Today, over 500 people are based in NCR's Dundee centre, with the Discovery Centre being one of the company's key strategic R&D sites.
NCR financial services SelfServ marketing manager Colin Gordon explained in a recent blog that this ensures Dundee remains at the heart of NCR's ATM development, with experts in roles such as usability and Cx Design, hardware and software engineering and new product innovation.
He added: "In addition, our employees cover roles including solution management, solution marketing, finance, demand planning and sales working out of our Dundee facilities, so it really is an essential part of every aspect of our operations.
"The majority of these employees have a global remit, so the innovations that come out of Dundee can be seen in more than 130 countries around the world where NCR has a presence.
"NCR's Dundee base also includes our Executive Briefing Centre, which sees an average of 150 customers visiting the centre every year. These customers come from all around the world in order to see first-hand NCR's latest solutions from both our software and hardware portfolios."
Despite the rise in other new technologies such as online and mobile banking, the ATM remains popular 50 years on.
The UK record for the most cash withdrawn in a day was broken as recently as December last year as Christmas shoppers withdrew £730 million, according to industry figures.
Trade association Payments UK recently predicted that the rapid growth in the use of contactless cards means cash will be overtaken as Britain's most frequently-used payment method by the end of next year.
But Payments UK has said its forecast did not herald the demise of cash, as even in 10 years, cash is still expected to make up around a fifth (21%) of all payments.
As a tribute to the golden anniversary, Barclays has transformed the modern-day Enfield cash machine, where it all began, into gold.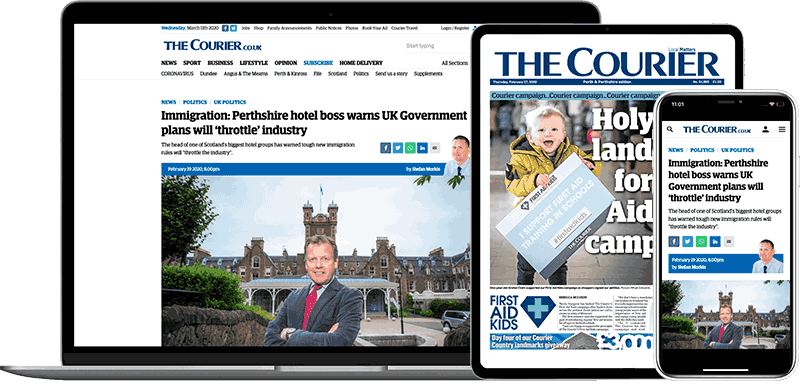 Help support quality local journalism … become a digital subscriber to The Courier
For as little as £5.99 a month you can access all of our content, including Premium articles.
Subscribe