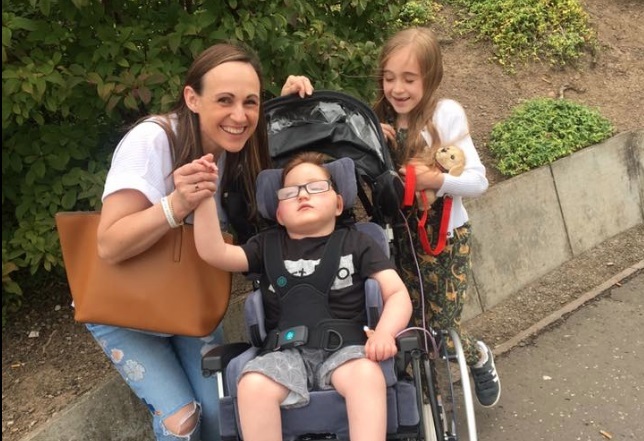 A young Carnoustie boy with a rare genetic condition has returned home after battling back from an operation that nearly claimed his life.
Five-year-old Blake McMillan suffers from MECP2 duplication syndrome. Diagnosed at just three weeks old, the condition means Blake requires round-the-clock care as he cannot walk, talk or eat.
Blake became seriously ill after undergoing a routine operation at the Royal Hospital for Sick Children in Edinburgh last month.
Doctors had to put him in an induced coma after discovering the vast majority of his large bowel was dead.
It is believed the youngster reacted to the anaesthetic used for the surgery.
Remarkably, battling Blake pulled through and was well enough to be transferred to Ninewells Hospital last week.
Now, he has been discharged from hospital altogether and was able to return home to Carnoustie with his mum Jenny and sister Faye on Thursday.
Jenny posted on Facebook: "Delighted to report that we were discharged from Ninewells at lunch time today.
"We are home and so happy to be together again as a family. I have loads and loads of unpacking and organising to do but I'll get there eventually. Blake is content and Faye is over the moon.
"A massive, genuine and heartfelt thanks to everyone that helped us get to where we are now… the NHS is wonderful and the nurses and doctors are outstanding. We are so very lucky to have them.
"I want to thank all our family, friends, Blake's carer Ian, and all Blake's extended team for the continued love and support.
"So happy that's all is over. Five weeks today since admission. It feels like five months as so much has happened."
Ms McMillan and her family set-up a campaign to support Blake and raise money for research into his rare condition via a number of methods.
A thrift-store called Blake's Bargains has been established in Arbroath, selling second-hand and donated items to raise money for the cause.
Forfar's M&Co store will host a fashion show in Blake's name on East High Street and a charity dinner titled Blake and Gold, because the dress code will be black and gold, is to take place at Dundee's Apex Hotel in September.
It follows on from last year's ladies' lunch which was attended by almost 200 people who raised £8,000.