Is the UK Government's plan to ban new petrol and diesel vehicles from 2040 way too distant to tackle the air quality crisis being experienced now, or is it truly the start of a green transport revolution? Michael Alexander reports.
It is a cultural sea change which could eventually see the end of the road for Britain's 31.7 million (and rising) gas guzzling cars as they are replaced with 'greener' electric vehicles.
After being ordered by the courts to develop a clean air strategy that will tackle pollution, the Westminster Government announced yesterday that new diesel and petrol cars and vans will be banned in the UK from 2040.
Environment Secretary Michael Gove also revealed that plans to cut illegal levels of nitrogen dioxide emitted by vehicles will include £255 million funding to help councils in England speed up local measures to deal with pollution from diesel vehicles, as part of £3 billion spending on air quality.
These could include "targeted" diesel scrappage schemes, changes to road layouts, and potentially "clean air zones" which charge the dirtiest vehicles.
The Scottish Government has previously said it wants the country's towns and cities to be free of emissions from petrol and diesel vehicles by 2050.
But with so much of people's lives entwined in the use of the fossil-fuel burning internal combustion engine, and use of electric cars still relatively scarce, how likely is it that the country will be ready on time? Should action be taken sooner? And can we expect electric cars to become more affordable on the mass market?
Sandra Young is co-owner of Dundee taxi firm 203020, with an all-electric fleet of 30 Nissan LEAFs.
She cites the city's "bad air pollution" as the reason for going all-electric.
She says Dundee and the city council can be "proud" they are at the forefront of supporting the electric car revolution.  Dundee's Seagate, for example, has been named as amongst the most polluted streets in Scotland.
Yet she says there is still a long way to go to provide the infrastructure necessary across the city and the country to make electric cars viable on the mass market, while costs of electric vehicles also have to come down.
"We used to have ordinary members of the public coming in and using our 10 charge points to charge their vehicles," she explains.
"However, last week we had to start charging people due to high demand and our soaring electricity bills. Our taxi drivers still get to charge up for free. But it shows there's a lack of infrastructure out there for electric car owners to use."
Mrs Young added that the electric vehicles, with a range of up to 130 miles, are popular with their drivers and still much cheaper to run than ordinary cars. Yet the taxi fleet cost around £20,000 each compared with around £15,000 for a comparable petrol/diesel car, and there were still concerns about "range anxiety".
The size of the challenge in convincing drivers to go green is highlighted by a new study showing just 2% intend to choose a fully electric model as their next vehicle.
A further 10% of motorists say they will buy a hybrid vehicle, which combines a combustion engine with an additional power source such as an electric battery.
Research commissioned by insurance firm Aviva suggests the majority of drivers still expect to be using fossil fuel-powered vehicles for the foreseeable future.
Gina Hanrahan, acting head of policy at WWF Scotland, said a petrol/diesel car ban by 2040 was welcome but "the clean-up needs to happen much faster".
That's why the charity is putting pressure on the Scottish Government to include the phase out of new diesel and petrol cars by 2030, 10 years earlier than proposed by Westminster, in the forthcoming Climate Change Bill.
"Ending the dominance of fossil fuel vehicles will reduce emissions, clean up our polluted air and tackle a public health crisis," Gina says.
It's a view shared by Greenpeace UK's clean air campaigner Areeba Hamid who said 2040 was "far too late" a date for action, with car manufacturers such as Volvo announcing a move away from petrol and diesel this decade, and Germany, India, the Netherlands and Norway are all considering bans by 2030 or sooner.
"The UK has the potential to lead the world in clean transport revolution, but it is vital we stay ahead now through a more ambitious phase-out date to boost our domestic market, as other countries are catching up," she urged.
Of course, electric vehicles only reduce climate emissions if the electricity they use to charge up has come from low carbon sources, such as nuclear power or wind.
National Grid has estimated that there could be as many as nine million electric vehicles on UK roads by 2030, significantly pushing up peak demand for power if people come home from work and plug in their cars in the evening.
But if the system is well-managed, with smart technology that allows cars to start charging when demand is low or there is surplus electricity, for example due to windy conditions, they could help manage supplies efficiently and make the most of intermittent renewables.
Nissan is also trialling moves to create a "virtual power station" with its electric vehicles, with future potential for motorists to be paid for their cars to store power in their batteries and return it to the grid at times of peak demand.
It seems there's a long road ahead, but the journey to a transport revolution, fuelled by the inevitable decline of fossil fuels and their legacy, has well and truly begun.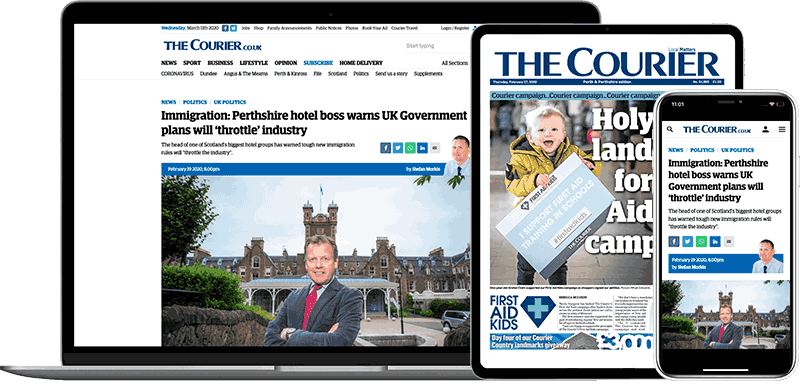 Help support quality local journalism … become a digital subscriber to The Courier
For as little as £5.99 a month you can access all of our content, including Premium articles.
Subscribe