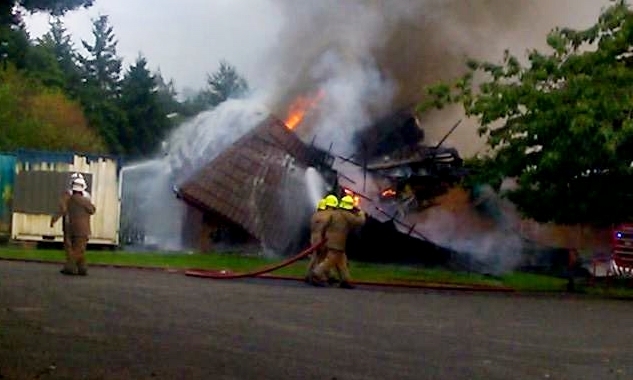 The culprits behind a fire that destroyed a Dundee community pavilion have still not been found, over a month after the incident.
Police, who believe youths were responsible for burning down the Mill O'Mains facility, have issued another appeal for information.
Community Sergeant Jamie Webster reappealing for information in relation to the fire which happened at Mill O Mains pavilion in Dundee over a month ago.

Posted by Tayside Police Division on Wednesday, 30 August 2017
Officers are carrying out door-to-door inquiries and will continue to have a presence in the area.
Meanwhile, a JustGiving page has been set up by the Mill O'Mains community to raise £750 toward replacing some of the resources that were within the building.
Jamie Webster, community sergeant at Longhaugh police station, said: "It is now over a month since the fire, which happened on July 23 at 8pm.
"Our appeal is to the community of Mill O'Mains and Claverhouse, and in particular the youths in these communities, where we feel the answer to what happened lies.
"There have been a number of youths seen in the area where the fire happened.
"We are carrying out inquiries, including door-to-door.
"There will be a police presence in the area and visits to local schools."
The loss of the pavilion was said to have "devastated" the local community, who had been using it as a hub for children's and elderly people's activities, a foodbank and various classes.
Sergeant Webster explained that an investigation into exactly how the fire was started is still ongoing.
Residents living in the area had previously complained of anti-social behaviour and fire-raising, claiming that police had done little about those issues.
Sergeant Webster said that the police regularly carry out work with youths in the community, including talks on fire safety at schools.
He added: "Despite this, if youths are intent on going out and setting fire to something, then that is difficult to prevent.
"There are a number of measures we can take if it does turn out that youths were responsible for this fire."