As Scotland's population ages and care challenges intensify, services provided by Dundee Age Concern, which is celebrating its 70th anniversary, are growing increasingly important in the city, discovers Michael Alexander on a visit to the charity's day care centre.
The sound of accordion music fills the air as a small group of older people take to the floor, watched by several dozen others in various states of health who are chatting, munching ice lollies or simply enjoying the company of each other at Dundee Age Concern's Fiveways Centre.
"Isn't it great to see folk enjoying themselves?" says 79-year-old Irene Hendry, a retired short hand typist from Perth who lives in Broughty Ferry and gets picked up by bus once a week to visit the day care centre with her friend May Batchelor, also from Broughty Ferry.
The grandmothers, who are both widowed, met each other on their first visit to Fiveways around a year ago, and they have been inseparable ever since – phoning each other "all the time" to check they will be attending.
"I enjoy the company more than anything because my family are all spread out," explains Irene, who laughs that she won't be dancing following recent knee and hip operations.
"But there are one or two poor souls here as well!," adds May with a knowing eye as she scans the room .
Ina Clancy, a born and bred Dundonian who looks far younger than her 96 years, is also enjoying the music. The former St Joseph's Primary and St John's High School pupil was married to the late Dundee-born Scottish balladeer and entertainer Dennis Clancy.
One of 11 children, the sprightly great grandmother started attending in April after she lost five of her seven brothers.
"I was spending too much time sitting at home thinking back to all the times that were not very good," she says with a glint of tears in her eyes. "I was persuaded to start coming here to see if I like it – and I'm still coming!"
Dundee Age Concern, an autonomous registered charity which marks its 70th anniversary with a civic reception at Dundee City Chambers on September 14, is run by senior manager Patrick Delargy and his team of staff and volunteers.
Established in 1947 as one of the national ''Older People's Welfare Liaison Committees'', there's been a building on the Coldside site since the first sod was cut by the Queen Mother in 1959, with the current premises opened by Mary Countess of Strathmore in 2001.
Initially the organisation worked to help support older people in the city by running lunch clubs in local churches.  At one time it had day centres at Thornbank and  Broughty Ferry and  even ran a sheltered housing establishment at Farington House in the west end.
Over the years, because of changing needs, this care and support evolved in different ways to become what it is today.
"From my understanding there was a group of people back in 1947 who recognised after the war that services for old people needed to be developed," explains Patrick, a former Fife Council social worker who is originally from Cowdenbeath and now lives in Wormit.
"Centres like this were seen more as clubs. When people retired they would get their nutritious lunch and activities and then toddle off home again.
"That has very much changed for us. Today, most fit 60 or 70-somethings don't use a day centre anymore. What we've recognised is that statistically speaking the vast majority of our clients are 75+, often 80+.
"If they are younger it's usually because they have underlying health issues."
With a range of tariffs, the charity buses in up to 120 clients from all over Dundee. The main motivation is to give them a social outlet they perhaps can't attain through mobility or health issues, with many, Patrick says,  in the early to moderate stages of dementia.
"It's fairly busy," he adds. "It's an active kind of place. We encourage people to be as active as they can – or as they choose to be. Some prefer to sit and just watch the world go by.
"We have musical entertainment three afternoons per week. Music is a hugely important thing. It helps people to perk up.
"We have gentle exercise classes, dominoes, knitting and do reminiscence stuff with Dundee City Council which works well."
Patrick said another fundamental shift in recent years was staff training and tighter regulation. The charity uses the Stirling University Best Practice in Dementia Care which helps staff understand older peoples' health issues.
It also has good links with local schools and nurseries. He said it was a "privilege" to work with older people and to be reminded how much they still have to offer society with their perspective on life and tales reflecting social history.
"We think the charity is extremely important and our clients value the centre," adds Patrick. "The alternatives are they would be at home watching TV or staring at the walls!
"This gives them the opportunity for that social outlet. There is evidence with some studies of the link between increased social activity for older people and general improvement in their physical and mental welfare.
"Even people who can't articulate that who are dementia significant, we'll hear things from carers to the effect that 'oh I know my mum's been at the centre, she's always cheery! But you ask her if she's been there today and she can't tell you.'"
Agnes Wilson, 71, a retired editor of the former Bunty and Mandy girls' comics published by DC Thomson & Co Ltd in Dundee, is a board member with Dundee Age Concern.
She says: "The function of the board of management would have been meaningless had the staff and volunteers who work at DAC not been so skilled, loyal, and hard working.
"We are lucky they show an aptitude to meet the needs of every single older person who has sought DAC services over the past 70 years. A huge thank you to everyone involved with DAC – you have helped make this the service it is."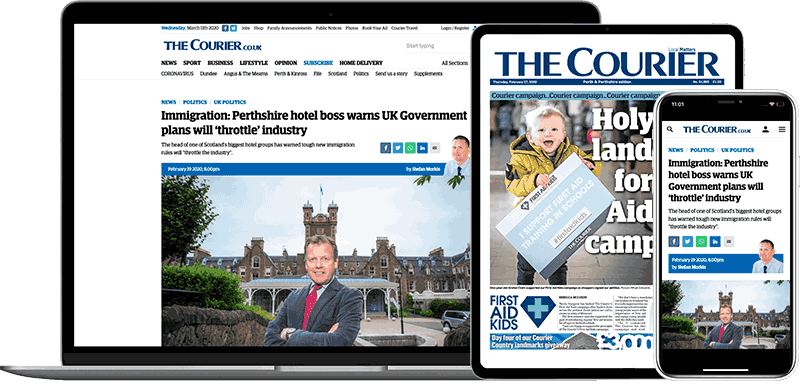 Help support quality local journalism … become a digital subscriber to The Courier
For as little as £5.99 a month you can access all of our content, including Premium articles.
Subscribe