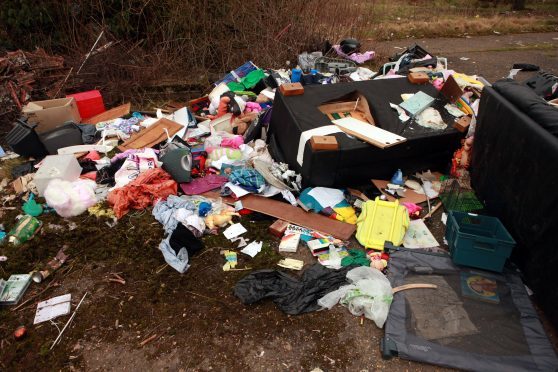 Illegal fly-tipping is costing Scotland more than £100 million a year, The Courier can reveal.
An analysis of council data shows that local authorities are paying out at least £11 million to clear mountains of old furniture, broken fridges and other debris from urban and rural sites across the country.
But experts say indirect costs – including plummeting house prices, soaring crime rates and even a strain on mental health services – are estimated at 10 times that amount.
An investigation by The Courier has found that a boom in so-called white van services on social media has been linked with the high levels of fly-tipping throughout Scotland – now at a rate of about 1,200 incidents a week.
Residents who hire pick-up services through Facebook may not know some drivers will dump their items illegally, mainly because they believe they are unlikely to get caught.
Local authorities are now working with environment watchdog SEPA to clamp down on the growing menace with new permit schemes to encourage drivers to use legal tips.
Figures obtained by The Courier show nearly 12,700 cases of fly-tipping were reported to council teams across Tayside and Fife in the last three years.
Because each local authority records incidents differently, the numbers vary considerably from place to place, with just 14 cases reported in Dundee throughout 2016 compared to 3,232 in Fife over the same period.
Hotspots highlighted by local authorities include Kilspindle Street in Dundee and Hawkslaw Road in Leven.
Angus, Fife and Perth and Kinross have all reported increases in the last year. Perth and Kinross dealt with 710 cases in 2016, compared to 527 the year before.
Nationally, council crews were asked to clear up 58,000 illegal dump sites last year – more than a third higher than 2014's total.
To combat this, council bosses in Perth have introduced a free waste permit scheme which they believe can save local taxpayers some £75,000 a year.
It followed a survey of vehicles using the Friarton tip, which revealed a "considerable" quantity of commercial waste being illegally dumped.
However, after a bedding-in period – during which van drivers without a permit were allowed to use the tip, with a warning – council teams are bracing themselves for an "explosion" of fly tipping.
SEPA is now preparing to launch an awareness campaign, aimed at highlighting the new permit scheme and warning people about unscrupulous white van men on social media.
They are encouraging people to only use drivers if they have a proper licence.
Rebecca Walker, SEPA waste and landfill tax manager, said: "Householders have a responsibility to ensure that their waste is disposed of without harming the environment, called a duty of care.
"People have a duty to take all reasonable measures to comply with the duty of care, whilst the waste is in your possession and to ensure anyone else you pass it to will comply with their duty of care too."
She urged people to ask for a waste carrier licence number, which can be checked on SEPA's website.
"Compare their prices too," she said. "Are they similar to other quotes or are they too cheap? If it seems too good to be true it probably is."
Residents are also asked to keep a record of who took their waste, and where they said it was going.
An analysis of data by Zero Waste Scotland found that about 90% of all fly-tipping would require a van or larger vehicle.
The hidden cost
Environmental consultants Eunomia used a public survey to try and put a figure on the cost of social disamenity of litter and fly-tipping.
This looked at significant indirect costs such as the negative effect on property prices and increased crime rates. Based on the broken windows theory, where visible damage – or in this case dumped rubbish – is left untouched, it can send out the signal that no one cares about the area, effectively inviting vandals to trash it.
Highly visible dumps are known to increase anxiety and residents' fears of antisocial behaviour and crime, impacting their mental well-being.
Zero Waste Scotland used this information to calculate that fly tipping in Scotland cost the country around £100 million, not including the £11 million forked out by local authorities for clear-ups.
A Zero Waste Scotland spokesman said: "This estimate, though very high, appears credible and is consistent with estimates elsewhere. Combined with survey data, it is primarily another strong indication that people do – or should – highly value a fly-tipping free environment."