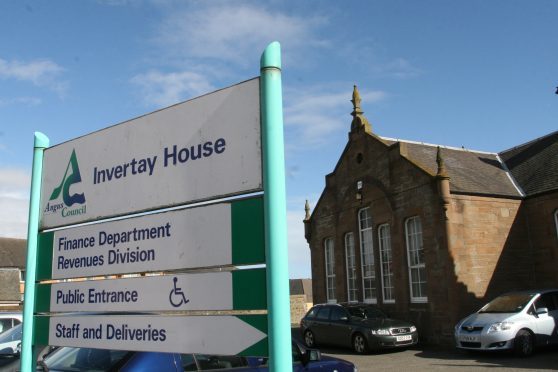 Plans to create a community centre in Monifieth have taken a major step forward after Angus Council agreed to consider the transfer of Invertay House.
The Monifieth Community Resource Group wants to create a multi-purpose centre in the former school building.
Campaigners hope to hold sports and community events in the council-owned premises, which were most recently used to process benefit enquiries. The venue could even be used to host concerts.
The resource group is seeking to have the building transferred into community ownership and Angus Council has said it will look into the request.
If the bid is successful, Invertay House could be in community ownership within six months.
Jean Lee from the Monifieth Community Resource Group said she was optimistic the transfer would be approved – and that the group would be able to raise the £2 million it needs to realise its ambitions.
She said: "We are wanting to create a big sports hall and an area for community events and even things like concerts because there is nowhere to do that in Monifieth.
"It's the kind of thing people were trying to do 30 or 40 years ago but it just faded away because there were no buildings they could use.
"The council now has six months to think about whether our proposal is viable.
"After that we'll have six months to raise the necessary money but we are already working towards that.
"I am very optimistic."
Ms Lee said there had already been productive talks with the Big Lottery Fund about securing a grant for the project.
The group was awarded just over £37,000 earlier this year to complete a feasibility study.
Ms Lee said: "We've done the sums and done our research and we have the support."
Last year the group made it to the second stage of the community asset transfer programme but the introduction of the Community Empowerment Act meant it had to restart the entire process.
Ms Lee said: "The criteria has changed and we are one of the first groups to be judged on it."
She said Angus Council and the Big Lottery Fund had been supportive throughout the bid process.
Dundee East SNP Stewart Hosie has also written to Angus Council in support of the proposal.
He said: "This is an exciting project and one that will at last bring the much needed community resource that Monifieth has never had. The benefits to the people of Monifieth will be long term and far reaching.
"This will benefit everyone in Monifieth and its visitors and I have no hesitation in lending my full and wholehearted support. "