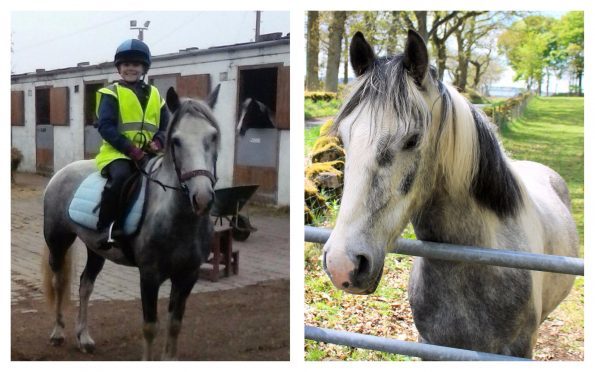 A rescue pony left to fend for itself in freezing winter conditions is enjoying a new lease on life after being rehomed with a Dundee family.
Tommy was taken in by the World Horse Welfare's Belwade Farm rescue and rehoming centre in 2015 after SSPCA officers became concerned over a large group of horses and ponies.
He had been abandoned along with the other animals and was suffering from worms, a lice infestation and was nervous around people.
In 2016, Laura Gow and her daughter Caitlyn, 9, offered Tommy a fresh start and just over a year later, they say the experience has been "brilliant".
Laura said: "Tommy is amazing, he settled in straight away, as if he'd always been with us.
"He loved Caitlyn from the minute they met at Belwade Farm and she loves him back unconditionally."
The team at Belwade Farm were able to spend time building up the young pony and bringing him back to the health prior to the rehoming.
It meant Tommy was able to start his ridden education shortly thereafter and now enjoys going out on long rides with the family.
Laura said: "I would absolutely recommend rehoming. Watching Tommy and Caitlyn's journey together has been amazing."
World Horse Welfare recently held their annual Rehome a Horse Month to help raise awareness of the benefits of offering the animals a second chance in life.
The charity says it rehomes around 300 horses and ponies each year, with around 1,800 already in new loving homes around the UK.
Chief executive Tony Tyler said: "We are so grateful to all of our fantastic rehomers who are giving these horses and ponies a second chance at the life they deserve and it really is incredible to hear of all the amazing things they are achieving."
Find out more about rehoming at: www.worldhorsewelfare.org/rehoming