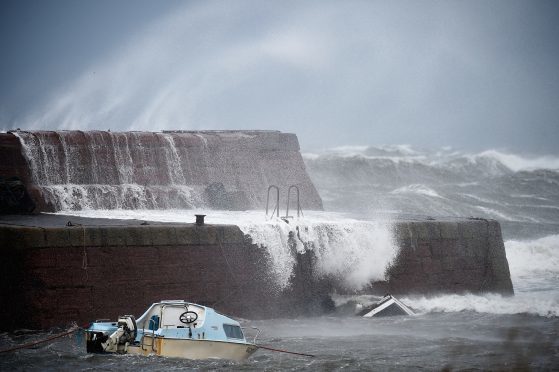 Locals in Tayside and Fife have been warned to expect power cuts and travel disruption as the remnants of a tropical storm bring chaos to parts of Scotland.
Hurricane Ophelia is predicted to batter Scotland with winds as strong as 70mph starting on Monday, with forecaster today warning that Dundee and the surrounding area could be battered by "very windy weather".
The Met Office has now placed a severe "yellow" weather warning for wind on Tayside, Fife and Grampian for Tuesday from midnight until 6pm.
The Highlands, the Western Isles, Strathclyde, Dumfries, Galloway, Lothian and the Borders are also subject to the same warning on Monday from 8am until midnight
The weather is expected to be so severe it could bring disruption to planes, ferries, trains and roads across the country.
Powercuts are also likely and mobile phone coverage may be affected, with coastal communities in the west being warned of a "large swell" and huge waves.
Western parts of Scotland have been warned to prepare for "damage to buildings".
A Met Office statement on the weather warning for Tayside, Fife and Grampian said: "A spell of very windy weather is likely on Tuesday in association with ex-Ophelia. Road, rail, air and ferry services might be affected, with a slight chance of longer journeys times and some roads and bridges could close.
"There is a slight chance that power cuts may occur, with the potential to affect other services, such as mobile phone coverage."
Ophelia, currently a category-one storm, is moving across the Atlantic gathering winds in excess of 70mph.
Last night Met Office spokesman Graeme Madge said the centre of the Opehlia "depression" is likely to be the counties of Cork and Kerry in Ireland, but added it could take a new track by deviating "slightly".
Mr Madge added: "What I can say is on Monday and Tuesday winds across all of Scotland are going to be strong.
"At the moment it is slightly early because obviously this system is still south of the Azores. As it gets here we are looking at wind speeds of 50mph-60mph and in areas exposed in the Highlands we could well see gusts of 70mph.
"At the moment is is a category-one hurricane. As it moves she'll lose her energy.
"There is still several days until her arrival. Any number of things could happen. Weather can change.
"It only has to deviate slightly from its path in order to take a slightly different track. It is great we are able to give people an indication of where it is likely.
"One thing I should mention is she'll come in from the sea. There will be quite a large swell. Coastal communities really should be aware of potential for large waves and dispersion."