Police have not ruled out a link between a spate of newsagent break-ins which have blighted Dundee and the surrounding area during the last month.
The latest raid took place in the early hours of Wednesday morning, after the Invergowrie Scotmid was broken into.
It is not yet known what thieves managed to make away with, but the front door of the Main Street store was smashed to gain entry.
Surrounding shops and private properties were left untouched during the raid, suggesting the store had been targeted.
A Scotmid spokesperson confirmed the shop had been broken into in the early hours of Wednesday morning, but could not confirm what had been taken.
Wednesday's break in follows a number of newsagent thefts in the Dundee, Perth and Angus areas.
In Montrose two beauty shops on Castle Place and John Street were targeted by thieves who managed to steal a three figure sum of money on October 5.
Mortalli Newsagents on Charleston Drive in Dundee was targeted twice in the space of a month, after crooks made off with cash from the till and £800 worth of cigarettes on Monday October 10.
Mortalli's shop was also raided on September 11, when thieves stole a two-figure sum and cigarettes.
A wholesalers on Nobel Road in the Wester Gourdie industrial estate was also subject to a break in on October 8.
Electronic "vape" cigarettes, toys and a three figure sum were stolen.
Finally, a take-away restaurant on Buttar's Loan was broken into between 11pm on October 6 and 12.30am October 7.
The cash register was pinched during that particular theft.
A spokesperson for Police Scotland said: "We are currently making inquiries relating to a break in at a Scotmid store in Invergowrie.
"The break in occurred at around 3am today and we would ask anyone who has any information to please contact Police Scotland on 101.
"We would not rule out the possibility that (the recent newsagent and store break ins) are linked."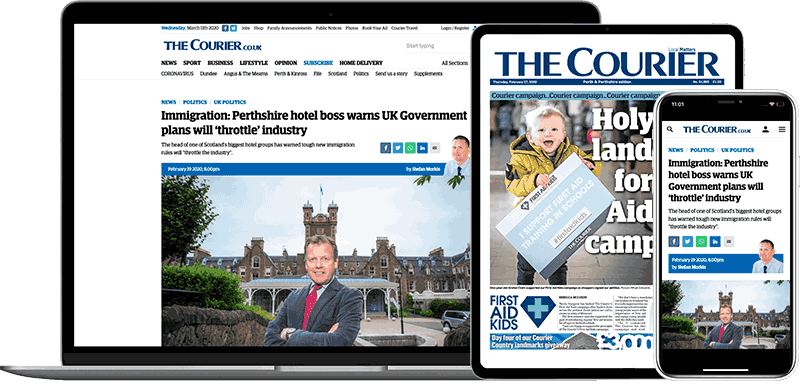 Help support quality local journalism … become a digital subscriber to The Courier
For as little as £5.99 a month you can access all of our content, including Premium articles.
Subscribe