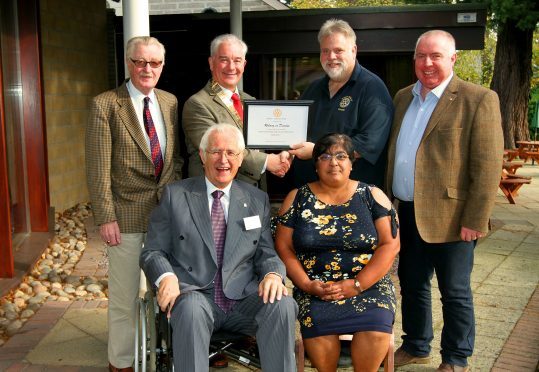 The Rotary clubs of Dundee have been recognised for their work helping encourage the talent of local young people with a special citation.
The five city clubs – Claverhouse, Dundee, Dundee Discovery, Abertay and Monifieth – were presented with the "unique" award by Rotary North East district for the work they have done in partnership with Dundee City Council and local schools.
The Dundee Rotarians organise at least six major awards each year acknowledging the varied talents of children in the city.
Competitions to find the best young writers, musicians, public speakers, chefs, technologists and photographers see hundreds of entries annually, something Rotary district youth coordinator Tim Baker said was an "amazing" reflection of the city.
The winners of these awards are then put forward for UK-wide competitions and this year Grove Academy pupil Mia Kellner was named the winner of the National Young Writers award for her article, The Eyes of War, which imagined the story behind National Geographic's 1984 cover, Afghan Girl.
Mr Baker said:  "The talent in Dundee schools is amazing and there is plenty of it.
"It is a true privilege to work with the Rotarian teams and dedicated staff to see the kids realise their hopes, dreams and expectations.
"It is such a great success story and a true testimony to the talent and hard work going on in Dundee for which we should be very proud. We aim for that to continue for many years to come."
As well as awards, the city's Rotary clubs have established development programmes where youngsters are encouraged to go out into their communities to help those in the  less fortunate than themselves.
The Rotakids clubs have bene set up in Dundee primary schools while the seniors take part in Interact club activities across the majority of the city's high schools.
Young adult Rotaract clubs also work with people aged 18-30 who are keen on helping out in their communities.
Representatives from the five Rotary clubs were presented with their special citation at a joint meeting in the Invercarse hotel on Thursday afternoon.