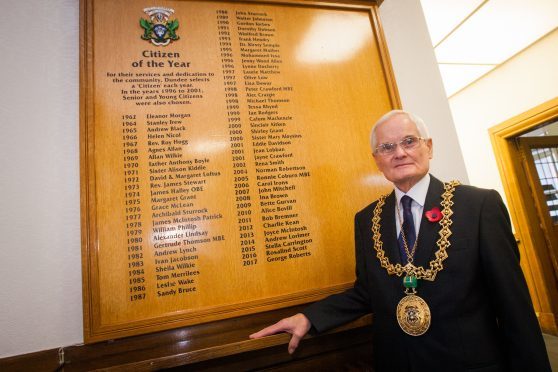 Courier readers are being asked to name their local heroes as the search begins for 2018's Dundee Citizen of the Year.
The annual award recognises the unsung community champions who do their bit by helping out in care centres, delivering food parcels, or looking out for vulnerable people in their neighbourhood.
Nominations are now open and the search for Citizen of the Year will run until Hogmanay.
Lord Provost Ian Borthwick said 2018's winner need not be a leader in their field, but rather someone who works hard for their fellow citizens in order to improve life for everyone.
He said: "The unsung heroes in our community do really tremendous work.
"They are completely selfless and I don't believe they are looking for recognition but we as a council are duty bound to recognise all they do for the city.
"We want to say thank you to these people and thank them for their meaningful effort.
"I am appealing now to the people of Dundee to get their nominations in."
Previous Citizen of the Year winners include British Empire Medal recipient Stella Carrington and local businessman Mohammed Issa.
Mr Borthwick said it was always incredibly difficult to whittle down the candidates.
"I have sat on committees previously to help choose the winner and one of the things the panel would say is that nominees have not been overly vocal in their communities," he said.
"This year, we will be looking at people from all sections of the Dundee community. It would be good to see a variation in the entries, be it age, race or background, to try to widen the scope.
"There are many people in the city who carry out work in their community and do a great deal for the people around them and it is important to recognise their work with this vote of appreciation.
"Those who have been awarded the title in the past have been excellent and I encourage everyone to nominate someone if they feel they work for their community in an exemplary fashion."
Nomination forms can be found on the council website at dundeecity.gov.uk/supportservs/citizenyear
Candidates must live in the Dundee City Council area to be considered and should have provided an outstanding service to the community.