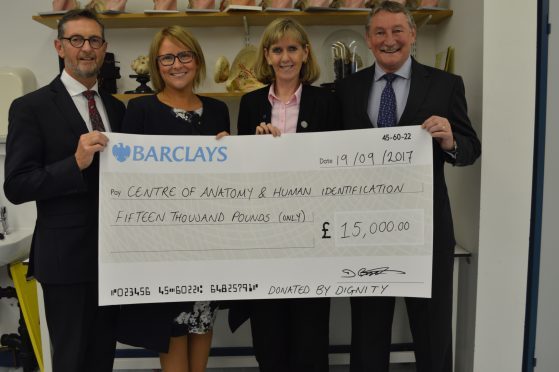 The owners of Dundee Crematorium have donated a five-figure sum to a university anatomy and remains identification department to help improve facilities.
Funeral services company Dignity, which runs the crematorium in Ardler, have presented the centre for anatomy and  human identification (CAHID) at Dundee University with a cheque for £15,000.
The money will go toward "vastly" improving the centre's current student facilities which are used for anatomy, medical and dental teaching.
Plans to expand the centre to provide more public engagement activities will also be bolstered by the donation.
Professor Tracey Wilkinson, principal anatomist at Dundee University, accepted the cheque on behalf of CAHID.
She said: "We are extremely grateful to Dignity for this kind donation. We have an excellent relationship with the company, who have provided exceptional services for our anatomical donation programme over many years.
"It is so rewarding see a company, with whom we work so closely, keen to support us in other areas of our work. This donation will certainly help improve how we engage with the public and our staff and students every day."
Dignity helps the university plan its annual funeral services for those who have donated their bodies to the advancement of medical science.
The university praised Dundee Crematorium and Dignity staff not just for the donation, but also for the respectful way in which they help conduct the very important procession, which is revered in the academic calendar.
David Baxter from Dignity said: "We support various charities, and we thought CAHID was worthy of a donation.
"We work closely together so it seemed natural for us to help them take their ideas for the future forward."
The university's centre for anatomy and human identification is led by world-renowned forensic scientist Professor Dame Sue Black.
As well as being director of CAHID, she is known for her starring role on BBC 2 show History Cold Case, where she and her team of experts analyse the lives and deaths of skeletons.
Professor Black's work has been crucial to several criminal cases, from the British Forensic Team's exhumation of mass graves in Kosovo to the conviction of Scotland's 
largest paedophile ring in 2009.
She was part of the disaster response team that attended the aftermath of 2004 Boxing Day tsunami, and spending a month identifying some of the thousands killed.
She founded the British Association of Human Identification in 2001, the same year she received an OBE for her services to forensic anthropology in Kosovo.