Rebuilding a 60ft section of wall that collapsed in Broughty Ferry could take months.
The 12ft tall wall collapsed on to a private driveway on Ellieslea Road on Monday morning.
Tons of debris cascaded into the driveway, smashing into a wall on the other side of the road and damaging a car parked in the lane.
The wall and grass verge above it are the responsibility of Dundee City Council.
A clean-up crew was sent in on Monday to remove the rubble and cordon areas deemed at risk of further collapse.
But a spokesman said it may take several weeks before it is decided how best to reinstate the wall.
Last month, Dundee City Council granted retrospective planning permission so the retaining wall at Taychreggan House, on the other side of the road, could be lowered after it began to buckle.
Developers said reinstating it to is full height would have required digging up significant portions of Ellieslea Road road to lay new foundations as well as excavating – and then replacing – tons of soil so the wall could be reconstructed.
The ground above the wall was subsequently regraded to the lower height.
However, a Dundee City Council spokesman said all options are being considered when it comes to rebuilding the wall that collapsed on Monday.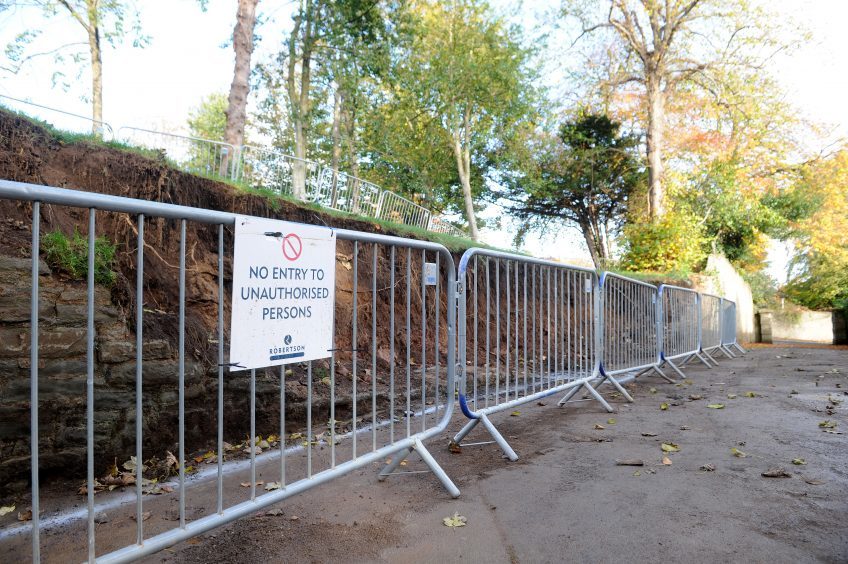 A spokesman said: "The council acted swiftly to deal with the clear-up and ensure safety with the area cordoned off and all of the clear-up complete by close of business on Monday.
"A number of reinstatement options are being considered which have to take account of not only the engineering requirements but planning and aesthetic considerations as well, so it is likely that the process will take several months."
Broughty Ferry Liberal Democrat councillor Craig Duncan said: "I visited the site on Monday and the clean-up operation was under way and I am pleased the council responded quickly.
"The next thing will be deciding what to do next."
Mr Duncan said he did not believe there was a widespread problem with retaining walls in the West Ferry, despite the recent issues on Ellieslea Road.
He said: "Most of these will be in private ownership and it really is just a case of being vigilant."