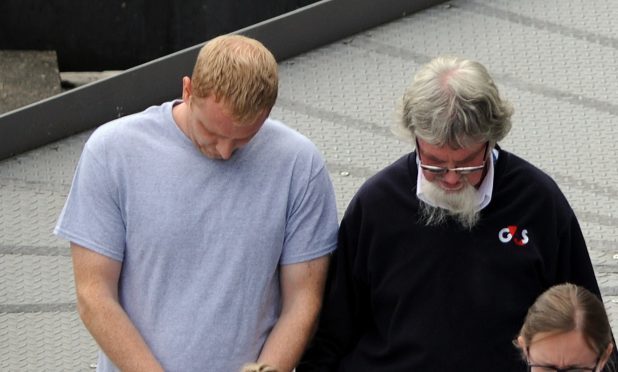 Law killer Robbie McIntosh tried to kill a Dundee grandmother as she walked her dog, just five days after he was released from prison for his earlier heinous crime.
McIntosh, who received a life sentence in 2002 for the brutal murder of Anne Nicoll – committed when he was just 15 – will likely spend the rest of his life in jail after today admitting brutally assaulting brave Linda McDonald in Templeton Woods in August.
Mrs McDonald fended off "expressionless" McIntosh, who attacked her from behind, striking her over the head repeatedly with a dumbell he kept in the bedroom of his mother's house.
Family of Robbie McIntosh attempted murder victim: 'Why did you release this sick individual?'
Dundee police: 'Robbie McIntosh must now face the consequences of his terrible actions'
Despite already being responsible for one of the most violent unprovoked murders the city has ever experienced, McIntosh had been allowed out once a month to his mother's house in Bridgefoot, prior to his parole hearing.
Edinburgh High Court was told Mrs McDonald was walking her dog through Templeton Woods, when she noticed an "expressionless" McIntosh coming towards her "at pace", carrying a rucksack.
She gave him a half-smile to acknowledge him as he passed but his footsteps suddenly halted, before she heard him running back towards her.
McIntosh raised his dumbbell above his head and Mrs McDonald put out her hands to try to stop his attack.
He brought the weighted end of the dumbbell down on her head, stunning the victim.
Mrs McDonald is said to have screamed for help throughout McIntosh's sick attack and defended herself throughout with her hands trying to cover her face.
As well as receiving multiple fractures to her skull and cuts across her head, Mrs McDonald broke her thumb trying to stave off McIntosh's blows.
She remained conscious throughout the ordeal.
The court was told her screams were heard by dog walkers Peter and Charles Connor, who came running to her aid.
When they arrived, Charles Connor found Mrs McDonald on her side, on the ground and clearly injured.
Her top had been lifted, exposing her upper body and Mr Connor immediately covered her with his jacket while brother Peter rang 999. He informed call handlers a woman had been attacked in Templeton Woods, before the battery in his phone went flat.
Peter Connor then ran towards two other women who were walking in the woods to borrow their phone to complete the call.
The ambulance and police arrived four minutes after the call was made. Throughout her treatment, Mrs McDonald asked for her husband, as she wanted to see him "before she died".
Mrs McDonald later recognised McIntosh through a VIPER police identification procedure.
"No concerns about his mental state"
Advocate depute Iain McSporran QC read the narratives of the August 7 attack and — due to the "similarities" of the cases —  also what happened on the day McIntosh murdered Anne Nicoll in August 2001.
Mr McSporran said: "At the time of the offence McIntosh was on home leave and was being considered for parole.
"He was granted leave to his mother's house for one week every four weeks.
"He was examined and there were no concerns about his mental state.
"It was anticipated he would be released on parole on August 9.
"He was examined by psychiatrists and there was no evidence of a mental disorder."
Victim still suffering after attack
The court was told doctors at Ninewells were able to save Mrs McDonald's thumb and identified a number of skull fractures, which did not require surgery.
Since the attack, Mrs McDonald had struggled to sleep, was suffering anxiety and was scared to go out in public, all of which was affecting her everyday life.
She has been unable to return to work, but most worrying for the brave woman, she worries about the affect her ordeal has had on her family.
"One of the worst cases"
McIntosh, of Rowanplace, Bridgefoot, pleaded guilty to attempting to murder Linda McDonald on August 7 at Templeton Woods. He also pleaded guilty to trying to destroy evidence of his crime by washing the clothes he was wearing when he carried out his assault.
Lord Arthurstone deferred sentence until November 29 at Glasgow High Court.
He told McIntosh as he was led back to prison: "This is one of the worst cases of violence I have ever had to deal with."
A spokesperson for Perth and Kinross Council said: "While we cannot comment on individual circumstances, we can confirm that no member of our prison-based social work teams has worked in the same facility where a close relative was serving a sentence."
Killer was released on anniversary of his murder
McIntosh's release date from Castle Huntly open prison, August 2 2017, was the anniversary of Ms Nicoll's murder.
His mother, a social worker for Perth and Kinross Council – whose remit covers criminal, social work and justice services for inmates at HMP Perth and Castle Huntly open prison – spoke to McIntosh the morning of his brutal attempt to murder Mrs McDonald.
Call for urgent review of decision to release killer
Scottish Conservative shadow justice secretary Liam Kerr said McIntosh should not have been eligible for release from prison.
He said: "If ever there were a case outlining the need for whole life sentences, this is it.
"This is an individual who killed a woman without remorse, but was set free 15 years later.
"If he'd been jailed for life – no ifs, no buts – he wouldn't have been in a position to carry out this subsequent attack.
"The Scottish Government has to review this as a matter of urgency."
The Scottish Prison Service has said it does not comment on individual cases but that "a rigorous risk assessment is undertaken prior to any offender being granted home leave."
For more on the case and reaction, see Thursday's Courier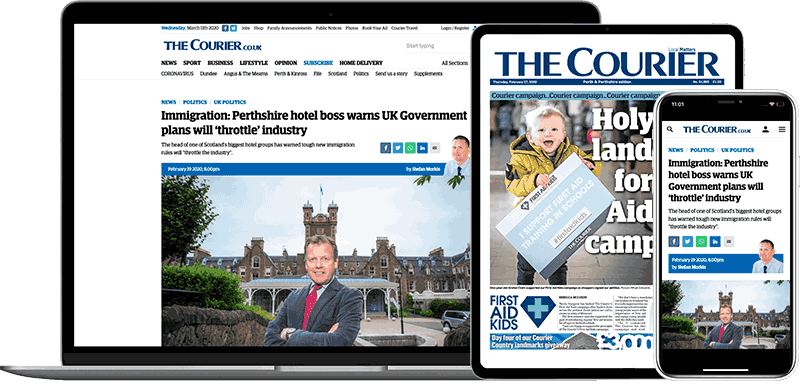 Help support quality local journalism … become a digital subscriber to The Courier
For as little as £5.99 a month you can access all of our content, including Premium articles.
Subscribe