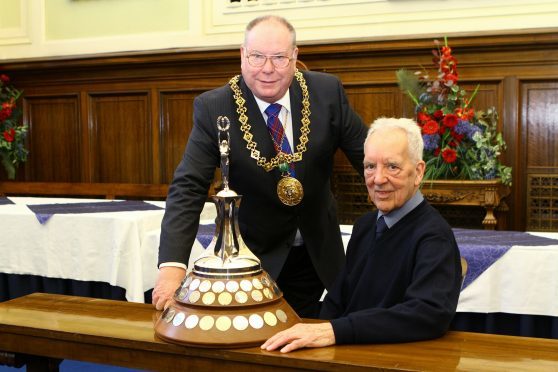 There is less than two months to nominate Dundee's Citizen of the Year 2018.
The Courier has partnered with Dundee City Council for this year's search to find the unsung heroes in our community deserving of recognition for their efforts.
Current Citizen of the Year, George Roberts, is encouraging residents from all walks of life and all age groups to have their turn in the spotlight.
Mr Roberts, of Whitfield, is encouraging people to put forward their community champions before the deadline on December 31.
George, who is chair of the Whitfield Development Group, believes it is important to thank those in the city who commit selfless acts for others.
He said: "My time as Citizen of the Year, meeting various groups and organisations, has opened my eyes to the many people in Dundee who do a fantastic job contributing to their communities.
"These people work tirelessly for their cause, sometimes without any sign of recognition – giving their time, dedication and commitment to the various voluntary groups, associations and clubs in the city. It really is to be commended.
"I am asking the people to look around the community in which they live and if they feel there is someone who is an unsung volunteer, nominate them for Citizen of the Year 2018.
"Rest assured there will be others with the same frame of mind. They don't have to be leaders in their community, just someone who dedicates their lives to helping others."
In his time as chairman of the Whitfield Development Group, Mr Roberts championed key developments in the area, most notably regeneration.
He was instrumental in securing a £250,000 lottery grant for the Whitfield Green redevelopment, which saw an area of grass transformed into a play area.
Nomination forms can be downloaded on the Dundee City Council
website, posted to your home or community centre
address, or ordered over the telephone.
Forms are also available at the council's reception desk in the City Square.
To download a form online, visit dundeecity.gov.uk/
supportservs/citizenyear
Telephone requests can be
made by calling 01382 434 444.
Once you have filled in all the details, email your form to Lisa Archibald at lisa.archibald@dundeecity.gov.uk or post it to Dundee Citizen of the Year, Dundee City Council, 21 City Square, Dundee,
DD1 3BY.