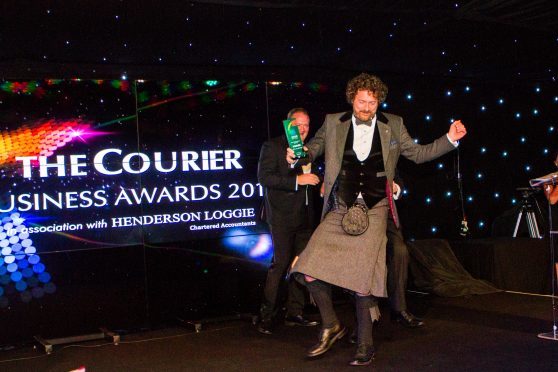 A Dundee video games supremo has been chosen to coach the next generation of entrepreneurs as part of a Scottish mentoring programme.
Chris van der Kuyl, whose company brought Minecraft to the world's consoles, will be one of five  business leaders who will select winning candidates for the Scotland CAN DO Unlocking Ambition Challenge.
The initiative will link successful entrepreneurs with talented young people who can demonstrate their ideas can be a success, create jobs and benefit society.
Mr Van Der Kuyl is co-founder of the Dundee-based 4J Studios and won the Outstanding Contribution award at the Courier Business Awards earlier this month.
The £4 million mentoring scheme, which supports 40 budding entrepreneurs each year, was launched by First Minister Nicola Sturgeon at the Startup Summit on Wednesday.
The First Minister said: "We want to ensure the most talented entrepreneurs, from Scotland and elsewhere, have the best opportunities to develop their ideas here, bring them to market and create the successful new companies we need for our economy to continue to grow.
"The Unlocking Ambition Challenge is a fresh and innovative approach to how we can make this a reality.
"By tapping into the experience of Scotland's most successful business people, as well as the great companies and institutions based here, we can unlock the potential of the next generation of entrepreneurs."
The entrepreneurial mentors include: James Watt, co-founder of BrewDog; Leah Hutcheon, founder of online scheduling business Appointedd; Cally Russell, founder of multi-retailer shopping app Mallzee; Amy Livingstone, co-founder of baby products company Cheeky Chompers; and Chris van der Kuyl.
Open for entry early in the New Year, the programme will recruit candidates from anywhere in the world, as long as they pledge to relocate or establish their business in Scotland.
The successful cohort will  receive 12 months of funding and mentoring, with those demonstrating the most progress receiving support for a further year.
James Stuart, managing director of partner organisation Entrepreneurial Scotland, added: "Unlocking Ambition is an exciting initiative and one that we are delighted to be involved with.
"The initiative has the potential to drive a substantial impact."