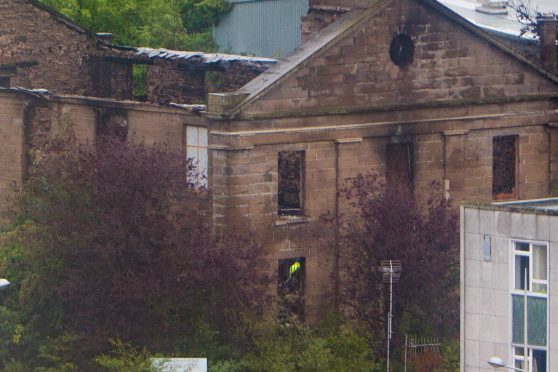 Permission has been granted to partially demolish a historic Dundee church after it was ravaged by fire.
Earlier in the year, plans were in place to convert Lochee Old St Luke's Church into 11 flats with work being "close to starting", but they were put on hold when flames engulfed the 1830 B-listed building on September 4.
More than 30 firefighters battled to extinguish the inferno, with three boys aged 13, 14 and 15 later being charged with starting the fire.
Planning consent for the demolition was sought by an applicant named as VVA Partnership and granted by Dundee City Council.
A fire damage report compiled by McGregor McMahon consulting engineers stated: "The fire has completely removed the roof structure and the timber constructed balcony structure except for a few charred isolated timber support beams.
"The windows have been removed and the side walls are free standing to an approximate height of 7.9m.
"The removal of the roof and internal balcony has removed the stability of the side walls and the centre section of the wall is now remote from any return walls or stability.
"On this basis we would recommend the removal of the wall head and wall panel sections above the upper level window sills, reducing the overall height to 5m."
The church's tower is to be spared, with only minor repairs needed – the report recommended filling in the openings in the tower with timber frame panelling to make the walls more stable.
Planning permission to convert the church into flats was granted by Dundee City Council in 2015.
Save Our High Street Lochee have been campaigning to claim the site for community use.
No one from VVA Partnership or Edinburgh MI, the developers behind the conversion, was available for comment at the time of publishing.