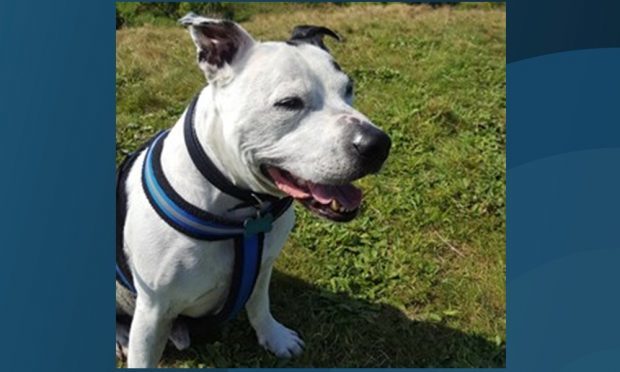 A dog who languished in a Tayside rehoming centre has gone from being the most unloved mutt in Scotland to the happiest — even though it cost him his tail.
Buster made the news last year when it was revealed that he had spent over two years with the Scottish SPCA — first at Petterden near Dundee and later at the charity's Edinburgh and Lothian Centre — waiting for someone to give him a home.
Charity chiefs said that made him one of their longest-established residents anywhere in the country.
However, Buster's fortunes were transformed earlier this year when Michelle Lennox and her partner agreed to take him into their lives and he is now the star of the SSPCA's annual staffie awareness week.
Edinburgh centre manager Diane Aitchison said: "He earned his title of the happiest dog in Scotland after his tail had to be amputated following repeated injuries from how hard and fast he'd wag it!
"That certainly hasn't stopped his exuberant personality though.
"After two years with us here at the centre, it's great that he has finally found his forever home where he has unlimited bum scratching and a big sofa to snuggle up on."
Michelle said: "He's a bit of a ladies man! He also loves children and his post woman Tracey is his favourite visitor.
"People say he's lucky we found him but I think we're the lucky ones."
Staffie awareness week runs until Sunday and is encouraging people to go along to one of the SSPCA's nine animal rescue and rehoming centres to meet the dogs still looking for homes.
Chief Superintendent Mike Flynn said: "Staffie awareness week is a fantastic opportunity for us to highlight just how great staffies are as pets.
"Staffies are one of our most popular dogs and it's clear to see why. They are friendly, loyal and affectionate dogs. They are real people dogs and thrive on human companionship."
For more information visit www.scottishspca.org or phone 03000 999 999.
---
Comment: Who's a good boy then?
Staffies get a bad press sometimes so let's hear it for Buster and his doggedly cheerful demeanour.
Not only did the homeless hound stay positive during two years in rescue kennels, he wagged his tail so hard and so often he had to have it amputated.
Now happily settled with a new owner, he's gone from Scotland's most unloved dog to the star of a campaign encouraging people to adopt a Staffordshire bull terrier.
Keep wagging Buster, you are a very good boy indeed.