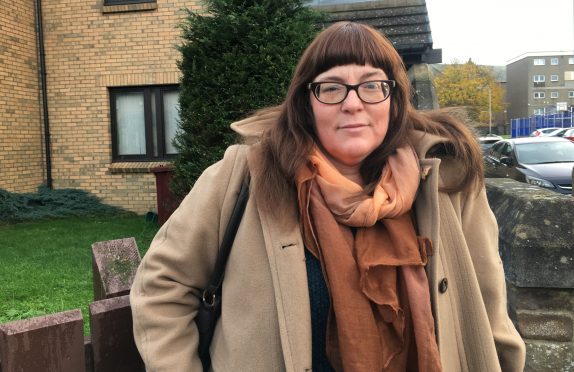 A Dundee mum has described how local folk stepped in to help after an elderly pedestrian was left seriously injured in a crash.
Irene Stewart was travelling with her young daughter on Tuesday night when she came across the man lying bleeding near Lochee High Street.
The pedestrian, who is understood to be in his 80s, was struck by a grey Honda Accord near Gray's Lane shortly after 7pm and is understood to have suffered serious injuries.
Ms Stewart, who has a background in pharmacy, immediately got out of her car and offered to help but local residents already had the situation under control.
"He was sitting up and was conscious but his head was bleeding and they had covered his legs up because they said they were a bit of a mess," she said.
"The police and ambulance were on their way so I offered my assistance but they already had the situation at hand.
"The windscreen was caved in so he must have been hit straight on. The driver was properly distraught .
"She said he just appeared out of nowhere as she was coming out by the lights. I think it will live with her for a very long time – I really felt for them both."
Councillor Michael Marra, who represents the area, said the inclination to step in and help is typical of the local community in Lochee.
"My first reaction of course would be concern for the gentleman involved and there needs to be a full investigation around the circumstances," he said.
"Frankly, however, I would say this is a typical reaction from the people of Lochee who really are a caring and tight-knit community.
"I would now urge anyone who has information that could help police with their inquiries to come forward as quickly as possibly."
A spokesman for the Scottish Ambulance Service confirmed they received a call to assist at around 7.15pm on Tuesday.
He added: "We dispatched one ambulance which arrived on scene within five minutes.
"One male patient was taken to Ninewells Hospital."
Police Scotland confirmed the man is being treated for serious but not life threatening injuries.
A spokesman said: "We are requesting any person who may have witnessed the incident taking place call us using the 101 number, quoting incident number 3116/14/11/2017."