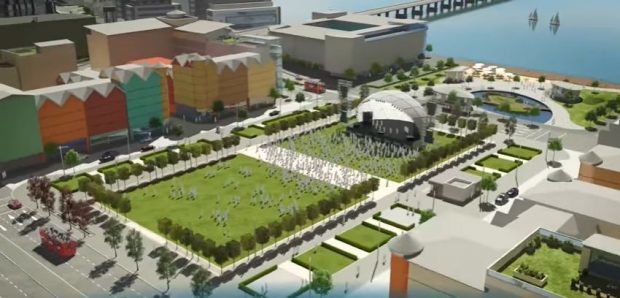 Prison service chiefs have confirmed they are considering more than 20 sites across Dundee – including the showpiece Waterfront – for a controversial female community custody unit.
The new centre – due to open in 2020 – would house women nearing the end of their jail sentences as part of their preparations for returning to society.
Land currently occupied by Rosebank Primary School in the Hilltown, which is due to close next year, has been named as the preferred location for the scheme.
However, residents there have mounted a campaign against the proposal and the Scottish Prison Service has revealed it has 21 other sites in mind should that option fall through.
They include the new Dundee Waterfront; Weddeburn House on Edward Street, which currently houses a community mental health team; Birkhall Factory; Regent's House on Dudhope Terrace and Dryburgh Resource Centre.
Last night, campaigners questioned the inclusion of the Waterfront on the list, saying they feared for the impact on tourism and investment in the area.
Sheena Wellington, secretary of the City Centre and Harbour Community Council, said nobody in the area had been consulted prior to the list being drawn up.
She added: "There isn't an ideal place for this kind of facility and nobody wants it on their doorstep but I really can't see why they would think the Waterfront is suitable.
"They are spending a great deal of money, and getting people to invest a lot into the area, so it's going to be a difficult one.
"The presence of a facility of this kind would not be a great asset to any community and I certainly can't see it working for the Waterfront, amid all the tourist attractions.
"Also, a great number of these women would have substance abuse issues, so putting this near all the city centre bars wouldn't be in the women's best interests."
Meanwhile, angry Coldside residents have launched a petition to voice their opposition to the unit being placed at Rosebank or Our Lady's RC primary schools.
Around 30 neighbours turned out for a public meeting to discuss the plans.
The SPS has given assurances that women will be thoroughly vetted before being released into the community.
A Scottish Prison Service spokeswoman said the two school sites were at the top of its wish list but all 22 options were still on the table.
"Our current preferred site is Rosebank Primary School, however a significant amount of work still has to be carried out in terms of consultations, investigations and feasibility works on the sites before any recommendation to acquire the site can be made to the Cabinet Secretary," she said.
"Whilst the final decision on the location of the CCU is made by the Cabinet Secretary, the construction of the facility is also subject to a planning application being approved by the Dundee Council planning committee.
"SPS have committed to consult with local partners and the community to develop the design and operating model of facility prior to any application for planning consent being progressed."