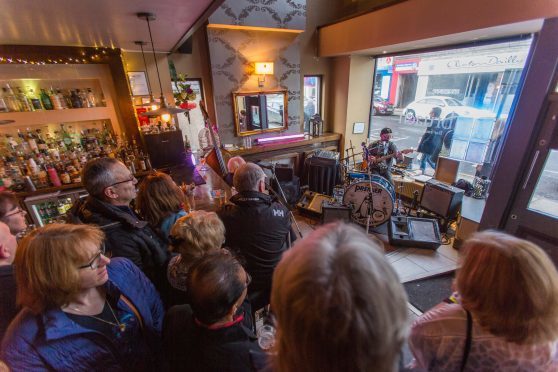 The biggest ever Dundee Jazz Festival came to a glorious crescendo on Sunday with a five-venue Ferry spectacular.
More than 2,200 people enjoyed performances across a variety of venues in the city, culminating in a day of jazz in the Ferry, where 10 acts played in five intimate locations in the town over the course of the afternoon.
Bruach bar, Rose function suite, Papa Jacques, Post Office bar and Sol Y Sombra hosted acts including Mike Whellans, Havana Swing and the East Coast Jazz Men.
The Rep, the Gardyne theatre, the Reading Rooms and even the Frigate Unicorn hosted big bands, blues brothers, aficionados and curious novices over the last five days.
Tennessee-based singer and guitarist Nathan Bell strutted his stuff across the deck of the Frigate Unicorn  on Saturday afternoon, while sometime BBC Radio Scotland presenter and Ella Fitzgerald expert Seonaid Aitken wowed the crowds of the Gardyne alongside up and coming big band Groove Merchant on Saturday evening.
Festival producer Agnese Daverio, of Jazz Scotland, said she was very happy with how the programme had been received.
She said: "This year's festival has been a roaring success. A record number of people have attended shows over the last five days and there has been the highest level of interest in what we were putting on throughout.
"The festival has gained in size annually and after the success of this year's there is certainly the scope for it to keep growing.
"There is a real appetite for jazz and music in general in Dundee. People have also been coming from across Scotland to take part, which is great.
"Who knows what we might do in the future, there might even be scope for a Spiegel tent, which would be fantastic.
"Jazz can be quite a scary genre for people to get into and what I hope events like this can do is show how it is an umbrella term which covers so many genres. There really is something for everyone."
She continued: "There is a real potential for the Dundee Jazz Festival to become a truly international event, with people coming to the city from all over the world.
"With the V&A due to open next year, who knows what will happen. We hope we can continue to build on what we have now in the future."