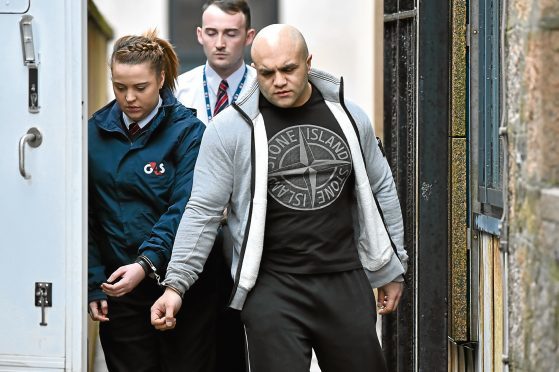 A brutal murderer's bid to force prison authorities to give him back his penis pump and Xbox has been rejected by a court – but the taxpayer still faces a compensation bill.
Imran Shahid was the head of a gang that killed Glasgow teenager Kriss Donald by stabbing him 13 times before setting him on fire in 2004. He was picked because of the colour of his skin.
The 15-year-old was taken on a terrifying 
200-mile journey to Dundee in a stolen Mercedes in a crime which shocked the nation.
Murderer who drove victim to Dundee demands penis pump in prison
Now the killer, who is locked up at HMP Grampian in Peterhead, could be due compensation from the Scottish Prison Service because it allowed him to buy a games console behind bars before taking it away.
Critics have blasted Shahid for taking the public purse "for a ride".
As reported in the Press and Journal, the 39-year-old appeared at Peterhead Sheriff Court yesterday seeking the return of the sex aid which he said he needed to treat erectile dysfunction.
The case was deferred in October to give Shahid and the Scottish Prison Service (SPS) a chance to provide evidence to support their arguments.
But yesterday a report from a doctor – identified only as Dr MacRitchie – said he was unable to prove that Shahid had erectile dysfunction.
Previous medical professionals had advised prison staff that the pump could cause harm and suggested alternate treatments.
Shahid, however, said he suffered from "serious" side-effects whenever he took Viagra, including chest pains and blurred vision. Despite this, the pump will not be returned.
Shahid also failed to convince the court that the SPS had illegally removed an Xbox 360 games console from his cell. He argued that the jail's governor, Allister Purdie, had breached a contract between the two which allowed him to have the machine on the understanding it could not connect to the internet.
It was removed, however, when fears were raised that it would be feasible for its connectivity to be turned back on.
Sheriff Kevin Drummond rejected Shahid's bid for either device to be returned but said the killer was owed "reasonable compensation" because he had bought the console while locked up.
He said: "Mr Shahid lawfully purchased and possessed a device which the SPS later confiscated as a communications device.
"I am going to pause the case to enable you to provide to the governor evidence of your costs.
"I think that you are entitled to compensation under these circumstances." Shahid had originally wanted £3,000 in damages for the machine, which he said he bought alongside games for £1,600."
Critics have now accused the killer of trying to take the public purse "for a ride". Shahid claimed he was being persecuted in jail as a result of his legal challenges. "I've been put through a lot of grievances off the back of this," he said.
"I've had further property taken off me, and been falsely accused of assault. All because I had the audacity to take the SPS to court."
He added that his health and life were "at risk" without the pump.
Solicitor Ross Fairweather, acting on behalf of the SPS, said Shahid had been given opportunities to move the console on to a family member or friend to sell on the outside. He added: "We're not talking about depriving someone of food. There are plenty of games consoles Mr Shahid can use, the prison is just saying not this one – the risks are far too grave."
Another hearing will take place in the new ear to determine what mount of compensation Shahid is owed. Last night, Liam Kerr, Scottish Conservative justice spokesman, said: "The public will be outraged and disappointed that a convicted killer was able to pursue the prison service for doing its job.
"These items should be left in a box, until such a time as he has served out his sentence. Prisoners are not meant to live in luxury.
"Asking for compensation is nothing short of taking the justice system, and the public purse, for a ride."