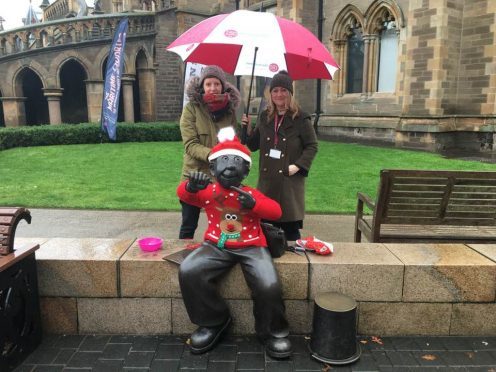 Dundee city centre will be transformed into a spectacle of art, light and sound this weekend as the McManus gallery reaches the finale of its 150th anniversary celebrations.
Drawn to Light, a free event at Albert Square, will feature music and a large-scale video projection inspired by items within the museum's collection.
And Dundee's Oor Wullie statue, located outside the building, will have a front row seat as he entertains visitors with his new festive outfit.
Christine Millar, learning and engagement section leader at the McManus, said: "Ever since the Oor Wullie statue was put up we've dressed him up in a Santa outfit in time for the Christmas lights switch on.
"This year we wanted him to be dressed up to coincide with the Drawn to Light event, so that he could have a front row seat and help spread some cheer.
"The event will take place on Saturday and will be an amazing night. The whole square will be cordoned off to give us space.
"There will be a huge projection on the McManus building itself, inspired by the collection within the museum.
"We are all very excited."
The installation will be the work of contemporary artist Duncan Marquiss and musician Jonnie Common.
Duncan, a Glasgow School of Art graduate, has spent the past six months working with curators and staff at the McManus to put together the projection.
Jonnie will perform on the museum steps, after composing a piece similarly inspired by the landmark's spaces, sounds and stories.
During a series of out-of-hours visits to the museum, he recorded the electronic tones of swipe card access doors, the sounds of office printers, internet servers, dehumidifiers, the rumble of huge moving storage units as well as the frequencies of every gallery space, stairwell and corridor across the museum's three floors.
Drawn to Light is curated by independent creative producer Siôn Parkinson and will take place on Saturday between 7pm and 8.30pm.