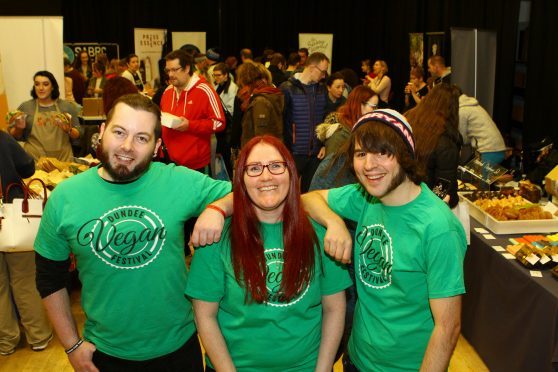 Dundee's second annual Vegan Festival held at the weekend has been hailed a huge success after it doubled in size in the space of a year.
Organised by Barry Mackie-Conlon, a local animal rights activist and Jamie Kidd, who owns Cool Jerk Vegan Pies, the festival saw 1400 people pack out Dundee University's Bonar Hall.
40 vendors were given the opportunity to showcase their goods on Sunday with a series of talks and workshops on offer throughout the day.
Sponsored by Almighty Foods, The Health Store Dundee, Cool Jerk Vegan Pies, and Sgaia's Vegan Meats, the festival centred on offering up information on events and products associated with veganism in and around Dundee.
The event has doubled in size since last year when around 20 stalls were set-up, necessitating a much bigger venue than last year's Chambers East.
Barry said: "We had lot of big brands showing an interest this year, which we didn't have last time.
"That's a big indicator of how big the festival is getting.
"We are mindful though that the interest will probably plateau at some stage and we're not eyeing the Caird Hall as the next venue or anything.
"We want to be an appropriate size so we are only cautiously growing. We will probably maintain this size for the time-being.
"We want it to be a festival which gives back to the community. There are some other festivals that make a profit but that's not what this is about."
Speakers included Mike Milne, chairperson of the The Scottish Animal Behaviour and Rescue Centre (SABRC), representatives from Go Vegan Scotland, and Marc Wood, a co-founder of Vegans of New York.
A total of £1700 was raised for SABRC through this year's festival.
Barry added that the festival's initial success had come as a bit of a shock but that the pair were more prepared this year.
He said: "We took it a little more seriously this year. Last year we weren't sure if Dundee was ready for it but they really were. It was packed out.
"The vegan community is quite tight so word spreads quickly.
"A major vegan festival at Glasgow's SECC was cancelled earlier this year, which I think led to an even greater number of people showing an interest in the Dundee event."
For more information on the festival and future events, visit www.dundeeveganfestival.co.uk/.