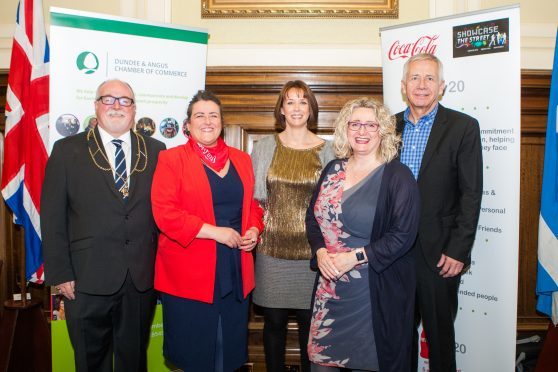 A partnership set to increase economic empowerment of woman in Dundee has been announced between Dundee & Angus Chamber of Commerce and Coca-Cola.
The partnership will deliver the next stage of the city's 5by20 programme, which is part of a drive by the soft drinks company to economically empower women across the globe.
The announcement was made at a Civic Reception in the City Chambers, hosted by depute lord provost Bill Campbell.
Last year alone, the programme delivered 10 business and enterprise programmes to 56 participants with 70% of these then going on to found their own enterprise or enter in to self-employment.
Many of these previous participants were celebrated at the event.
Dundee & Angus Chamber of Commerce CEO Alison Henderson said: "We are looking forward to helping further develop the programme and support the creation and growth of women-led businesses in the region, helping manage national progression.
"Stimulating economic growth and job creation in Dundee is vital in building capacity and capability of businesses and supporting those in our communities to create their own futures."
In addition, the programme welcomed over £70,000 of in-kind support from many local and national businesses and experts who willingly give their time and support for the advancement of women in business.
The programme aims to increase the number of women-led businesses by improving access to enterprise education, training and support.
Coca-Cola 5by20 is a ten-year initiative that forms part of Coca-Cola's leadership priorities. To date it has reached over 2.2 million women from over 60 countries.
Jim Fox, head of public affairs at Coca-Cola European Partners said: 'We are very excited by the progress of our 5by20 programme in Dundee.
"Thanks to our many fantastic supporters in the city, we now know how best to use this international programme in a UK environment to make a really positive impact on gender inequality.
"Partnering with Dundee and Angus Chamber of Commerce will enable us to accelerate this initiative and economically empower many more women in 2018."
This programme was brought to Scotland in 2016 in support of the Scottish Government's "Business Pledge".
Dundee was the first city in Western Europe to run the programme after Coca-Cola set up a partnership in May last year with local charity, Showcase the Street.
It is anticipated that the programme will eventually be rolled-out into other communities across Scotland and the UK.