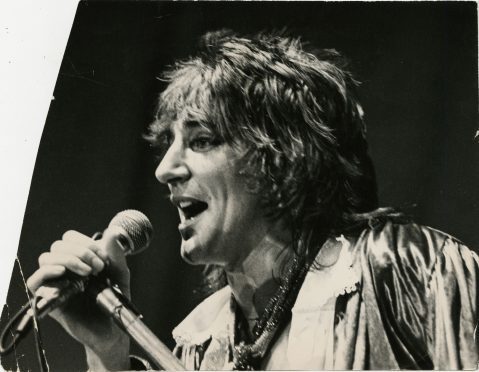 He toppled the likes of Blondie and Bryan Adams in a Courier online poll which asked readers who they would most like to see perform next at Dundee's Slessor Gardens.
But it was rows of seats that toppled when legendary rocker Sir Rod Stewart first performed in the city with the Faces 45 years ago.
The Caird Hall was the first venue of the Faces tour and music writers from across the country were out in force including NME writer John Pidgeon whose "behind-the-scenes" review said the Faces had "rarely put on a more spectacular show".
The rowdy gig witnessed a stage invasion from Sir Rod's adoring female fans, bouncers fighting amongst themselves and three rows of seats being destroyed in the excitement.
The setlist was a mix of R&B album tracks and pop hits with highlights including Maggie May, Stay With Me, Angel and Cindy Incidentally which was to be the band's next single.
John said: "No one in the front stalls ever sat down again and, by the end of the second number, it was impossible to distinguish aisles from seats – the whole area was a solid mass which swayed when Rod swayed, waves scarves above their heads when Rod waved his, clapped in time whenever Rod put his hands together, sang along when Rod sang, and screamed whenever he did anything else.
"During 'Too Bad' things began to get a little out of hand. Girls who managed to clamber onto the stage got bounced by bouncers who then became reluctant to leave the stage and had to be bounced themselves."
John's review stated although the Faces had played better they had "rarely put on a more spectacular show" and described the feel in the last number as "incredible".
Sir Rod returned with the band for an encore and kicked footballs into the audience before they finished off with 'One Last Sweet Cheerio".
By the end of the show the audience had knocked down the first three rows of seats in the excitement.
John concluded: "Nine more dates to go, but however they turn out, no one's going to forget Dundee".
https://www.youtube.com/watch?v=1junF1faGDI
Former Montrose FC player Les Barr was among those sitting in the side balcony that night when Sir Rod kicked a football in his direction.
He said: "I reached to grab it out of the air when a massive pair of hands came over my head and securely clutched the ball.
"It was (Montrose goalkeeper) Dave Gollan, putting into practice what he learned on the training field — and thus denying me a historic piece of rock memorabilia!"
Faces were an English rock band formed in 1969 by members of Small Faces after lead singer/guitarist Steve Marriott left that group to form Humble Pie.
The remaining Small Faces – Ian McLagan (keyboards), Ronnie Lane (bass guitar), and Kenney Jones (drums and percussion) – were joined by Ronnie Wood (guitar) and Rod Stewart (lead vocals), both from the Jeff Beck Group.
Despite playing shows in Aberdeen and Inverness, Sir Rod Stewart hasn't made his way back to the City of Discovery for a concert in four decades.
After he visited Dundee with Faces in December 1972, he opened Bruce's Record Store on Reform Street in 1977, before returning to the city to play back-to-back dates at the Caird Hall in January 1977.
Coming second place in The Courier's Slessor Gardens poll was iconic 1980s rockers Blondie, followed closely by Texas.
Coming fourth, fifth and six were Bryan Adams, Peter Andre and Will Young.