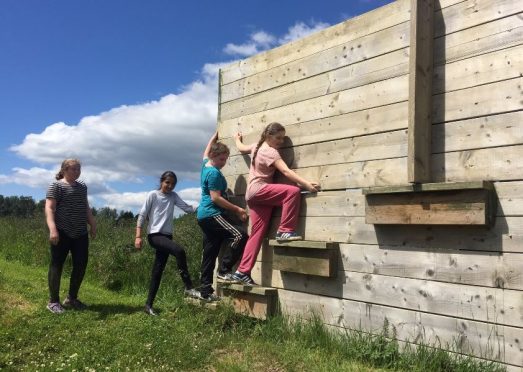 A groundbreaking outreach programme run by Abertay University that uses sport to help prepare children for further or higher education has reached its landmark 50,000th participant.
Dundee Academy of Sport has been running since 2013 and offers a wide range of projects at schools, colleges, summer camps and community groups,  often in areas of deprivation.
But despite its success, funding for the scheme will end next year and Abertay is now seeking new collaborators to help ensure it can continue.
Teacher feedback shows a satisfaction rate of more than 90% for the sessions, which have included lessons ranging from physical activity, Dundee's sporting heritage and utilising cycling to teach numeracy.
The Academy helps pupils prepare for studying at college or university, supports teaching and learning within Higher and Advanced Higher PE and engages pupils in challenging social studies around gender inequality and racism in sport.
It also delivers a programme of support for college students looking to progress to Abertay sport courses, including sessions to improve critical thinking skills and the ability to be an independent learner.
Project leader Ian Lowe said sport had proved the ideal hook to motivate children, with attendances growing steadily over the years.
He said: "All the evidence we have gathered suggests that the pupils enjoy our approach, which adds relevance and supports teachers in their quest to improve attainment levels.
"Our lessons are fun, well planned, expertly delivered for maximum impact, and can be tailored to fit around existing coursework.
"We have achieved an incredible amount over the last four-and-a-half years and I know the initiative is held in high regard by schools across the region."
Earlier this year the Academy ran a creative session at Our Lady's Primary in the Hilltown area of Dundee which saw a primary four group don helmets and take to rowing machines as they learned about both the history and physiology of the Vikings.
Our Lady's teacher Sean Moran said the visits were invaluable to his class describing them as "a great way to get the children engaged."
Teacher Alison Small from Longhaugh Primary School added: "Dundee Academy of Sport linked into our four-week science and sport project which culminated with a session at Dundee Ice Arena where the pupils met the Dundee Stars and got a chance to ice skate.
"This is something a number of the pupils would not get the opportunity to do normally."
The project is delivered in partnership with Dundee and Angus College and has been jointly funded by the Scottish Funding Council in a bid to tackle the various attainment challenges that face schools across the area.
However, funding is due to come to an end next year and the Academy is keen to speak to potential collaborators interested in supporting the successful initiative.
More information on Dundee Academy of Sport is available here.