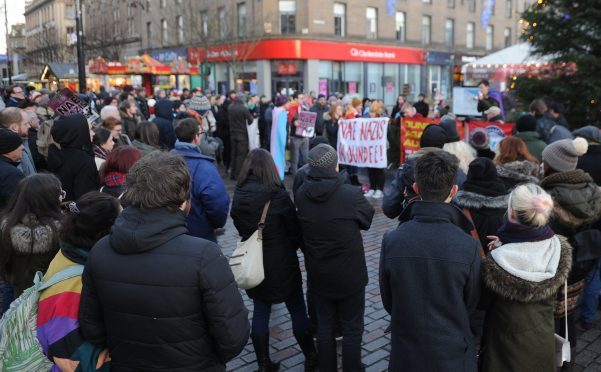 Around 150 people protested against neo-Nazi activity in Dundee on Sunday after fascists targeted a city youth group.
Barry Jordan, a youth worker with lesbian, gay, bisexual and transgender (LGBT) support group Allsorts, admitted that some of its younger members had been scared by the homophobic far-right flyers posted on premises last week.
Activists of the neo-Nazi System Resistance Network also put up racist, anti-immigrant posters around other parts of Dundee, including on the city's registrars office.
But scores of people turned out at short notice to voice their opposition to the far-right group at demonstration in the City Square.
Mr Jordan said: "It is a small minority of people that do this.
"People say these posters don't have an effect but they do. We are working with really vulnerable young people and that is their safe space —  a few of them are scared.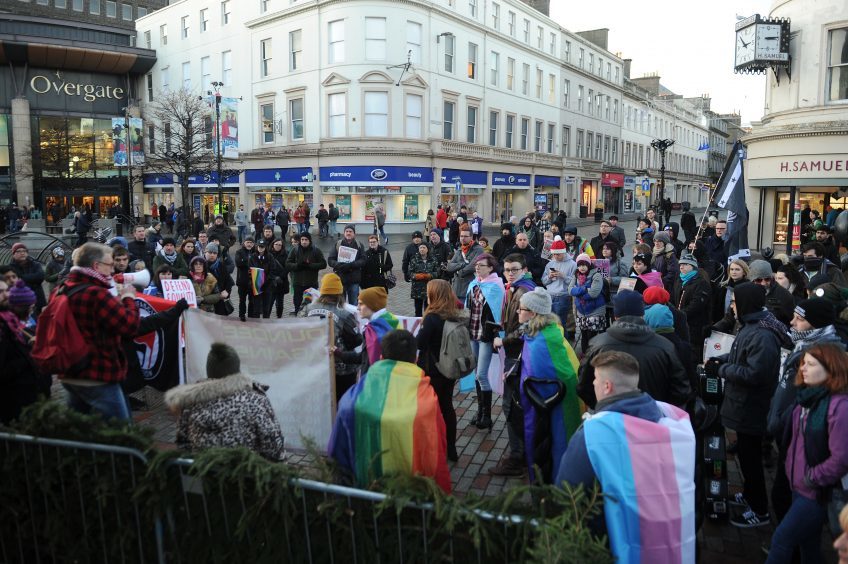 "We will have to work with them but this demonstration shows the support there is for them in this city."
Mr Jordan also praised the crowd for turning out in such strong numbers for the rally, which was only arranged 48 hours earlier.
SNP Maryfield councillor and city development convener Lynne Short said the posters were a "personal attack" on the people of Dundee.
She added: "In Dundee, anyone can be who they want to be.
"Our LGBT community is working to deliver the city's first Pride festival and there is nothing that can stop Dundee from being an inclusive, loving and open city."
Several members of the crowd carried banners and placards bearing slogans such as "Dundee says Nae Nazis," "Love not Hate," and "No Nazis in our Streets."
The rally ended with the crowd chanting "Nae Nazis in Dundee".
Musician and gay rights activist Nick Shane said: "They key message from today is that this is not acceptable in Dundee.
"The people doing this are afraid to show their faces — they just run about with masks on when it's dark."
Police Scotland's Tayside Division has said it is investigating the incidents.
A spokesman said: "Offensive material like this is completely unacceptable, and distributing it is illegal."